SHANGHAI — Row upon row of buildings cast their looming shadows as the city yawns and stretches to accommodate more than 23 million residents. The metropolis has eaten up the surrounding farmland over decades of growth — but these days, a few small operators are finding ways to bring agriculture into the urban skyline.
Atop Red Star Macalline Group's headquarters sits a rooftop farm called Yiyun, which translates as "leaning on the clouds." Chilies, white gourd, eggplant, chives, and other vegetables flourish across the 4,600-square-meter garden cultivated by the company, which is China's largest national furniture retailer. The harvested produce is used in the staff cafeteria, and the farm also provides thermal insulation for the building's top floor, which houses expensive rosewood furniture.
"There is a great contrast between a land of greenery and a land of concrete," the project's instigator, Zhou Qun, told Sixth Tone. "It adds some glamour to the cityscape." In Shanghai — the nation's leading city in the field of rooftop farming — there are currently around 20 well-established farms, said Tongji University professor of landscape design Liu Yuelai.
Sky Farm in Shanghai uses rooftop agriculture to help urban residents experience nature up close. By Daniel Holmes and Shi Yangkun/Sixth Tone
With approximately 10 billion square meters of exposed roof space across Chinese cities as of September 2011, according to the Ministry of Housing and Urban-Rural Development, the concept has plenty of capacity to grow. But with little government support for costly maintenance, the farms are difficult to sustain. Several funding models have popped up in the industry, including high-tech marketing that brings virtual connectivity into urban agriculture. More and more people are realizing that vacant roofs can provide not only aesthetic delights, but also numerous economic, ecological, and social benefits.
When properly maintained — or designed to maintain themselves — green roofs absorb heat and rain. The insulation properties of the soil layer can significantly reduce a building's energy consumption, according to Li Wengeng, an agriculture expert who runs a few rooftop farms across China. "It also helps alleviate urban drainage disasters caused by torrential rainfall," Li added.
In recent years, central and municipal government bodies have recognized that exposed roofs waste energy and have huge ecological potential. But the government has yet to issue guidance on rooftop farms. Though government subsidies are available for greening efforts, none focus on urban agriculture.
Zhou, who heads Red Star Macalline Group's labor union, initiated construction of the rooftop farm in May 2015 after being inspired by a visit to a similar site in the nearby city of Wuxi the previous year. Yiyun opened a few months later, but it took a year to start turning a profit. According to Zhou, in the first year, the company invested 800,000 yuan ($120,500) into the rooftop farm. "A smaller company would not be able to afford it," Zhou said.
There is little potential to fund the farm's operations by selling produce. Despite plenty of attention given to domestic food safety issues, relatively few Chinese consumers are willing to pay premium prices for organic produce. Meanwhile, construction and maintenance costs for rooftop farms are high — even the soil must be brought up from somewhere.
One common business model is to charge for visits from nature-poor city-dwellers: Children can learn about nature and agriculture, while adults can relax and escape from the bustle of urban life. Visits don't come cheap: Yiyun's entry fees begin at 119 yuan per group.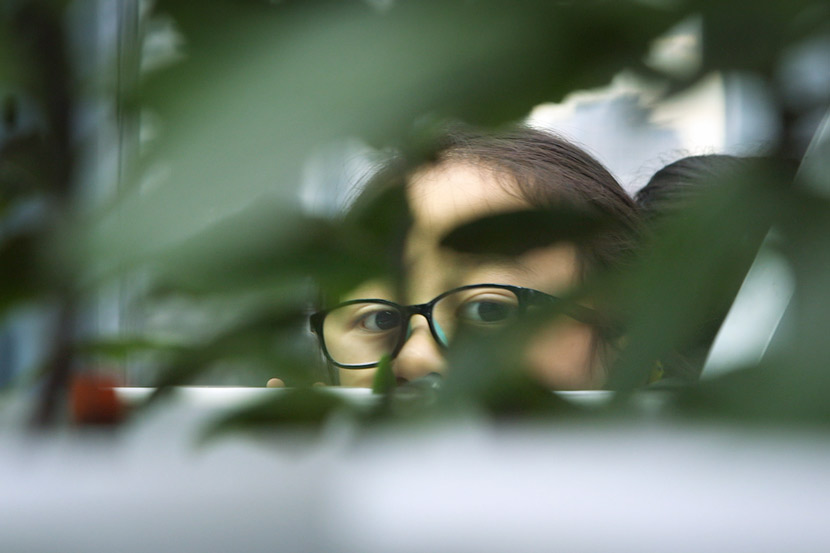 A young girl visits a rooftop farm in Shanghai, Oct. 13, 2017. Shi Yangkun/Sixth Tone
The company was also recently awarded a one-year subsidy of 350,000 yuan for all its environmental programs in the district, including the rooftop farm and other greening initiatives. "If the nation implements concrete policies to lead [the growth of rooftop farms], others will be happy to follow," Zhou said. "If not, it could be very hard for enterprises to take sole responsibility and promote it little by little."
Some urban farms have employed innovative tactics to involve a wider community. Sky Farm, an internet-connected operation on the 700-square-meter roof of the Guan Sheng Yuan Group industrial park, offers 300 planters for rent via an app they developed themselves.
Customers can see their vegetables' real-time growth over a livestream and can simply tap the interface to give their plants more water or light. Others come to tend to their plants in person. "It is very easy to lose the sense of novelty if you're just playing on your phone," Sky Farm staff member Ke Fangfang told Sixth Tone.
The Sky Farm project is the brainchild of a makerspace operated by Guan Sheng Yuan Group, a century-old state-owned enterprise that is best known as the former manufacturer of White Rabbit candy. But in 2012, the company transferred all its food production businesses to a sister company and, in 2014, turned to incubating startups that bring web-based innovations to conventional industry.
The rental planters sit in one of Sky Farm's two greenhouses, set up to circumvent the difficulties of farming in Shanghai's dramatic climate: hot and humid in the summer, and damp and cold in the winter. Each planter costs 99 yuan per month, with seasonal discounts available. Since few users commit to renting long term, the company recommends choosing plants with short growth cycles. Meanwhile, less weather-sensitive species grow in an outdoor space that can be booked for events.
According to Ke, the only government grant that the rooftop farm has received was a one-off construction subsidy as part of a greening program. "The government promotes roof greening, but greening is something that you have to throw money into maintaining every year," she said. "Yet it ends up providing no income at all." The team switched to cultivating produce for this very reason.
Sky Farm has also looked to community partnerships, event hosting, and education programs to diversify its income sources.
"Kids growing up in the city have only seen the vegetables their mothers buy at the market," said Cai Donglei, the mother of a 7-year-old. She appreciates the opportunity to give her daughter more exposure to the cycle of life. "Through the farm," Cai said, "children learn that plants grow from seeds, that they need water and sunshine to sprout and slowly grow into their familiar forms over several months."
Editor: Qian Jinghua.
(Header image: Ke Fangfang checks the plants at Sky Farm's rooftop garden in Shanghai, Oct. 13, 2017. Daniel Holmes/Sixth Tone)