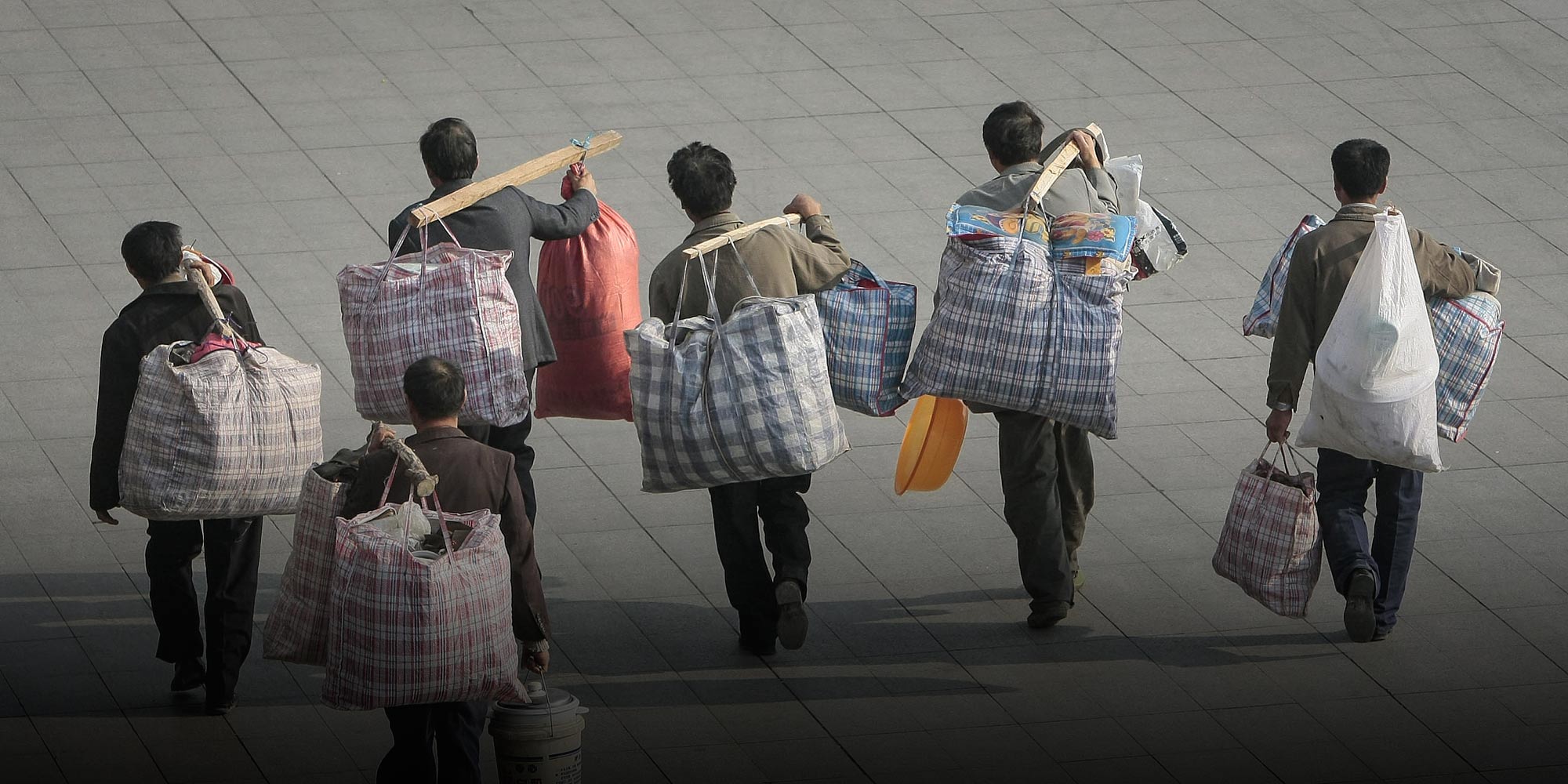 FEATURES
Aging Construction Workers Face Unstable Retirement
As China's economic growth slows, construction workers struggle with health problems and family commitments.
JIANGSU, East China — On the bank of a river in Nantong, two middle-aged men fish to pass the time.
Reeling in a large herring, 58-year-old Huang Hanbing receives quiet encouragement from his neighbor, 55-year-old Li Jianhui. Under normal circumstances, the construction workers would be off laboring on a building site in some sprawling metropolis. But with their poor health, all they can do is while away the hours by the river.
"We used to be energetic guys," says Huang hoarsely. Last year, he lost one of his vocal chords to cancer. These days, the tanned man sips self-brewed herbal medicine to ease the pain. Huang has noticed signs of the cancer recurring. "Then, I'd be mute," he says.
Nantong, located 120 kilometers from Shanghai, has long enjoyed its reputation as a powerhouse of China's construction industry. For decades, as China embraced economic growth, men from Nantong worked on construction sites across the country — with some even venturing overseas.
But as China's growth rates slow and builders like Huang and Li age, such men are increasingly facing health problems and family commitments, with scant hope of receiving proper pensions in retirement.
At age 20, Huang left Nantong with his father, an experienced construction worker. He started out mixing cement and whitewashing walls. "The lime came off as soon as I finished," Huang recalls. "It even went into my eyes." Yet he soon picked up the tricks of the trade. In 1986, he and three fellow workers succeeded — where many before them had failed — to construct a 30-meter-tall chimney for a machinery factory in the southwestern province of Guizhou. "Those were my glory days," says Huang. In the following years, Huang became a foreman who managed 60 workers and traversed the country earning prestigious qualifications. In parallel, his monthly income increased from just 70 yuan ($10.50) when he began in the industry to around 12,000 yuan last year.
Though three years younger than his neighbor Huang, Li looks older and swarthier, his face etched with wrinkles. Li worked overseas in the 1990s, doing construction projects in Singapore and Kuwait. "At that time, not everybody could work abroad," he says. "I sort of pulled some strings to get the opportunity." The weather was sweltering in the Middle East, Li recalls, but he could earn 1,800 yuan a month at a time when the average monthly income in his hometown was less than 300 yuan.
Disaster struck two years later, when Li fell from a 2.6-meter-high scaffolding while working in Singapore. He sustained a head injury and lay unconscious in the local hospital for seven days. Li received 30,000 Singapore dollars ($22,000) in compensation and returned to Nantong to recuperate, during which time he says his contract with the construction company was unilaterally terminated. Despite writing several complaint letters, he says he never got his job back. The company did offer him a security guard position, but he was unhappy with the salary and declined the job, preferring instead to continue working in construction. After all, he says, "I still had hands."
Li went back to work in 2002, whitewashing and building brick structures as before. Until he broke his ankle in June, he earned between 200 and 300 yuan a day, but like Huang, he doesn't have a pension.
The two men's dependence on the industry mirrors the importance of construction for Nantong. The city has a long tradition of manning construction projects: In 1932, Nantong construction mogul Tao Guilin led the building of the Park Hotel in Shanghai, historically the Shanghai Joint Savings Society Building. The 24-story art deco structure — the tallest building in Asia until 1958 — stills stands near the Bund as the oldest hotel in Shanghai.
In 2016, Jiangsu was China's top-ranked province in terms of construction output value — and Nantong was the best-performing city in Jiangsu, with construction accounting for 8 percent of the city's GDP, or 53.9 billion yuan. That same year, the city had an estimated 1.7 million construction workers, according to local government statistics. Nantong-based companies have won the Luban Prize — China's top honor for construction projects — 91 times, ranking Nantong first among the nation's prefecture-level cities.
Meanwhile, on a national scale, the past two years have seen a tumble in construction output value growth rates, which nosedived to a historical low point of 2.3 percent in 2015 from an average of 16.5 percent between 2010 and 2014. This figure recovered a little to 7.1 percent last year, but real estate markets in third- and fourth-tier cities are facing an urgent push to destock as China's GDP slows and leadership clamors to deal with bloated production.
Gong Boying, a retired director of a county construction bureau in Nantong, says he continues to keep an eye on the industry. "I know how hard it is; just imagine the dust that workers have to breathe in," says Gong, who began working in the industry as a construction apprentice. Fewer members of the younger generation choose to be construction workers, he says, because they can earn just as much in other, less labor-intensive fields.
Huang recalls that in the 1980s, one-third of able-bodied men in his village worked in construction. Today, no local young adults do. "Only old folks like us, in our 50s and 60s with no modern technology skills and limited strength, continue to depend on [the industry] to make a living," Huang says.
According to Gong, the insufficient welfare in the construction industry is one reason for the sector's declining popularity among young people. Construction companies rely on labor services to staff their sites, says Gong, and these services often refuse to pay for workers' social insurance, leaving builders like Huang and Li pensionless. As these labor companies are often affiliated with big construction firms, government regulation is relatively loose.
Zhang Chunlong, a researcher at the Jiangsu Provincial Academy of Social Sciences, tells Sixth Tone that the current daily wage system must change. On top of staff salaries, Chinese employers are required to pay an annuity to the government to cover the housing fund and five types of social insurance guaranteed to employees under the nation's Social Insurance Law. But most construction workers are daily wage earners with high mobility, giving employers opportunities to skip the annuity.
Like many of his peers, Li is unsure how best to plan for the future. Under current regulations, he would need to pay an annuity to the local government for at least 15 years before he could finally enjoy a pension and other forms of social insurance, with the annuity rising almost every year. This year, he would have to cough up around 7,300 yuan.
To make matters worse, both Huang and Li are in poor health. Huang has been paying his annuity and now has health insurance, which covered some of the cost of his throat cancer treatment. But Li must shoulder the financial burden of treatment for his broken ankle on his own.
Just thinking about the future makes Li anxious, as he waits to recover from his injury and get back to work. His son hasn't married, and owning a house is often considered a prerequisite for tying the knot in China. Given skyrocketing housing prices, Li needs to save up. "Ten years from now, I won't have the strength to work, and I won't have any income," he says. "I must prepare enough money for that day now."
Editor: Colum Murphy.
(Header image: Migrant workers carry their belongings at a railway station in Nanjing, Jiangsu province, Nov. 24, 2008. An Xin/VCG)