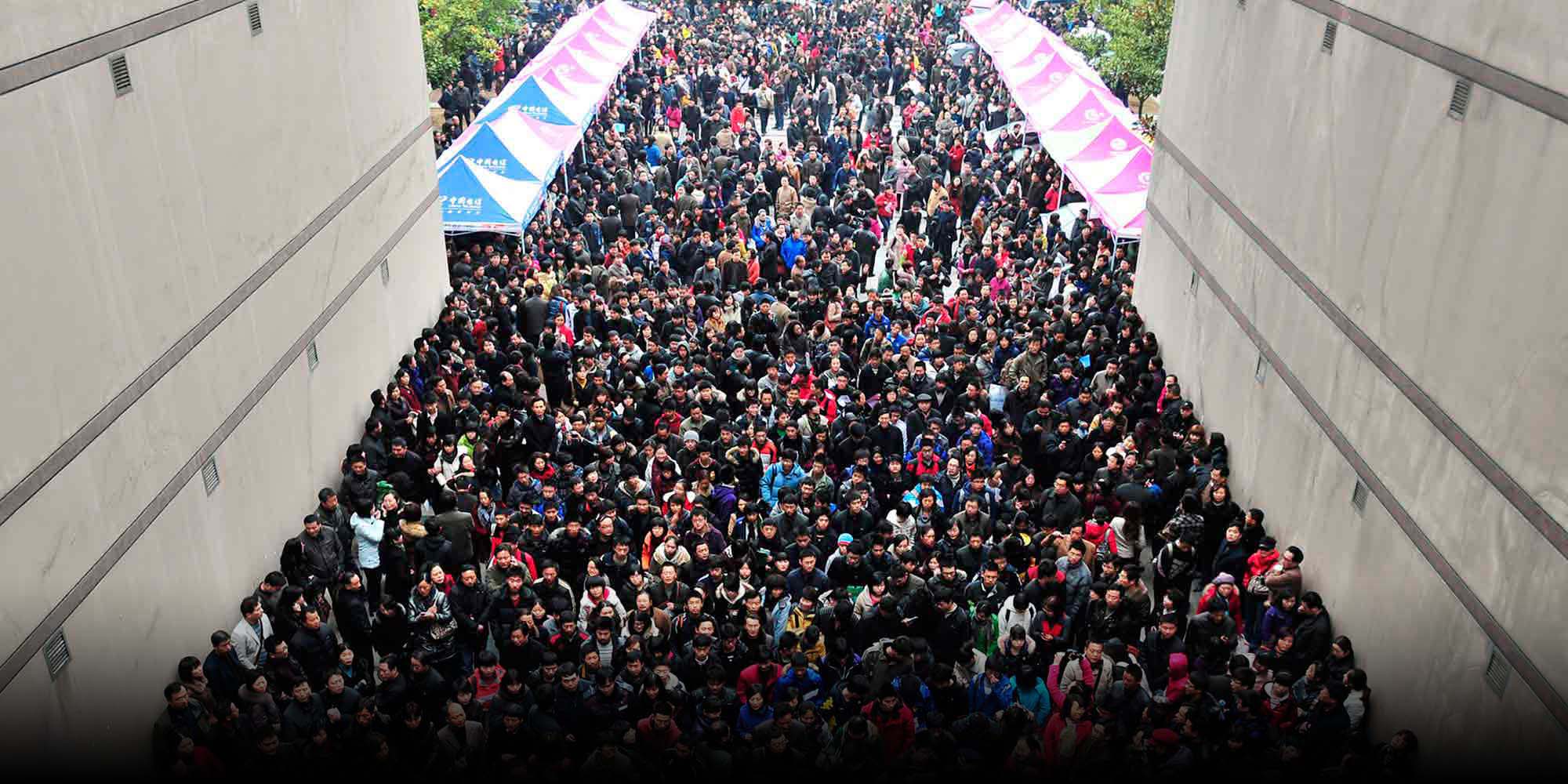 NEWS
China Announces Radical Overhaul of College Entrance Exam
Government hopes to make notoriously challenging 'gaokao' tests fairer and more accessible by 2020.
China will build a comprehensive new national college entrance examination system by 2020, Minister of Education Chen Baosheng announced at China's 19th Party Congress on Thursday.
The overhaul of the exam, or gaokao, promises to be the most wide-ranging reform since college entrance exams resumed in 1977 after the Cultural Revolution. Policymakers aim to reduce the role of the gaokao in determining students' future life chances, address barriers to exam enrollment among children of migrant workers, and ease the difficulties faced by rural students hoping to enroll in top universities, Chen said.
The State Council — China's cabinet — first published a list of recommended gaokao reforms in 2014, and an initial pilot project was later launched in Shanghai and eastern China's Zhejiang province. The pilot system allows students to take sections of the gaokao multiple times from the second year of high school onward, instead of the previous system's one-off, three-day exam at the end of the third year. Examinations are held in October and April.
In June this year, the first batch of students sat the new pilot gaokao. Their experiences continue to generate debate on the merits of the system.
"It's really complicated," 18-year-old Hu Jiajie told Sixth Tone in a telephone interview. Hu graduated from a high school in Quzhou, a city in Zhejiang province, and is now a freshman at Zhejiang International Studies University in the provincial capital, Hangzhou. "[The new system] just gave us more exams and put us under pressure earlier," she said. Hu explained that most students sat at least 15 tests under the new gaokao system, adding that she and many of her classmates took even more in a bid to improve their scores.
Hu also said she thought the reform still constituted exam-oriented education. Fellow students who got good marks on earlier exams would then stop studying the subject for the rest of their high school careers, she added.
Parents also have complained about the reforms. "Over the past three years, we have felt very confused and uncertain about the future, and I would rather have my daughter take the gaokao once and only once," a mother of a high school student in Hangzhou told Sixth Tone in a previous interview.
However, Hu thinks the reform allows rising university students greater freedom to choose a college and major that suits them. "We can write down up to 80 preferences now, so I felt more confident that I could get into college and find a major to study," Hu said.
In an overall review of the Chinese education system's development since 2012, Chen added that in the past five years, China has implemented special enrollment policies both for students from rural and poverty-stricken areas and for those from less well-off central and western regions of the country. The policies resulted in the recruitment of more than 370,000 university students, he said — equivalent to building more than 100 new universities with intakes of 2,000 students per year.
Chen also pointed out that college enrollment rates in China's worst-performing province fell to less than 4 percent below the national average over the last five years — an improvement from five years ago, when this figure was estimated at 15.3 percent below the national average. Meanwhile, 30 provinces introduced policies to help migrant children take the gaokao in their adopted places of residence. This year, 150,000 migrant children sat the exams under these policies — more than 30 times the number who did so five years ago.
Editor: Matthew Walsh.
(Header image: Students and their parents enter Huazhong University of Science and Technology for an admissions test in Wuhan, Hubei province, Feb. 27, 2011. Shepherd C. Zhou/VCG)