SHANGHAI — At 11, Xi Ni is already a seasoned tennis player.
Off the court, the sixth-grader from Wuxi, in eastern China's Jiangsu province, speaks quietly and gently. But when it's game time, she's laser-focused as she chases the ball, moving energetically across the court.
Despite an overall trend of declining health and athleticism among Chinese children, a growing number of young people are taking up tennis — a sport invented in the U.K. in 1873 that barely existed in China less than two decades ago.
Like many others, Ni began playing tennis in 2011, when China's former world No. 2 women's tennis player Li Na became the first from Asia to win the Grand Slam championship title at the French Open. Li's success led to a domestic tennis fever, and that same year, Ni's father and coach, Xi Zhiye, began training his then-5-year-old daughter.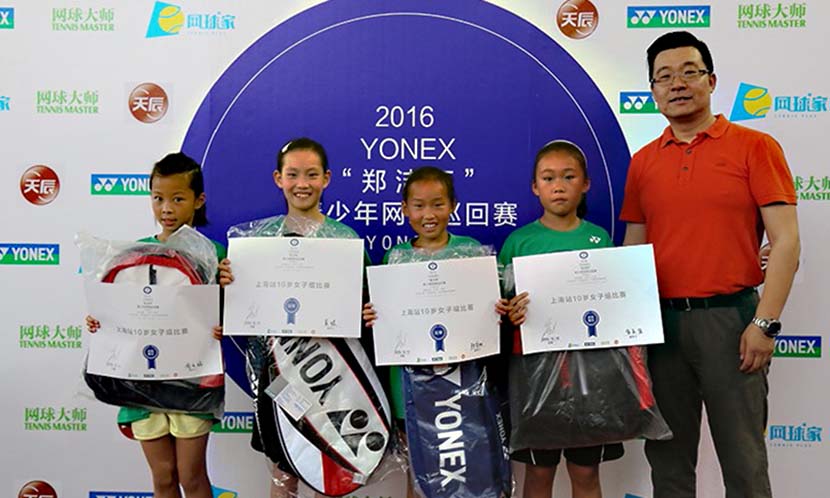 Xi Ni (second from left) holds her winner's certificate at the Zheng Jie Cup teen tennis tournament in Shanghai, June 2016. From YONEX's official website
"There was a surge in the number of Chinese teenagers starting to learn tennis that year — some of the parents thought the sport could be a possible future for their children," said Xi, who quit his job in securities trading two years ago to focus on his daughter's tennis training.
In her age group, Ni is a top player: Last year, she won third place in the national Zheng Jie Cup teen tennis tournament. The 11-year-old is a short-distance runner and a soccer player on the school teams, but it's her tennis ability cultivated over six years of intensive training that has won her the most medals.
"I like playing tennis. It helps me relax after school," Ni told Sixth Tone. "I'm the only one at my school who plays tennis, but I don't feel lonely — I make friends at different tournaments, and they're all excellent tennis players."
The number of tennis players registered at Shanghai's 16 government-run children's sports clubs has increased tenfold since 2007, from 100 to 1,075 today, according to the city's tennis association. A decade ago, only five of the 16 district clubs offered tennis, but now each has a team, said Xue Lei, vice secretary-general of the association. Tennis is also being offered at schools alongside other sports as part of a wider push by the Chinese government to encourage children to stay active.
Xue attributes the increased interest in youth tennis to the sport's growing profile in China. In 1998, the international tennis tournament Heineken Open came to Shanghai, making it the first world-class tennis competition in the country. The Tennis Masters Cup and ATP World Tour Masters 1000 tournaments followed a few years later. Earlier this month, the Shanghai Masters entered its ninth year, drawing top international players like men's singles champion Roger Federer.
"Many young parents today grew up watching these tennis games or following a certain star tennis player," said Xue. "Motivated by their own interest in the sport, they started bringing their children to the court."
This is certainly true for Ni, whose father began playing tennis as a hobby in the late 1990s and remains a loyal fan of Federer. Xi couldn't wait to start teaching his daughter the sport when she turned 5 — considered the minimum age for children to start tennis training.
"It's such an elegant sport," Xi said. "More importantly, [players] learn self-discipline and how to deal with setbacks in life through the sport."
Young tennis players participate in a training camp while their parents watch through the fence, Beijing, Oct. 5, 2017. Dou Xiao/VCG
For the past six years, Xi has strived to balance his daughter's rigorous training with sustaining her interest in the sport. Ni's days are strictly regimented: Every morning, she gets up at 6:15 to train for the track team. At 4 p.m., half an hour before her classes are due to finish, Xi picks up his daughter — with the school's permission — and takes her to the court for her two-hour tennis practice. After dinner, she spends an hour on homework and goes to bed by 9:30 p.m.
Height is one barrier to playing tennis professionally. Top female tennis players must be relatively tall to reach the ball, but not so tall that their height slows them down. Ni undergoes bone age assessments every year to track her skeletal development, and current estimates suggest the 155-centimeter-tall girl could grow to between 172 centimeters and 175 centimeters — tall enough to pursue a professional tennis career. (By comparison, China's top female tennis player, Li, is 172 centimeters tall.)
Ni's father believes the real challenges lie ahead, when his daughter may be forced to choose between athletics and academics. While Xi believes university studies are a must, he doesn't want her tennis training to go to waste. "In the U.S., there's no contradiction between sports and academic studies, but in China, it's the reality," he explained. "Without appropriate academic learning, I'm afraid Ni would fall behind in terms of general knowledge and communication skills."
But Xi also has high hopes for his daughter's sports career and wants to see her become one of the world's top 100 female tennis players. "We'll make a decision on her future path when she finishes middle school," Xi said.
China introduced nationally subsidized sports schools in the 1950s that have since churned out numerous Olympic medalists. But the schools don't necessarily offer academic studies, which can leave athletes with limited career options after their retirement from professional sports. The issue was highlighted in 2011 when two-time World University Games gymnastics champion Zhang Shangwu was spotted begging on the streets and selling his medals for 150 yuan ($23) so he could afford food.
The State Council, China's cabinet, issued a policy that same year requiring sports schools to provide academic studies, but implementation has been inconsistent. In 2014, a sports school in the eastern Chinese city of Ningbo suspended academic classes for three months so its students could focus on preparing for a provincial sports competition, according to local news reports.
If Ni can't make it as a professional tennis player, her family hopes she can still use her abilities to score a scholarship to a top U.S. college. It's a vision shared by a number of parents, who see tennis as a way to give their children an academic edge — particularly as a growing number of Chinese students seek admission to prestigious universities abroad.
The Shanghai Tennis Association's Xue has seen a rise in the number of parents signing their children up for tennis lessons for this very reason. Though there are no statistics available, Xue said he knows of a few Chinese students who have already secured scholarships or admission to reputable overseas universities for their tennis performance. "Excellent tennis skills can give an applicant a big advantage," he said, "and an understanding of the sport can help a student adapt to and integrate into American culture."
"I'm hoping my daughter can win a full scholarship from a U.S. university thanks to her tennis skills," said Yao Hongmei, mother of 12-year-old Shen Youran, who took up the sport three years ago. For the past two years, Youran has consistently ranked at the top of her age group in Changzhou, a city in Jiangsu province with over 4.7 million residents.
"She's unbeatable in our hometown, but I'm still not expecting her to become a world-class player," Yao told Sixth Tone. "I wouldn't sacrifice her academic studies for the sport. But her tennis talent might give her an advantage when it comes to getting into a U.S. university."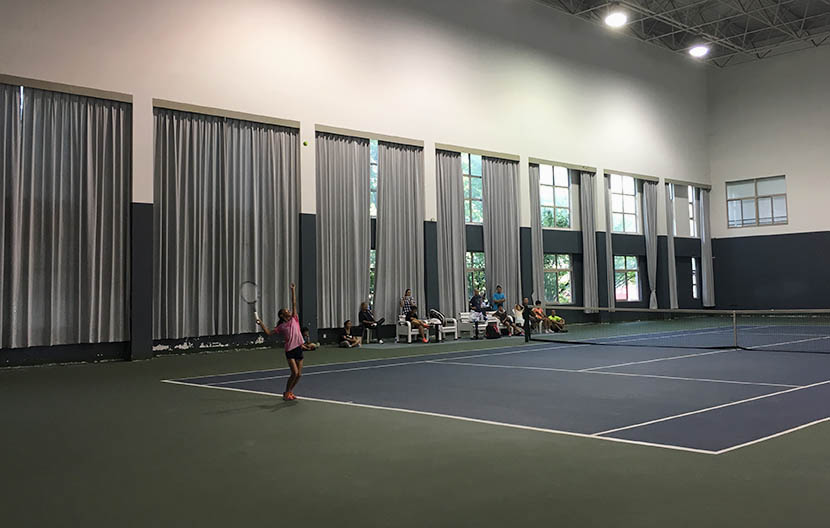 Young tennis players practice at a school in Shanghai, Sept. 10, 2017. Ni Dandan/Sixth Tone
Ni is lucky: Her father is her tennis coach, and they train on a court they can use for free. But for most Chinese families, it's prohibitively expensive to train a professional tennis player outside the national sports system, which could mean compromising on academics. Instead, Yao remains realistic and encourages her daughter to develop abilities that will further her academic future. "Tennis and strong English skills — that could mean an easier and more affordable route to a reputable U.S. university for a child from an average family like mine," Yao said.
Shanghai resident Wu Ruolei is considering enrolling her 7-year-old son in tennis lessons after hearing about American university scholarships for Chinese students with a talent for the sport. "Tennis lessons are becoming more common — they're now part of the curriculum in some public primary schools," Wu told Sixth Tone at a Shanghai Tennis Association forum earlier this month for parents interested in getting their kids into the sport. "Nowadays, many parents plan their children's future far in advance. If playing tennis can help give my child an edge, I would definitely consider giving it a try."
Some local education authorities in Shanghai are even offering preferential admissions policies for excellent players, according to Xue. "In Pudong, Baoshan, and Minhang districts, some of the best middle schools are reserving a few spots for primary school graduates with outstanding tennis performance," he said. "This policy is not being advertised publicly, but parents can rest assured that playing tennis won't be a waste of their child's time."
Regardless of the future, Xi is pleased with the benefits his daughter has already gained from playing tennis. When Ni was defeated during the semifinal of the global junior tennis competition Rafa Nadal Tour in Shanghai last month, she courteously congratulated her opponent before heading over to her father to review her faults.
"She has been modest and polite during her matches," said Xi of his daughter. "She's not obsessed with winning or too disappointed if she loses. Instead, she's calm in the face of either a win or a defeat. That's exactly what I want her to learn from the sport."
Ni, meanwhile, doesn't seem overly concerned with getting to the top. "My idol is Li Na," she said, "but I have never imagined that I could become her one day. I just want to play the best that I can."
Editor: Julia Hollingsworth.
(Header image: A foreign coach instructs young Chinese tennis players during a training camp in Nanjing, Jiangsu province, May 16, 2016. An Xin/VCG )