This past spring, Chinese startup CloudWalk Technology Co. Ltd. became the biggest supplier of facial recognition technology to the headquarters of the country's most time-honored financial institution: the Bank of China.
On May 23, the state-run bank began using CloudWalk's facial recognition services at counters in its Beijing headquarters as well as through its online banking system and mobile app. Instead of having to visit the brick-and-mortar bank branch to open an account, customers can upload a photo of their ID card to the bank's app, look into their mobile phone camera, and wait for the facial recognition function to scan for comparison and authentication. CloudWalk declined to reveal the value of the deal.
The company has long been interested in breaking into the financial services sector. Before the emergence of facial recognition technology — which has also been used by law enforcement in cities around China — banks relied on clerks to authenticate customers' identities by manually comparing a customer's face with their ID card and keeping photos on record. But with the rise of e-banking, banks have struggled to keep up with the growing number of users. Facial recognition has thus become a viable solution.
Prior to signing the Bank of China deal, CloudWalk worked out of an apartment it had rented specifically for its location — just 60 meters from the bank's towering office block in Beijing. In a post on messaging app WeChat, one of the startup's employees noted that it had taken the company two years to cross this short distance.
Zhou Xi is the man behind CloudWalk. Originally from southwestern China's Sichuan province, the now-36-year-old graduated from the University of Science and Technology of China with a degree in artificial intelligence, specializing in pattern recognition — a branch of machine learning focused on spotting regularities and patterns in data.
Zhou later pursued further studies in the United States, earning a doctoral degree from the University of Illinois at Urbana-Champaign. Between 2007 and 2011, he led university research teams to victory six times in pattern recognition competitions around the world. He also interned at prominent companies such as IBM, Microsoft, and NEC.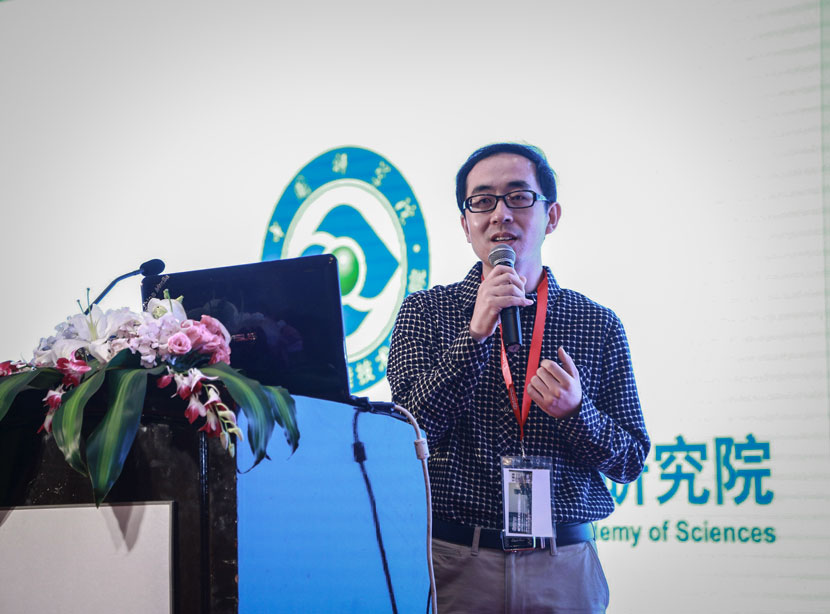 Zhou Xi makes a speech at Payment China 2015 in Shanghai, May 22, 2015. Courtesy of CloudWalk Technology Co. Ltd.
Rather than staying in the U.S. like many of his peers, Zhou decided to return to China following repeated prompting from a director of the national think tank Chinese Academy of Sciences (CAS). At the time, there was strong demand for people with skills like his in China, so Zhou took the leap.
For four years, Zhou immersed himself in the field of facial recognition research. Then, in 2015, he decided to leave the CAS and fully commit to entrepreneurial work. "I never leave myself a route of retreat," Zhou said in an August interview with Sixth Tone's sister publication, The Paper. He founded CloudWalk in the southwestern municipality of Chongqing in April of that year. Zhou explained that he and a group of fellow scientists decided to pursue this path for a simple reason: "We needed a company behind us to get our research off the ground," he said.
According to Wang Ying, a market research specialist at data consultancy Analysys, the value of China's facial recognition market exceeded 1 billion yuan ($151 million) in 2016, making it one of the largest in the world. The market could reach 5.1 billion yuan in 2021, Wang said.
Though many similar startups exist, CloudWalk was the only such company invited to help set facial recognition application standards for the industry, the central government, and China's Ministry of Public Security. This year, it became one of just four AI companies named to a key draft list of significant internet-related projects issued by the National Development and Reform Commission.
Yet coming from an academic background with little understanding of the sector, Zhou faced numerous challenges in CloudWalk's early stages. In one bid for a project, Zhou and his team spent days putting together a 10-page proposal only to see it rejected by the bank. It transpired that no supplier had ever submitted a proposal that was only 10 pages long — most are at least 300 pages.
Zhou said this experience made him realize the necessity of pivoting from the mindset of an academic in an ivory tower to that of a businessman. No matter how good his technology, he realized, being familiar with the workings of the banking industry and banks' information technology framework was crucial.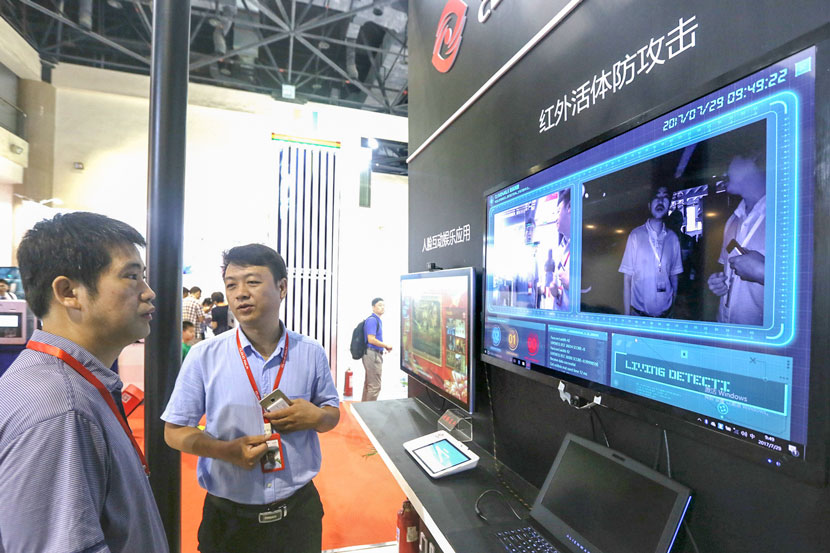 A CloudWalk staff member introduces the company's facial recognition technology during the annual China International Financial Exhibition in Beijing, July 29, 2017. Lei Kesi/IC
In 2015, CloudWalk became the facial recognition technology supplier for Shanghai-headquartered Haitong Securities, one of China's leading securities companies. The project came with several challenges: Customers were using the facial recognition function on a range of different mobile phones, causing discrepancies in the system's recognition rate. Moreover, the increasing number of users rendered the system unstable. Haitong Securities gave CloudWalk three days to fix the back end of the system.
Zhou recalls summoning his team to Shanghai to work on the problems around the clock, telling his staffers that nobody would return home to Chongqing until the project was completed. "Fortunately," he said, "we survived."
"That's just the way it is with startups," Zhou said. "You're super busy, with no time left for yourself. But when you see the fruits of your labor, you also feel proud and excited."
A Chinese version of this article first appeared in Sixth Tone's sister publication, The Paper.
Additional reporting: Qian Zhecheng; editors: Qian Zhecheng and Colum Murphy.
(Header image: Taxi/VCG)