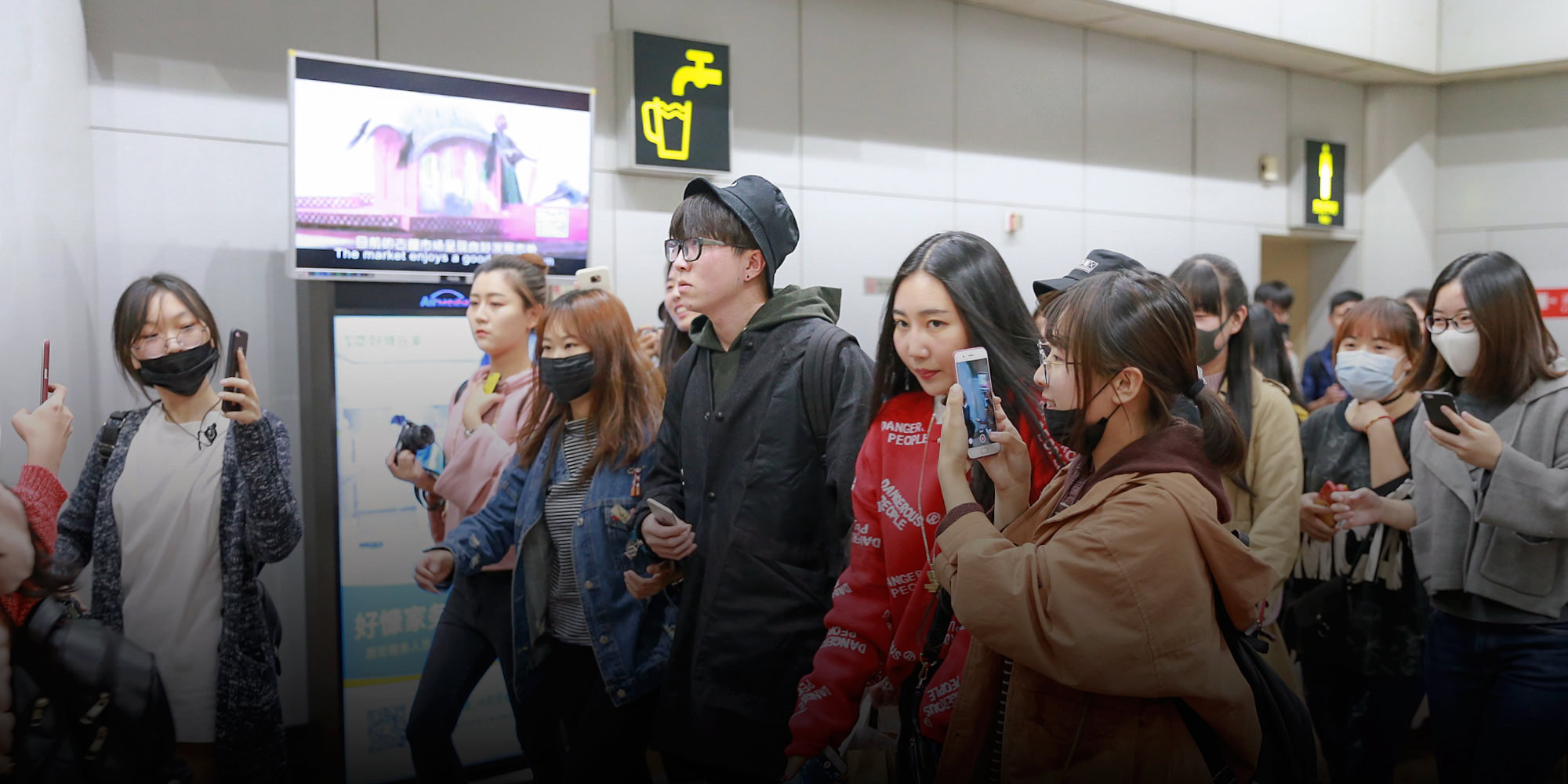 FEATURES
The Accidental Megastar
Nursing student-turned-pop sensation Mao Buyi on bumbling his way to fame and the rise of ordinary idols.
China's pantheon of pop idols is filled with picture-perfect models who sing, dance, and act. This summer, however, an unlikely newcomer joined their ranks.
With his timid demeanor, lack of ambition, and little formal training in music, Mao Buyi, a 23-year-old recent nursing graduate from Qiqihar in northeastern China's Heilongjiang province, bears little resemblance to China's glossy stars. However, it was these exact traits — plus a knack for songwriting — that set him apart from his rivals on "The Coming One," an all-male singing competition from streaming service Tencent Video that debuted in June. Mao gained millions of fans and emerged as the show's champion in September.
From his first appearance on "The Coming One," Mao stood out for his sheer normality. While other contestants boasted elaborate costumes and carefully applied makeup, Mao looked markedly innocent with his round face, large glasses, and slightly crooked teeth. After technical glitches forced him to record his introduction three times, his guitar string broke when he struck his first chord. Standing in front of the show's panel of famous judges, he gawked at them before blurting out, "Living celebrities!"
While fans found his awkward demeanor endearing, it was Mao's original lyrics and performance that won him widespread praise. Avoiding Chinese pop music clichés such as love and heartbreak, Mao sang 14 original songs about hopelessness, frustrated ambition, and his dreams of getting rich — striking a chord among audiences his age.
His first song on the show, whose title translates as "If I Become Very Rich One Day," painted a colorful picture of a life of abundant wealth. "My first choice would not be to travel," sang Mao. "I would lie on the world's biggest and softest sofa, then spend the first year eating and sleeping."
Later in the competition, Mao's world-weary ballad "Xiaochou," or "Drown Your Sorrows," described a young man raising his glass to freedom, death, the past, and the future. Moved to tears by Mao's performance, actress and competition judge Yang Mi poignantly asked, "How many times has life slapped you in the face for you to write such heartfelt lyrics?"
Mao's gentle pessimism has led fans and the media to describe him as "cute sang" — a reference to the popular culture of low ambition and apathy among today's youth — and "song," a slang word for "frightened." When asked about his prospects for victory during his first onscreen appearance, Mao responded with a grimace: "If they give me first place, this must be a seriously bad show." After winning the final on Sept. 23, he was asked in an interview whether he feared his career may have already reached its zenith. With characteristic bluntness, Mao answered: "Is this victory my peak? Oh well. Many live their lives without a single peak."
In just a few months, followers of Mao's personal account on microblogging platform Weibo soared to 2.6 million, while his Weibo hashtag has been searched over 1.4 billion times on the site. To date, "Xiaochou" alone has amassed over 500 million plays and garnered over 67,000 comments on QQ Music, China's most popular music-streaming app. Even established celebrities have joined his fandom: Taiwanese actress Shu Qi sent him a video message of support ahead of the final, and outspoken livestreamer MC Tianyou joined Mao in performing a rap remix of "If I Become Very Rich One Day."
Mao spoke with Sixth Tone about his experience on show and his newfound fame ahead of a fashion event in Shanghai. The interview has been edited for brevity and clarity.
Sixth Tone: When did you decide to become a singer, and what motivated you to sign up for "The Coming One"?
Mao Buyi: Singing has been my hobby since I was a child, but I never thought of being a singer because I didn't feel it was really possible. I never made any real efforts to be a singer; I regarded it as a far-off dream. A friend invited me to join [the show]. I wasn't sure at first; I didn't know what kind of program "The Coming One" was. But later I thought, "Oh well, let's do this then." I guess I just stumbled into it. It's fate.
Sixth Tone: What do you think set you apart from the other contestants on the show, and how did it feel to see your popularity rise so rapidly?
Mao Buyi: Maybe it was because I didn't have much experience — and the way I presented myself was quite natural, I guess. I think it's because everyone could see a little bit of themselves in me, or because there haven't been people like me on the stage before, so everyone thought it was really interesting.
When I was on the show, I didn't have much contact with the outside world — it was all through the internet. I felt I had to be more selective in the way I expressed my thoughts. And because of everyone's affection for you, you end up being harder on yourself.
Sixth Tone: A couple of your songs are about becoming rich and gaining fame. Why were you drawn to these themes?
Mao Buyi: I wrote these songs when I was going through a difficult time in my life. There were many things I wanted to change, but I was powerless to change them — so I could only express my feelings by writing songs.
I wrote ["If I Become Very Rich One Day"] while doing my [nursing] internship. Money was tight, but I needed to buy a lot of things. I thought that if I got rich one day, life might be a lot better.
Sixth Tone: "Xiaochou" is probably your most popular song. What inspired you to write it, and why has it resonated with so many people?
Mao Buyi: I think I wrote this song in May. At the time, I was undergoing the first round of selection for the competition. I was also preparing to graduate from university and felt lost and confused about the future. Joining this competition, I felt I was doing something I'd never tried before. My emotions were all over the place, so I expressed them through a song.
These feelings were the same feelings of many young people in our contemporary society. They find comfort in this song.
Sixth Tone: "The Coming One" is all about discovering a new generation of stars. What qualities should a star have?
Mao Buyi: Actually, in this age, idols are different than before. If a particular group likes some aspects of a star, then that person can be an idol for these people. It might be something about them that is attractive to people, or that people get inspiration from. In the past, [idols] had to be outstanding in every way, from their appearance to their talent.
Sixth Tone: What will you do next?
Mao Buyi: I don't really have plans. I have our tour for "The Coming One." I'll also try to improve my songs a bit.
Contributions: Yin Yijun; editor: Doris Wang.
(Header image: Mao Buyi is surrounded by fans at an airport in Shanghai, Oct. 14, 2017. VCG)