ZHEJIANG, East China — Pass through Ganyao, and you'll notice the town lacks the idyllic footbridges and flowing creeks typical of its neighbors. Even its name — "makes kilns" — hints at an industrial past: In ancient times, the town was known for its thousands of brick and tile kilns. The manufacturing tradition continued well into modern times, with the production of ball bearings becoming the pillar of local industry in the late 1990s.
Now, the town of just over 40,000 people in Jiashan County is trying to fashion itself into a robotics hub. Intelligent manufacturing took root in the town as early as three years ago, but the industry was still in its infancy when local officials mulled over choosing an industry specialty in August 2016. "Building a robot town was like making something out of nothing," Lu Jianfeng, Party secretary of Ganyao Township, told Sixth Tone.
But the Ganyao leadership believes it has what it takes to make its ambitious robot town plan a reality. The cost of living and operating a business in Ganyao, located about an hour's drive from central Shanghai, is much lower than that of its crowded neighbor. Though the township's 2016 revenue of 280 million yuan ($43 million) left little surplus to develop a new industry, the local government is trying to attract companies to make their home in the area by offering favorable policies such as rent exemptions and preferential treatment in land allocation.
Ganyao's android dreams are part of a province-wide push for small towns to specialize. Unveiled in April 2015, the Zhejiang government policy aims to stimulate local economies by calling on all townships in the province to compete for some 100 "specialty small town" designations. The possible specialties vary widely, from information technology and environmental protection to fashion and finance. Those chosen will receive funding and other assistance from the provincial government. In March, Ganyao was selected as a candidate by Jiaxing City, the municipality that administers the town through Jiashan County.
Becoming a specialty town was critical for Ganyao's economy, as an environmental campaign launched in Jiashan County in April 2016 led to the closure of more than 40 local kilns and wood processing plants. Laid-off workers moved away to find employment, while ball bearing manufacturers struggled to grow, given their small-scale operations and low-end products. Though specializing in ball bearings seemed like the most logical option for Ganyao, Party Secretary Lu and his colleagues sought something trendier and more innovative.
Robotics hubs have been popping up in cities across the country, from Hefei in Anhui province to Dongguan in the Pearl River Delta. With encouragement from the national government in recent years, China has become the largest market for industrial robots, with sales rising by 26.6 percent year-on-year to 88,992 units in 2016, according to a report released by the China Robot Industry Alliance, a domestic nonprofit. The International Federation of Robotics predicts that by 2019, 40 percent of the world's robot sales will be to the Chinese market.
A robot is displayed at a Shanghai Bosin Robotic Technology workshop in Ganyao Township, Jiashan County, Zhejiang province, Aug. 10, 2017. Yan Jie/Sixth Tone
Hang Xinjiang, the former head of Jiashan's statistics bureau, pitched the idea of a robot town to Lu as a friend in August 2016. Lu initially said he'd need three days to evaluate the proposal's feasibility, but he made his decision after just one day.
Lu admits that there was serious skepticism about the robotics plan at first. "Some officials thought we just didn't know what we were talking about," he said. "Others questioned the idea of a robot town and said being a ball bearing-making town was good enough."
However, Ganyao forged ahead with its decision. In March, county authorities approved the plan, and the robotics hub is now under construction. The robot town, which comprises a robot theme park as well as research and manufacturing sites, will take up 3.3 square kilometers — nearly 10 percent of the township's 38-square-kilometer area — after its completion in 2027. The midterm goal is to see the area house 30 companies in the robotics and intelligent manufacturing industries by 2023, with a combined annual output target of 2 billion yuan.
As yet, only one such company has set up shop in the area. Dorna Technology — which produces electric motors, including those used to make joints on robots — estimates its output value for 2017 at 250 million yuan. The company has already witnessed the benefits of locating its manufacturing facilities in the robot town. "Newly established companies need a place like Ganyao," Lü Chunsong, Dorna's vice general manager, told Sixth Tone.
According to Lü, companies in the sector burn through cash much more quickly in urban centers like Shanghai: "An initial 50 million-yuan investment could be spent right away in Shanghai," Lü said. In addition, competition for land and other resources is much more cutthroat in such cities.
Other enterprises are making moves to take advantage of what the new robot town has to offer. Jiashan Baqi Machinery Manufacturing, which has been producing high-tech machine tools since 2015, is one such company eyeing land in the area. The company currently operates out of an old workshop that was once a factory for precast concrete slabs, situated west of the planned robot town.
General Manager Wang Haibing said Jiashan Baqi is seeking 2,000 square meters of floor space — and with property prices hovering around 450 yuan per square meter, the new robot town is an attractive option.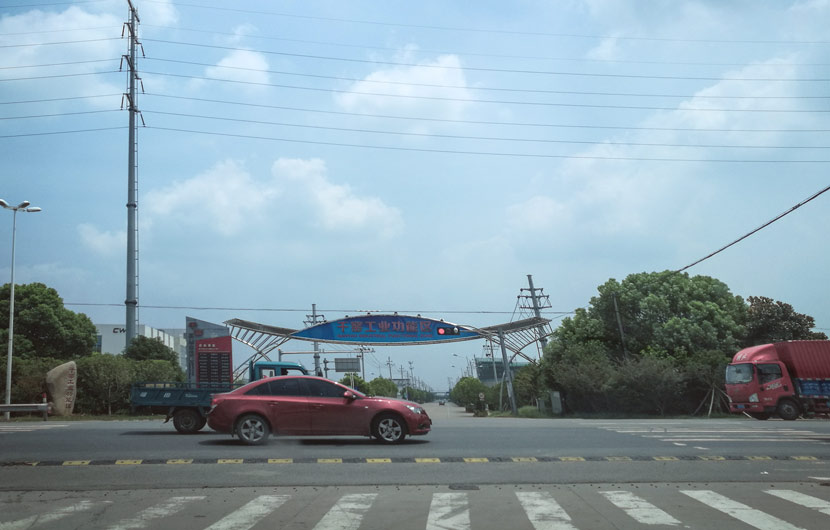 A view of a street in Ganyao Township, Jiashan County, Zhejiang province, Aug. 10, 2017. Yan Jie/Sixth Tone
The villages around Ganyao are also buoyed by the prospects of the robot town, hoping they'll be able to cash in on rising rents as more companies and employees move in. While monthly rent was at most 8 yuan per square meter before construction of the robot town began this past spring, according to Song Dafu, Party secretary of Ganyao Village at the center of the township's new robotics hub, landlords now claim an average of 25 yuan per square meter. "But 25 yuan [per square meter] in rent is still cheap for these companies," Song said with a grin.
Yet affordable land alone is not enough to achieve Ganyao's ambitions. "It needs to attract talent in large quantities," said Zhang Dan, a professor of advanced robotics at York University in Toronto. A Ganyao native, Zhang was invited by the township earlier this year to help build up the talent pool by connecting the local government with universities and other institutions across China. "Ganyao is essentially developing its robotics industry from a blank slate," Zhang said. The township will need high salaries and favorable policies in areas like housing to lure talent from Shanghai, its biggest neighboring economic center, he added.
Lu, the township Party secretary, acknowledges the challenges but remains optimistic. By 2023, Ganyao aims to be home to as many as 20 robotics experts with doctoral degrees, for whom it has already begun constructing apartments. "We're not only building a robot town," he said. "We're also building a welcoming atmosphere for prospective talent."
Contributions: Doris Wang; editors: Doris Wang and Qian Jinghua.
(Header image: A worker calibrates robotic machinery at a production workshop in Jiaxing, Zhejiang province, Aug. 25, 2015. Shen Zhicheng/VCG)