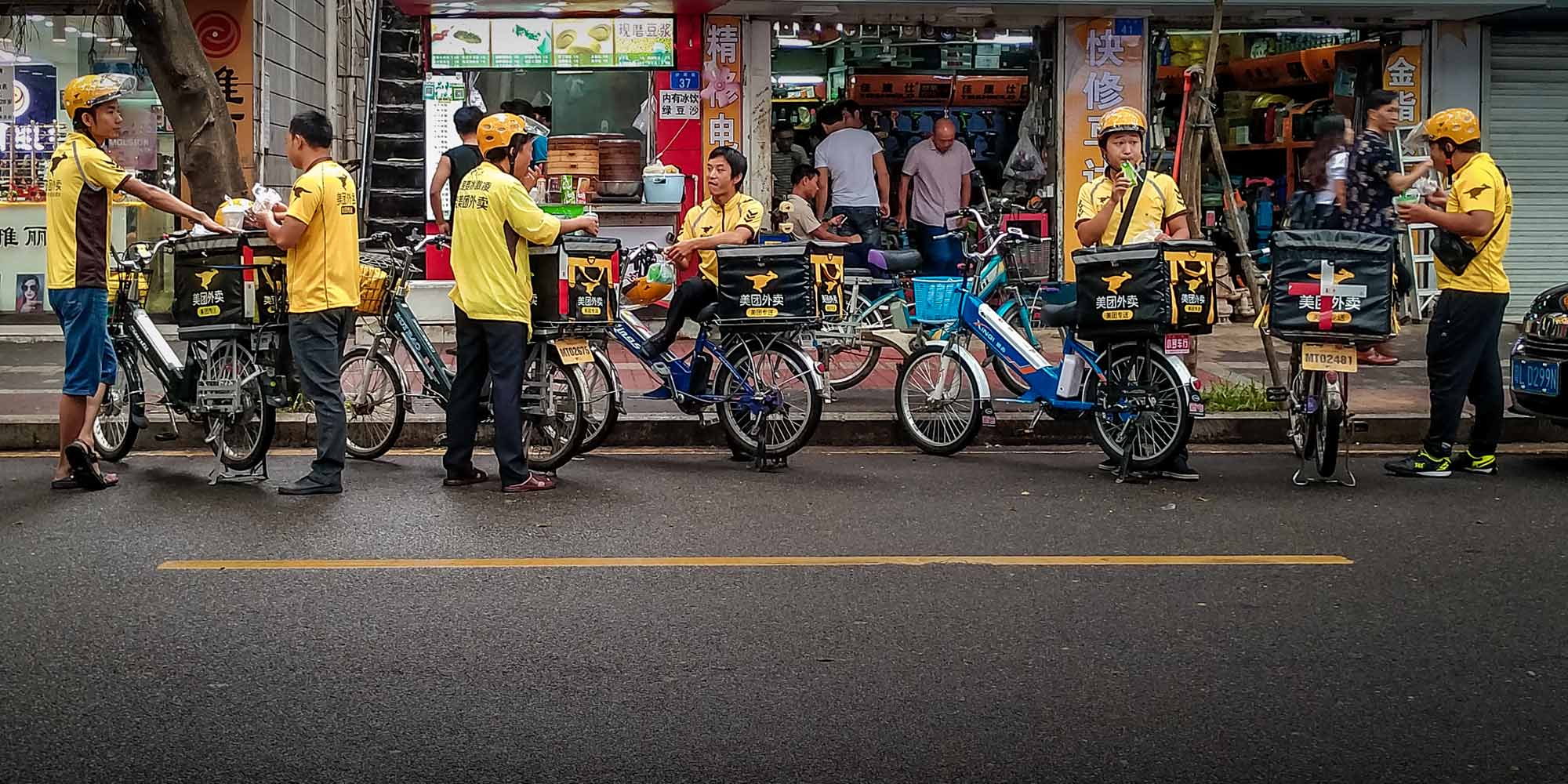 VOICES & OPINION
The Mountains of Takeout Trash Choking China's Cities
Every day, tens of millions of food containers, plastic bags, and disposable chopsticks eat away further at the environment.
Spend a few days in any Chinese city, and you'll notice the vast number of scooter-straddling couriers weaving through streets, alleys, and sidewalks, delivering an endless stream of food to homes and offices. Some are loaded with cups of bubble tea; others are weighed down with sandwiches and salads; some even balance teetering tubs of spicy hot pot, complete with seasoning, vegetables, and raw meat, all packed up with a cooking pot, bowls, and utensils.
China is the world's largest consumer of takeout food. According to a report released by the Qianzhan Industry Research Institute, in 2016, China's online food and beverage delivery market was valued at 166 billion yuan ($25 billion), an almost eightfold increase from 2011. The same report estimates that Chinese online food delivery platforms have some 256 million registered users. Almost 40 percent of cellphone owners have used their devices to order food, and the nation's meal delivery companies process almost 400 million orders every week.
At the same time, the amount of waste produced by delivery services is growing. The report estimates that China's three major meal delivery platforms go through 65 million food containers, 20 million pairs of disposable chopsticks, and 20 million plastic bags every day. If these numbers seem abstract, let's put it another way: If you laid flat the total number of plastic bags used by delivery services on a given day, they would cover an area of 420,000 square meters — nearly the size of Tiananmen Square. These statistics underlie an environmental crisis that grows more uncontrollable by the day.
At present, almost all restaurants store food in disposable containers and provide single-use chopsticks for delivery orders, with the cost of these items being passed on to the consumer. After finishing their meals, most customers simply throw these items away. While they cost only a couple of yuan to buy, the cost for the environment and consumer health is much higher and difficult to fully eliminate.
Growing concern about the environmental cost of food delivery has led the Chongqing Green Volunteer League, an environmental NGO, to file lawsuits against China's three leading food delivery platforms: Baidu Waimai, Ele.me, and Meituan Waimai. The environmentalists accuse the companies of wasting resources and contributing to ecological degradation, actions that may, legally speaking, "pose a significant risk of damage to the public interest." On Sept. 1, the Beijing Fourth Intermediate People's Court agreed to hear the cases.
According to allegations published by the NGO in an open letter, "every day, Meituan Waimai alone goes through an estimated 20 million pairs of chopsticks, the equivalent of 6,700 mature trees. Over the course of a year, 2.5 million mature trees must be cut down to provide the chopsticks used by this one platform … If we continue to cut down trees at this rate, how much longer until our forests are exhausted?"
The Green Volunteer League's lawsuit is the first to be filed against online food delivery services on environmental grounds. Whether or not it succeeds, it deserves our support for raising awareness of pollution caused by delivery companies, disrupting the activities of companies that run roughshod over China's environmental well-being, and showing the power ordinary people wield when it comes to protecting their local environment.
Compare the practices of Chinese delivery services to those of their counterparts abroad. In Australia and the United Kingdom, many "takeaway" hamburgers and sandwiches come wrapped in biodegradable oiled paper, while pizza is delivered in recyclable cardboard boxes. However, Chinese delivery orders typically consist of a mix of dishes, many of which come smothered in sauce, and as such are ill-suited to oiled paper or cardboard packaging. Instead, they tend to come in transparent plastic tubs wrapped in polyethylene bags.
In Japan, some businesses offer regular utensils with delivery orders instead of disposable ones. When customers finish their meal, they wash the utensils and leave them outside their door for the delivery courier to pick up later.
In China, however, businesses typically must offer significant discounts or rewards to convince customers to recycle their utensils. China can learn from the Japanese model, but it will take time for consumers to attain the necessary level of environmental awareness. Clearly marking the price of eating utensils and plastic bags has had no effect: Consumers typically order delivery with a view toward convenience and time-saving; they generally don't care about a surcharge of 1 or 2 yuan. According to a survey conducted by the state-run newspaper Global Times, 71.6 percent of respondents said they were unaware of the environmental issues involved in food delivery.
Finding effective long-term solutions to this problem requires China to develop robust waste treatment measures and implement systems for separating recyclable and nonrecyclable trash. China produces 520,000 tons of household waste every day. When we factor in construction waste, this number rises to 1.4 million tons, double the amount produced in the United States. Food delivery waste is a microcosm of China's worsening pollution problem. The nation's cities are besieged by mounting piles of garbage, while the country's creaking waste management systems struggle to keep up.
Cities are growing incapable of controlling the waste their inhabitants produce. In 2016, reports of trash dumping across provincial borders drew widespread public attention. In an effort to cut costs, more than 20,000 tons of waste produced in Shanghai were quietly dumped on Xishan Island in nearby Suzhou, Jiangsu province.
Even more serious is the plastic waste dumped directly into the ocean, causing virtually irreparable harm to aquatic ecosystems. According to data published in the journal Science, China is the No. 1 offender, responsible for almost one-third of all oceanic plastic waste. Pollutants ingested by fish are making their way back up the food chain and into humans, leading to increased risks of cancer and birth defects.
Takeout trash will continue to create waste management issues for the foreseeable future in China. From the production and sorting processes to waste treatment and reuse, our inefficient management models have failed to keep pace with the problem. Obviously, we can't implement nationwide the steps taken by one eastern Chinese university, which banned all food deliveries for environmental reasons.
Controlling a problem through regulation and education can sometimes be a more effective solution than trying to ban it outright. To reduce food delivery waste, we must convince Chinese consumers that their order isn't complete once it arrives at their door. Once you've eaten your fill, you still have to recycle your food containers.
Article 6 of China's Environmental Protection Law states that all work units and individuals have a duty to protect the environment. But as Zhou Ke, a law professor at Renmin University, argued in a recent interview with The Beijing News, this law has never been fully implemented. For many years, China's environmental efforts have centered on administrative intervention and have failed to clearly outline the responsibilities corporations and the public must shoulder.
This legal backing should allow the Chinese government to strong-arm food retailers and platforms into displaying highly visible information about the dangers of using disposable chopsticks and plastic cutlery. The state could also compel businesses to use recyclable plastic food containers and pass on the extra cost to the consumer in the same way they currently do with nonrecyclable items. Takeout platforms could expel retailers who fail to abide by these standards and reward consumers who choose not to use disposable cutlery. If we continue to saddle the environment with the remains of our quick-and-easy takeout hot pot, our environment will, one day, bite back.
Translator: Kilian O'Donnell; editors: Zhang Bo and Matthew Walsh.
(Header image: Delivery men wait outside restaurants in Shenzhen, Guangdong province, June 19, 2017. Liang Xiashun/VCG)