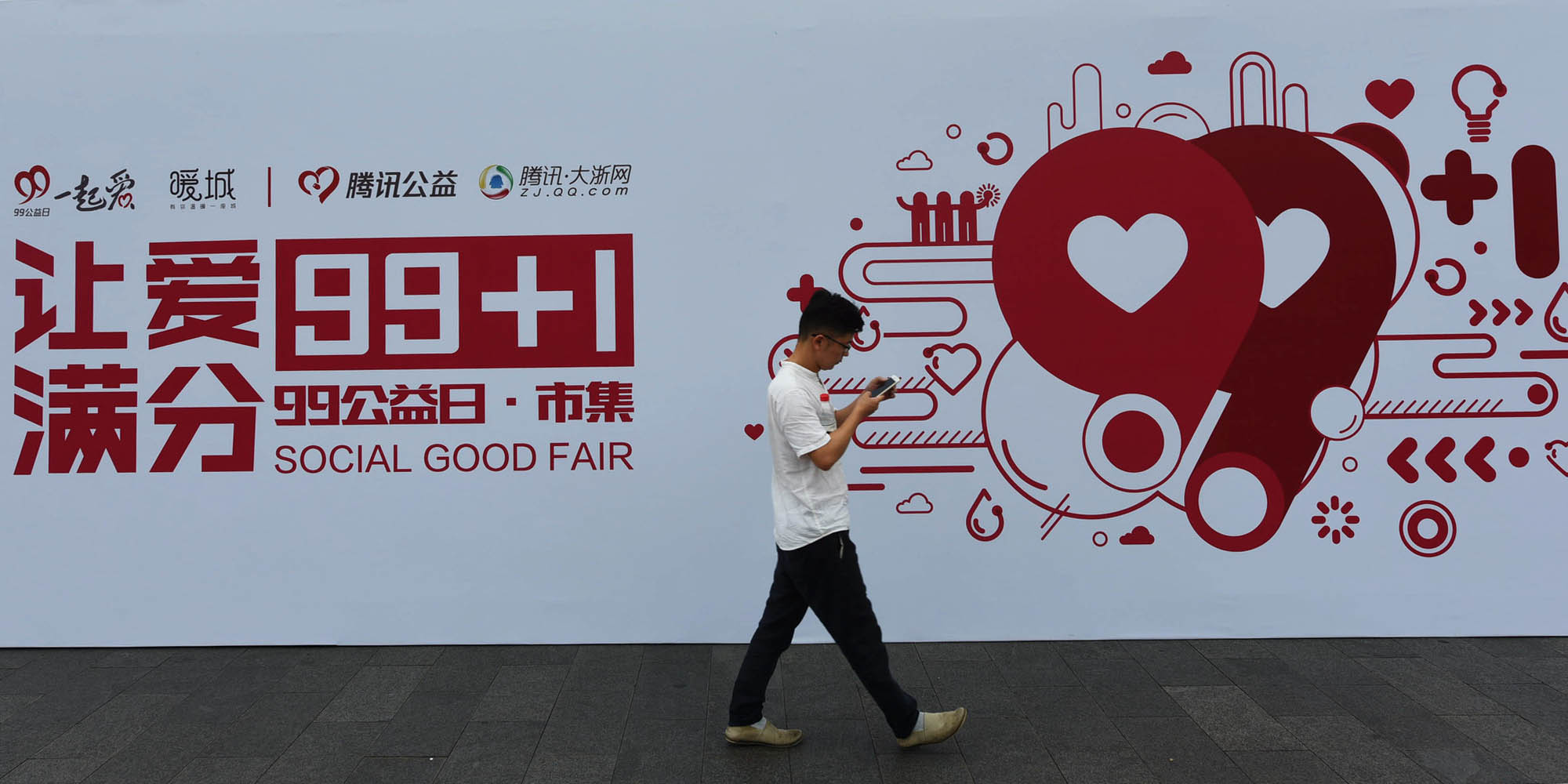 NEWS
Tencent's Online Charity Drive Plagued by 'Abnormal' Donations
Suspicious transactions were possibly made to game the system.
Chinese tech giant Tencent is investigating some 25,000 accounts it suspects of irregularities during its annual charity event, the company said Tuesday in a statement on its official WeChat account.
During 99 Charity Day, an online event organized by Tencent from Sept. 7 to 9, some donors made transactions at an unnaturally quick pace, the statement said.
A Tencent spokesperson declined to discuss possible motives. However, one plausible explanation could be that these users were trying to take advantage of the company's pledge to match donations by a random amount of up to 999 yuan (about $152). By breaking up larger gifts into smaller payments, donors may have tried to increase their chances of getting Tencent to match by the maximum amount.
Deng Fei, founder of the nonprofit Free Lunch for Children, told financial outlet Caixin in September that during Tencent's event, his organization was offered a hefty donation of 300,000 yuan that had been broken up into smaller amounts — which the nonprofit reportedly declined.
A spokesperson from Tencent's charity department told Sixth Tone on Thursday that the company had never encountered similar cases in previous years. The total amount of donated money that is now being scrutinized is about 1 percent of the estimated total of 584 million yuan — not a big enough problem to affect 99 Charity Day as a whole, but not small enough to ignore either, the spokesperson added.
Tencent said that four projects had received 30 million yuan each in suspiciously made donations, while 23 others racked up over 10 million yuan each.
With millions of participants using mobile payment features on the company's popular messaging app, WeChat, 99 Charity Day has helped popularize charitable giving by making it easier, and even fun. In August, Tencent ran a successful campaign in which people could "buy" digital copies of paintings made by children with mental disabilities that could then be shared to their social media feeds.
A few high-profile scams in recent years have diminished the public's trust in charity projects, and in September 2016 China implemented a charity law to better regulate the sector. In accordance with the new regulations, Tencent said it would blacklist dishonest users and cancel their donations. Their investigation's results will be made public in late October.
"This is a reminder to us that new developments bring new challenges," the Tencent spokesperson said. "But only if we face them and solve them will we be able to continue to push for improvements in the charity industry."
Additional reporting: Lin Qiqing; editor: Kevin Schoenmakers.
(Header image: A man walks past an advertisement for Tencent's annual '9.9 Charity Day' in Hangzhou, Zhejiang province, Sept. 9, 2017. Long Wei/IC)