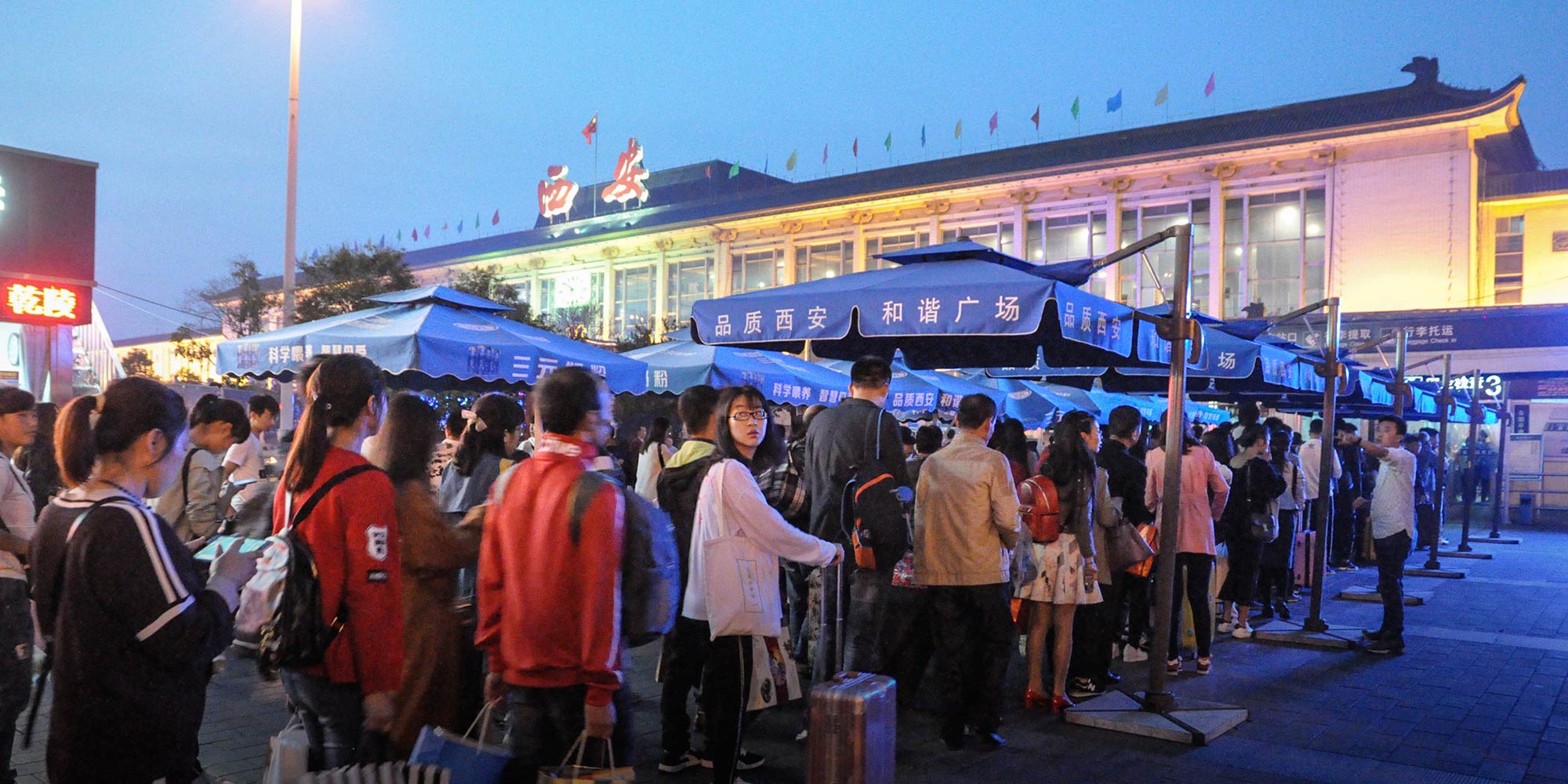 NEWS
Ticketless Xi'an Travelers Try to Crowdfund Extra Train
Attempt at 'supply-side reform' was not a runaway success.
Railway authorities in northwestern China offered travelers who found themselves stranded during last week's National Day holiday a creative solution: They could crowdfund their journey home.
If enough people signed up to travel between Xi'an and Yulin — both cities in Shaanxi province — extra trains would run on Saturday and Sunday, the end of the eight-day Golden Week during which hundreds of millions of Chinese traveled by air, road, and rail.
The crowdfunding campaign for left-behind passengers was launched by the Xi'an Railway Bureau on Weibo, a popular microblog platform, China National Radio (CNR) reported Monday. People could specify their preferred departure time for the seven-hour journey and would receive a full refund if their ticket was not issued.
But with just 122 participants and 9 percent of the initiative's financial goal met, the fundraiser was stopped in its tracks. The passengers were rescued, however, when the railways decided to run the trains anyway, and all available seats sold out.
Zhang Yujing, an employee at Xi'an Railway Station, told Beijing Youth Daily that since this was the first attempt to crowdfund a train journey, she would stop short of calling the event a failure. "If there are more than 100 passengers who demand a journey, we will try our best to meet their needs," Zhang said.
Wang Jianlin, head of the passenger transportation department of the Xi'an Railway Bureau, told CNR that the bureau organized the crowdfunding to empower passengers. "We thought that after the supply-side structural reforms of the past years, we should allow passengers to set the market," Wang said, referring to reforms by the central government that aim to give the market more influence in the economy.
"Previously, the railways' service is, 'You can take whichever train we operate,'" Wang said. "But this is operating trains according to people's preferences. That's a huge change."
According to state news agency Xinhua, more than 132 million journeys were made during the holiday period from Sept. 28 to Oct. 8, a 12 percent year-on-year increase. Though the railways arranged for more than 700 extra trains, it was nonetheless difficult for every traveler to get a ticket.
Wang said the bureau would learn from its first attempt at crowdfunding. "We will definitely have another try during the Spring Festival," he said, referring to Chinese New Year, an upcoming holiday period when hundreds of millions of people will once again be on the move.
Editor: Kevin Schoenmakers.
(Header image: People stand in line outside Xi'an Railway Station, Shaanxi province, Oct. 1, 2017. IC)