After undercover reporters discovered rats and other sanitation scares in the kitchens of Haidilao restaurants in August, the popular hot pot chain has installed webcams that lets diners inspect the cleanliness of its kitchens.
Twenty-four Haidilao locations in Beijing have signed up to Sunshine Catering, a project by the municipal food and drug administration, Legal Evening News reported Tuesday. Through an app that has been available since May, customers can watch live video feeds from thousands of kitchens in Beijing, ranging from bubble tea shops, cafés, and restaurants, to school and company canteens. Users can also check business licenses, employees' health certificates, and leave reviews.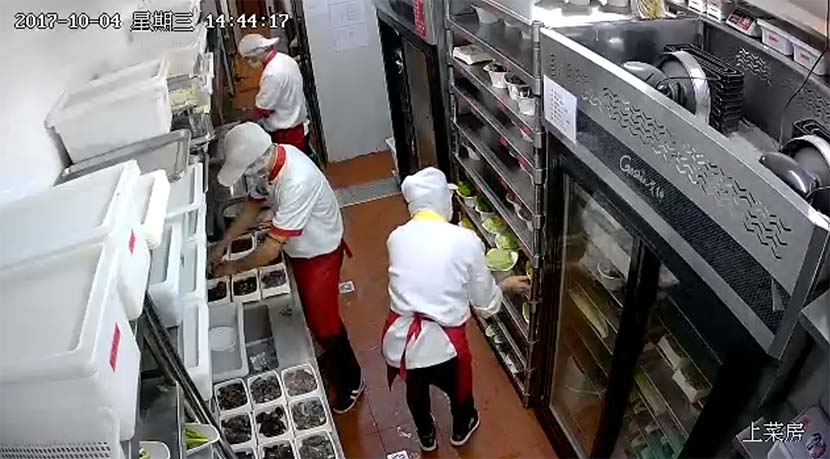 A screenshot from a livestream of a Haidilao kitchen in Beijing, Oct. 4, 2017. From the Sunshine Catering app
Haidilao in August closed two restaurants in Beijing after reporters from Legal Evening News witnessed unhygienic conditions, including rats running around the kitchen, and employees using a soup ladle to clean sewage pipes. The company promised to examine the hygiene at all its locations.
An employee surnamed Li at the Taiyanggong branch in Beijing told Sixth Tone on Wednesday that they had reopened on Sunday. "As you know, something bad happened in our store," the woman said, "so we now sincerely invite clients to check our kitchen's condition in person or by webcam, which is also in accordance to the city's requirement of sunshine catering."
Large TV screens have been installed at the restaurant's entrance that show a video feed from the kitchen, according to Legal Evening News.
Food safety is a common worry among Chinese consumers, wary after frequent news stories about re-used oil, expired ingredients, and bugs or rodent infestations. In July, all nine locations of popular dim sum restaurant LIST were ordered to close by the Shanghai food and drug administration after dozens of customers were hospitalized.
Since 2014, China's food and drugs administration has promoted "bright kitchens and shiny stoves," calling on restaurants to give both diners and inspectors a clearer a look into their kitchens. By late 2016, about a quarter of licensed restaurants had taken action, according to state news agency Xinhua.
Sunshine Catering is one of several efforts to get restaurants to clean up their acts. Shanghai launched a similar project in March that included more than 2,000 restaurants, and since April, China's largest online food delivery platforms Meituan, Baidu, and Ele.me have also added kitchen livestreams to their apps.
Beijing's Sunshine Catering aims to have about 20,000 kitchens online by the end of this year, but according to reviews on Apple's iOS App Store, it doesn't always succeed in giving customers a good look at how their food is prepared. "It crashes when you open it," wrote one user, repeating a common complaint. "I couldn't see anything."
Editor: Kevin Schoenmakers.

(Header image: Customers at a Haidilao hot pot restaurant in Wuhan, Hubei province, Sun Xinming/VCG)