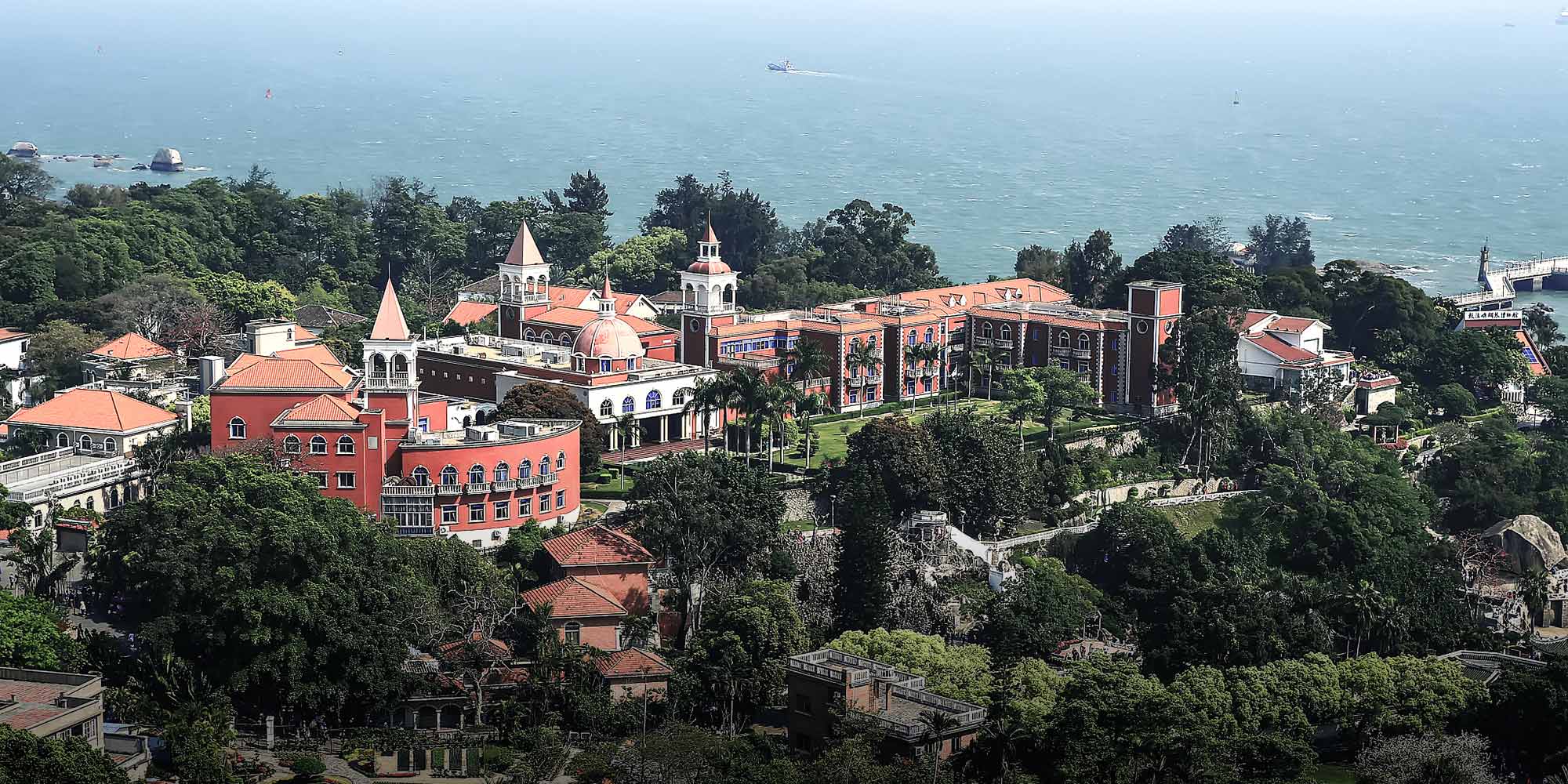 VOICES & OPINION
How Young Entrepreneurs Transformed Xiamen Into a Creative Hub
The coastal city's balmy beaches and laid-back lifestyle have drawn innovative businesspeople and spurred urban renewal.
In September, I gazed out the window as the airplane made its final approach in Xiamen, a historic city in eastern China's Fujian province. From my vantage point, I saw a giant creature strung between two pale gray industrial complexes — a vast crimson insect at least 20 meters tall, extending its limbs to cling to the buildings around it.
The otherworldly structure was, in fact, a towering logo suspended over Xiamen's first shared office space for the city's burgeoning creative industry. Liang Shuai, planning director of Xiamen United Development (XUD) — the state-run company that owns the premises — explains that the logo is a butterfly symbolizing the city's rebirth as a creative hub.
The sign stands in sharp contrast to the area's industrial past. Resembling the Chinese character mei, which means "beautiful" and appears in the Mandarin word for "America," the logo harkens back to the site's recent history as the home of the U.S.-based R.J. Reynolds Tobacco Company, which makes Camel cigarettes. Reynolds set up shop in Xiamen in 1986 before selling the property to Japan Tobacco International in the '90s. When the Japanese left in 2004, the factory was placed back into Chinese state hands.
Mei also appears in a word meaning "magnificent," and in 2015, XUD transformed the factory into an art zone called Huamei Kongjian — literally, "magnificent space." It houses more than 100 tenants, 90 percent of which are startups in the creative industry. Huamei Kongjian is one of four industrial parks that XUD has transformed in Xiamen's Huli District, which is also home to the city's seaport and airport.
Xiamen's creative industry has flourished since 2007, when public opposition to a planned chemical plant resulted in the project being moved outside the city. Though Xiamen's ailing economy could have benefitted from the predicted 80 million yuan ($12 million) that the plant would have brought annually, people power ensured that the local environment took precedence over commercial gain. "That was a watershed year when the creative sector started to grow in Xiamen. The decade since has been a golden one for early birds like us," says Yang Hanjing, curator of a private library displaying local cultural artifacts.
Originally from mountainous Guizhou province in China's southwestern hinterland, 38-year-old Yang has spent 13 years doing business in Xiamen. His 1,000-square-meter enterprise, GoodOne, has the largest collection of local objets d'art of any private library in China. Its walls are lined with the motley clutter of old wardrobes, dowry trunks, chestnut desks, reading lamps, dial telephones, sewing machines, teacups, chopsticks, food coupons, mirrors, and even bathing permits used by workers during the pre-reform era.
Yang prides himself most on a collection of more than 70,000 patterned cement tiles rescued from the streets of Xiamen in 2014 before their host buildings were demolished to make room for the city's new metro lines. The handmade tiles' designs — floral patterns in burgundy and magnolia, obsidian eight-pointed stars, delicately painted concentric shapes — recall Xiamen's history as a former treaty port trading with Southeast Asian colonies, especially the Dutch East Indies.
Xiamen's merchants once decorated their lavish mansions with these tiles, but unfortunately, many of these houses were reduced to dust during the urban renewal campaigns of the last decade. Now, Yang makes money from selling old tiles through e-commerce platform Taobao. "It's about collecting a piece of the once-vibrant history of the city," he says.
My guided tour of Huamei Kongjian also includes a coffee shop that was originally the factory's boiler room. Zhang Wei, a locally renowned architect and owner of the shop, has kept most of the space's original details intact: Half a dozen emerald-green boilers dot the place, coffee tables sit on short cement poles, and a restored overhead crane is now home to a DJ booth.
"Unlike most coffee shops that tend to be delicate and cozy, I chose to make it look as industrial as possible," Zhang says. "I built it in the boiler room to create a melting pot for ideas and opportunities."
As one of China's earliest cities to court large-scale foreign investment, Xiamen has seen a manufacturing boom since the 1980s thanks to its cheap land prices, low labor costs, and generous tax breaks. Policy perks have expedited the city's economic success and drawn business from Taiwan, a short hop across the sea from Xiamen. Up to 60 percent of Taiwanese people have family roots in Fujian, making Xiamen a natural fit for the island's entrepreneurs.
However, Taiwanese investment in Xiamen has recently failed to meet the local business community's expectations, in part due to the strained relations between the mainland and Taiwan since the pro-independence Democratic Progressive Party (DPP) came to power in Taiwan last year. For three decades after the Communist takeover of the Chinese mainland in 1949, military confrontations periodically flared up between Xiamen and a garrison on Kinmen, an archipelago under the de facto governance of Taiwan that lies a mere 18 nautical miles east of Xiamen. Dialogues begun in 1987 have brought peace to the area since 1995, but the election of DPP governments has intermittently amplified political tensions that have blunted the edge of cross-Straits trade.
Investors in Xiamen today find a city that is embracing its post-industrial history. In the little bars on the picturesque islet of Gulangyu, bottles of Chinese maotai liquor sit easily alongside Japanese whiskey and British rum. "Mainstream local culture remains laid-back and relaxed — the same as in other slow cities like Chengdu and Guangzhou — but this takes a toll on business success," says Yang Lin, a local radio journalist.
Lin Dongdong is the Xiamen-based co-founder of Feibo Gongchuang, a WeMedia firm that shares jokes and book reviews on Weibo and WeChat public accounts that have accumulated more than 200 million subscribers. It also makes real-life dolls based on popular emojis and runs an internet celebrity training camp. Feibo has been touted as the next Meitu, Xiamen's most successful technology company. Around 1.1 billion smartphone users worldwide use Meitu's photo-beautifying app.
Xiamen is a unique environment for technology startups, with a slower pace of life and less pressure to be instantly successful. The likes of Beijing, Shanghai, and Shenzhen can't compete with Xiamen's balmy beaches or comparatively clean air. Xiamen also keeps tech entrepreneurs at a distance from the push and shove of venture capitalists, most of whom plump for the booming metropolises further up the eastern coast.
Lin says that Xiamen's DNA is closer to that of Seattle than, say, New York City, offering smaller, less technology-driven startups a perfect environment in which to blend art with science. For China's creative types, it is fast becoming an ideal place to live.
Editor: Matthew Walsh.
(Header image: An aerial view of Gulangyu in Xiamen, Fujian province, April 13, 2015. VCG)