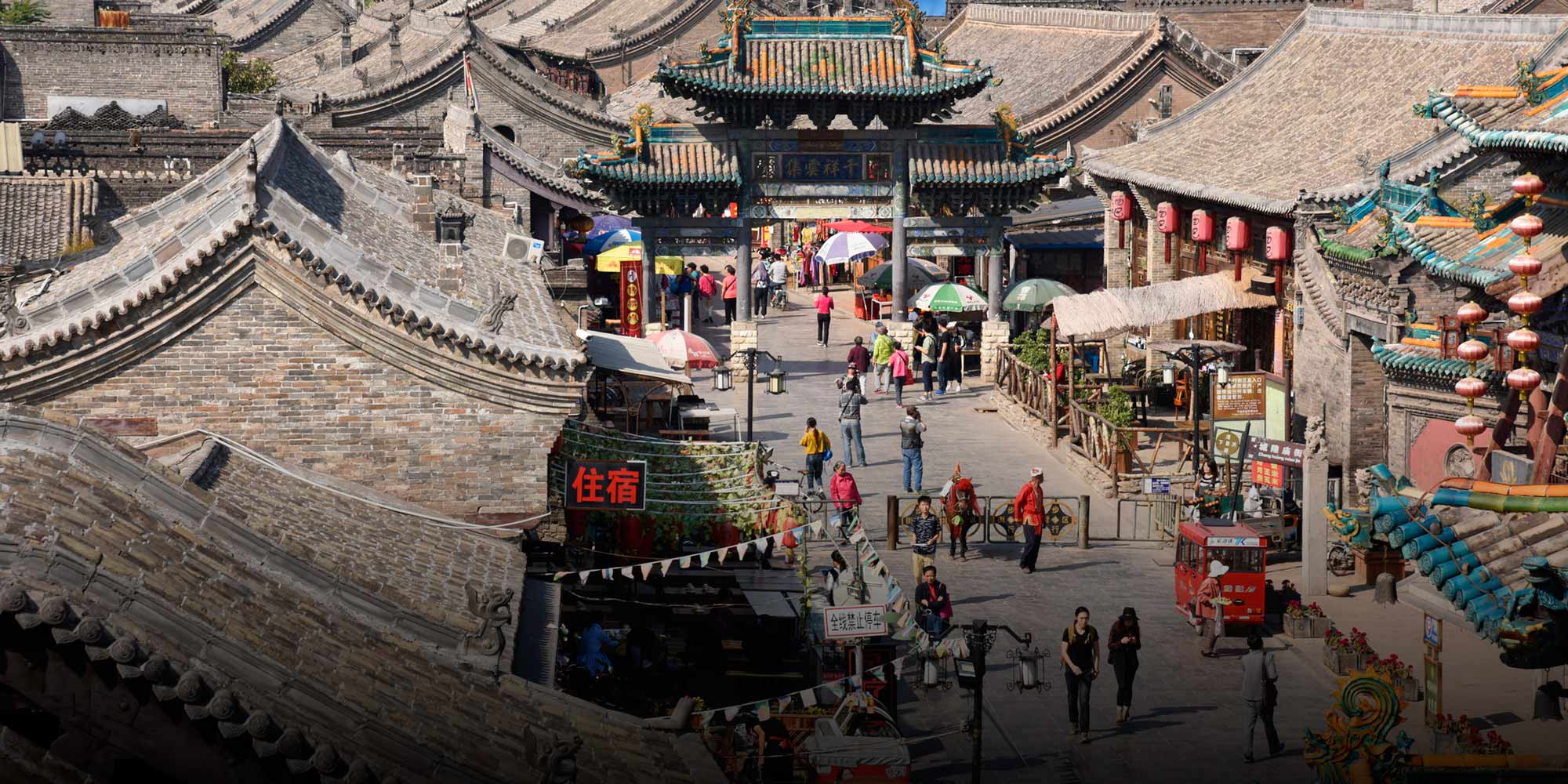 FEATURES
Ancient City Seeks to Host China's Sundance
Pingyao, a UNESCO World Heritage site, hopes to keep tourists coming with new international film festival.
This article is part of a series about the changing face of Chinese tourism.
Millions of tourists visit the walled ancient city of Pingyao every year, but its faded movie theater has never been an attraction. The theater has been closed for over a decade, idly gathering dust as throngs of people shuffle by.
Nevertheless, the 2,700-year-old city in northern China's Shanxi province could soon be at the center of Chinese cinema.
Several months ago, pile drivers started pounding away at Pingyao's abandoned diesel engine factory, transforming it into the site of the area's first international film festival. The inaugural Pingyao Crouching Tiger Hidden Dragon International Film Festival (PYIFF) — named after the Oscar-winning kung fu movie — will kick off in late October.
The main driver behind the project is celebrated Chinese cineast and Shanxi native Jia Zhangke. In his view, PYIFF differs from other domestic film festivals in that it will forgo big-budget blockbusters. Jia's own movies, which he writes and directs, tend to be small productions as well, with a focus on people living on the fringes of society. One recurring element in Jia's work is his home province, Shanxi.
"I constantly wondered during the journey when we could have a film festival in our own country, in our own hometown," Jia said during a press conference held in Beijing in March. "Today, my dream has come true."
Jia — who himself has triumphed at the prestigious Cannes, Berlin, and Venice film festivals — has assembled a team of international curators and producers to select films for the Pingyao festival. They reportedly hope to see PYIFF become the Chinese version of Sundance, a festival held in Utah that features only independent films.
Though PYIFF is Jia's brainchild, it has also received backing from the Pingyao County government as part of Pingyao's push to attract more visitors. The government has pledged 40 million yuan ($6 million) to cover the festival's costs for the first three years, hoping that the film event will contribute to Pingyao's already-sizable tourism industry.
Situated in the heart of China's coal mining country, Pingyao County once relied on heavy industry — until unfavorable national policies and depleted natural reserves took their toll on the sector. Luckily, the area was endowed with more than just coal: It began promoting its walled ancient city, complete with well-preserved historic architecture.
In 1997, Pingyao Ancient City was named a UNESCO World Heritage site. Then, in 2015, it became a 5A-level tourist attraction, the highest ranking awarded by the China National Tourism Administration based on a host of factors, including site preservation and popularity. Pingyao received more than 10 million visitors in 2016, which earned the county a total of 11.8 billion yuan. But that's still a far cry from the 19.3 billion-yuan target that the local government has set for 2019.
Just outside the upcoming film festival's main venue — the former engine factory — stands an eatery owned by Zhao Xiaoyuan, 49, and her husband. They used to work at the factory, a state-owned enterprise that employed around 1,500 people at its peak. But the couple were laid off in the 1990s when a wave of liberalizing economic reforms swept across the country.
Located in a remote corner of the ancient city, the restaurant sits some distance away from Pingyao's most significant historical sites and other tourist attractions. This means that rent for the restaurant — about 50,000 yuan per year — is nearly half what the area's most desirable properties go for. But it also means that business is just "so-so," Zhao said. The place is only ever packed during the annual Pingyao International Photography Festival, which started in 2001 and is also held at the former engine factory.
Every year during one week in September, Zhao's restaurant is flooded with people in khaki vests, carrying big cameras and even bigger lenses. Although Zhao expects a slight uptick in customers during the upcoming film festival, she's not over the moon — two festivals a year won't give much of a boost to her family's income, she figures.
Newly inaugurated county head Shi Yong agrees, telling Sixth Tone that "The idea of a film festival alone doesn't appeal to me very much." The local government has its sights set on a bigger slice of China's burgeoning movie industry: With plans to build a studio and other film-related facilities, Pingyao aims to become the northern Hengdian, the town in Zhejiang province whose TV and movie studios host about 70 percent of all Chinese productions.
Shi is not originally from Pingyao. His first impression of the area's tourism sector, he said, is that it doesn't attract enough young visitors. In his view, Pingyao is a typical northern Chinese city that quietly and solemnly fixates on its long history. He hopes the film festival will help make the ancient city more attractive to young people.
But Zhao's 19-year-old son, Wang Sen, wants nothing more than to escape his hometown. He's studying in the provincial capital, Taiyuan, to become a tour guide and doesn't plan to move back to Pingyao anytime soon. "Pingyao is an easy and comfortable place, not suitable for people who want to fight for success," he told Sixth Tone.
Wang doesn't go to the cinema often — only on dates with his girlfriend, he said — and he doesn't expect the film festival to help his family's business very much, explaining that silver screen celebrities are not the kind of people to patronize his parents' modest restaurant. Nevertheless, he can't help but feel excited.
"I look forward to feasting my eyes on A-list stars and big-name directors right outside our door," Wang said.
Additional reporting from Pingyao: Fu Danni and Li Wenying; contributions: Colum Murphy; editor: Kevin Schoenmakers.
(Header image: A view of Pingyao Ancient City during the annual Pingyao International Photography Festival in Jinzhong, Shanxi province, Sept. 26, 2016. Cheng Yuefeng/IC)