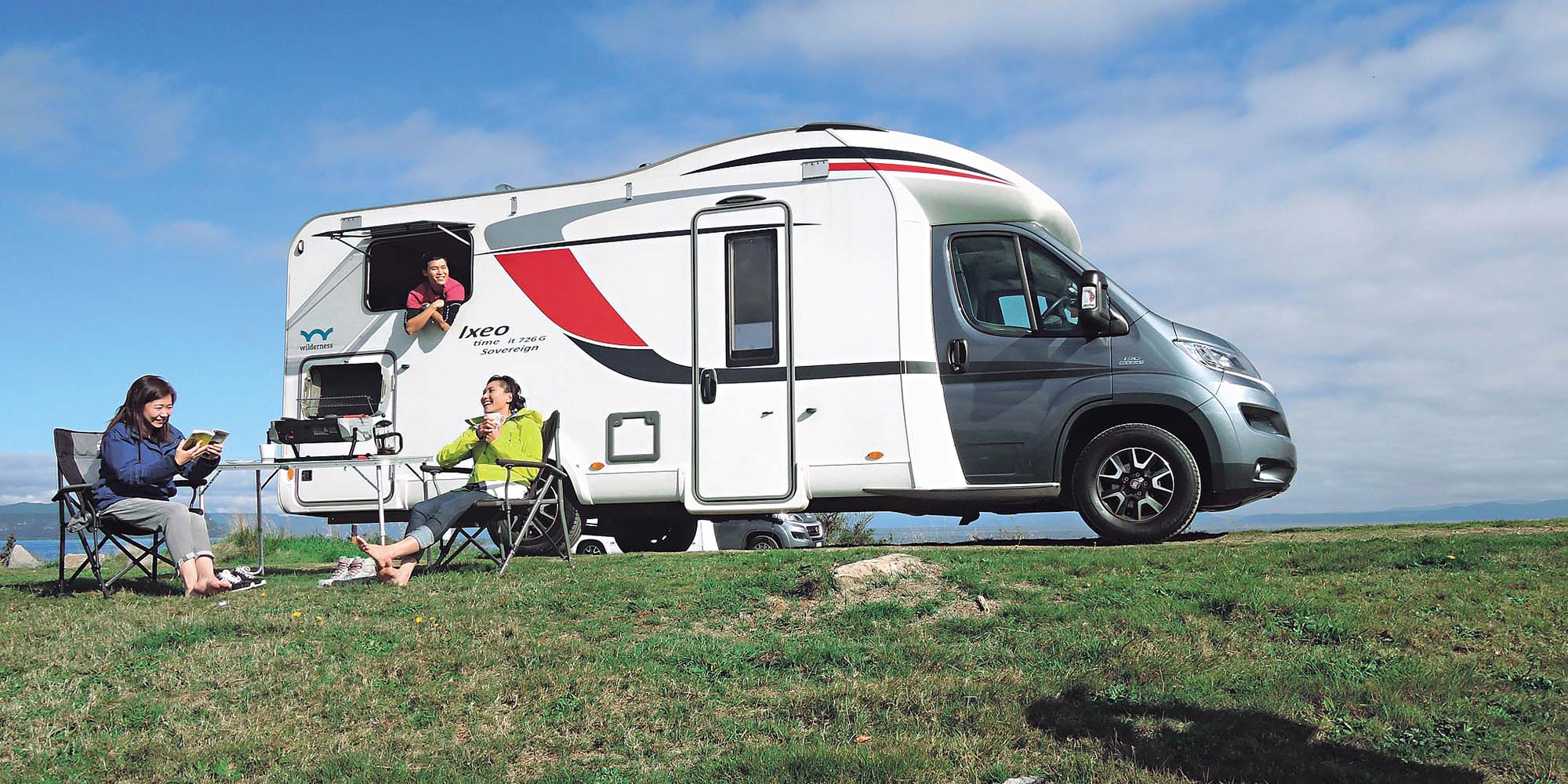 FEATURES
China's Driving Tourists Take to Foreign Roads
Younger, more confident explorers discover the joys of life behind the wheel.
This article is part of a series about the changing face of Chinese tourism.
When it came to travel, Ying Siyi used to be no different from most package tour Chinese travelers, who have been derided for sleeping on buses and taking selfies at scenic spots.
But that changed when, in May 2015, the 29-year-old and her automotive photographer boyfriend traveled around New Zealand on vacation in a recreational vehicle. "Driving gave me more freedom to make decisions, like where to go and how long I stayed in one place," Ying tells Sixth Tone.
Since then, the pair has traveled more than 30,000 kilometers by car, including a 13-day trip along America's iconic Route 66 that connects Chicago in the Midwest with Santa Monica, California; a 15-day trip in Norway to see the northern lights; and a 45-day 12,000-kilometer road trip from Manzhouli, a city in northern China's Inner Mongolia Autonomous Region on the border with Russia, all the way to Paris.
"I felt proud when we stopped our car at the Arc de Triomphe," Ying recalls. "A lot of people, including other tourists from China, saw our Chinese license plate and gave us a thumbs-up."
Although their experiences are somewhat exceptional, Ying and her boyfriend are among a growing number of young Chinese who prefer to travel independently, and who are not afraid to get behind the wheel and set off to explore the world.
Road-tripping has long been a popular choice for many travelers in developed countries. However, in China, where independent overseas travel is a relatively new phenomenon, this form of touring has only recently begun to take off.
China has remained the world's largest outbound tourism source market for the past five years. The number of outbound tourists exceeded 122 million last year, up 4.3 percent from 2015, according to a January report by the China Tourism Academy. The growth of independent travelers — who account for 60 percent of total outbound trips — is an inevitable trend, the report said.
Driving the trend is China's post-'80s generation. Now in their late 20s to 30s, this demographic accounts for most of the nation's independent tourists, as they have comparatively more travel experience, stronger purchasing power, and better foreign language skills, prompting them to opt for more personalized forms of travel such as driving, according to Jiang Xinwei, a travel analyst with big data consultancy Analysys.
Countries such as the United States and Australia — both popular destinations for driving — have recently relaxed visa policies for Chinese nationals, which has also propelled the emergence of driving tourists, Jiang adds.
When travel enthusiast Li Xiang visited Turkey in 2014, she was unimpressed with local transportation options; instead, she rented a car and took the wheel herself. The 32-year-old finance company employee from Shanghai liked the flexibility and says that driving also helped save time. She's since completed similar trips to Spain, Portugal, and Iceland. "The driving experience in Spain was exciting because we came across a lot of beautiful scenery in small towns that tour agencies can't take us to," Li tells Sixth Tone. "Also, it's convenient to rent cars in countries where road conditions are good and people obey traffic rules."
Around this year's National Day holiday in October — one of two major vacation periods in China — Li and a group of friends will embark on a three-week road trip in Canada. Li says she booked the rental cars online several months in advance.
The rise of consumers like Li has also spurred changes in China's car rental landscape. When international chain Hertz entered the market in 2002, a major focus for the company was the outbound corporate traveler. Hertz told Sixth Tone in a statement that in recent years, the company has catered more and more to "the increasing number of general tourists who tend to choose more independent ways of traveling overseas."
According to an August report by consulting firm iResearch, 2007 saw the emergence of Chinese car rental platforms — such as CAR Inc. — that primarily focused on renting cars to customers in China. From 2014 on, the report continued, many such Chinese companies increasingly began to offer car rental services abroad, putting them in direct competition with international brands. With growing investor interest, Chinese startups such as Guangzhou-based Zuzuche.com and Shanghai-based Huizuche have recently appeared on the scene, focusing exclusively on renting cars in overseas markets.
According to a report from Mafengwo, a travel website aimed at independent travelers, the number of outbound Chinese tourists who drove while overseas increased 130 percent between 2014 and 2015. Top destinations for driving included the U.S., Australia, Canada, and New Zealand, as well as European destinations such as Germany, France, and Italy. In addition to laxer visa requirements, the report cited easier access to travel information and services online, and wider acceptance of China-issued driver's licenses abroad, as factors that contributed to the growth.
China has not ratified the Vienna Convention on Road Traffic, which recognizes use of international driving permits — authorizing holders to drive in other countries — among signatory nations. This means Chinese travelers driving overseas must provide a translation document for their Chinese driver's license or, in some cases, a notarized certificate.
To appeal to Chinese tourists, many international and Chinese car rental companies offer free license translation services. For example, Huizuche offers drivers who book on the site a passport-sized "international driving license" containing translations of the user's license in nine languages.
"Since there are 360 million motorists in China, the market potential for driving tourists is huge," Pan Wei, marketing director of Huizuche, tells Sixth Tone. The company, founded in 2014, doesn't own cars itself but provides booking services by collaborating with hundreds of car rental companies around the world. It has 4 million registered users on its platform, according to Pan.
Still, one concern is that with easy access to rental cars, Chinese tourists who are unfamiliar with local traffic laws and can't read road signs might pose a safety risk. Earlier this year, a Chinese driver in New Zealand killed a local motorcyclist, prompting the cyclist's mother to petition the New Zealand Parliament for stricter rules on foreign drivers. Also in New Zealand, a road safety campaigner last year called on his country's government to stop accepting Chinese driver's licenses, asserting that many tourists were using "fraudulent or borrowed licenses."
Chen Kang, a sales manager at Green Ireland International — a travel company that brings Chinese tourists to Ireland — says he remains concerned about safety in regard to foreign drivers. "I don't think driving abroad suits everyone, unless you have either experience of living or working overseas, or you drive along developed routes, such as those in the west of the U.S.," he says.
Road-trippers Ying and her boyfriend started posting their travelogue, photos, and short videos online, attracting over a hundred thousand followers across various social media platforms. In February, after receiving sponsorship deals from car companies for their road trips, the duo resigned from their jobs to make a career out of road travel. They are currently planning their next trip along China's so-called first international highway that stretches from the southwestern Chinese province of Yunnan to the Thai capital, Bangkok.
"Travel is so personal, and it's impossible for everyone to agree with our style," Ying says. "But we're glad we've already inspired some others to follow our trips."
Editor: Colum Murphy.
(Header image: Tourists sit beside a camper van during a trip to New Zealand, May 7, 2017. VCG)