The anonymous caller who told police in central China about an ancient tomb being raided didn't say much before hanging up, but the tip-off started an investigation that eventually landed 34 suspects in court for artifact theft all over the country.
After receiving the call in the evening of Sept. 26, 2016, police in Hunan province's You County swept the area, and after four hours found the raided tomb that the whistleblower had spoken of. Surrounded on all sides by bamboo, it was situated on a small hill pockmarked by holes several meters deep. Right in the middle was a 1 meter-wide, 10 meter-deep pit, surrounded by piles of charcoal, shards of porcelain, water bottles, and takeout boxes, authorities said.
Chinese law dictates that all artifacts buried in the ground belong to the state, but that hasn't stopped people from digging for undiscovered and valuable treasures, or plundering known sites. An official at the Ministry of Public Security's Criminal Investigation Bureau told The Paper that the past few years have seen a spike in the number of crimes related to cultural artifacts, and that offenders are becoming increasingly professional and intelligent in their methods.
The county of You was established in the third century B.C., and a great number of graves from kingdoms and dynasties past are spread through the area. Some are known, but other graves in the area have yet to be discovered — as was the case for the tomb that was looted, which the cultural heritage department of the Hunan provincial government later determined was about 2,000 years old.
The Ministry of Public Security took the case under their supervision, and established a special investigative group named "9.26" after the date on which the You County theft took place. The group identified two suspects, both with criminal records. From there, they were able to ascertain the identity of the anonymous whistleblower and the people they had reported. A local suspect surnamed Long was arrested in November 2016, and more than 30 arrests followed in provinces around the country.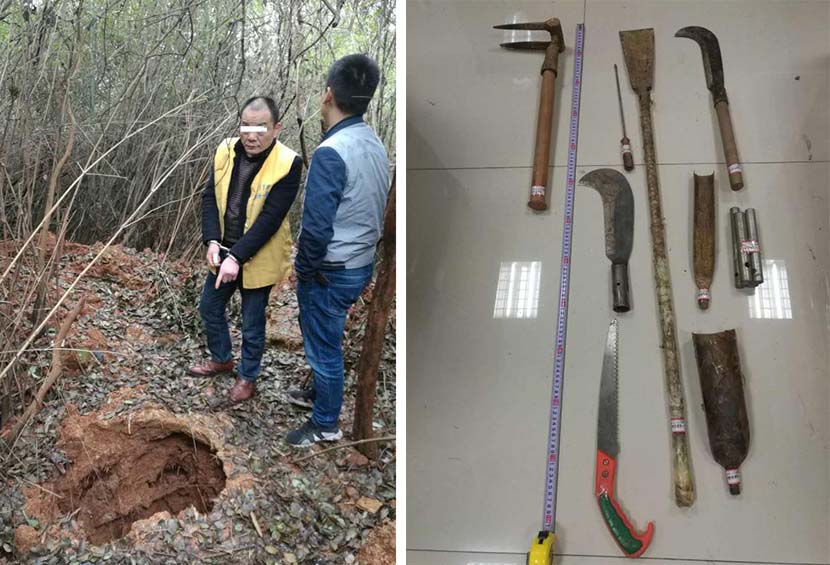 Left: A suspect identifies the tomb that he and his accomplices raided in You County, Hunan province, 2017; right: Tools captured by police that were used to dig out graves, 2017. Courtesy of Zhuzhou Police
Police said that the suspects were part of five serial-offending gangs formed of members from several provinces who had been implicated in tomb raids around China. Their arrests led to breakthroughs in a number of cases in Hunan and other provinces, and authorities managed to foil a further seven raids. Authorities recovered nine artifacts from the raid in You County.
On Aug. 1 of this year, the suspected "ringleader" who had funded the raid in You County, Deng Haifeng, turned himself in to police after an arrest order had been issued the day before.
According to Wu Huayong, deputy police chief in Zhuzhou, the city that administers You County, many of the people involved in this series of tomb-raiding cases met through online messaging platforms such as WeChat or QQ, and gathered in chat groups with names such as "Folk Archeologists."
"People would send information into group chats, like where there was a job going," said Wu. "Those willing would message them privately, and so a team was formed."
The tools they used were simple: spades, metal detectors, excavation tools, and blowers. The latter was a life-or-death necessity to maintain oxygen levels; in March, four tomb raiders died due to a build-up of toxic fumes.
Wu said that among the groups there was distrust, suspicion, and jealousy; the tip-off in the You County case came about because a conflict had flared between two people, causing one of them to look for another partner. "The whistleblower was unhappy," said Wu. "It was a case of 'If I can't do it, then no-one else can.'"
One of the suspects in the You County case, surnamed Li, told police that every time he chose a new target, he would first find out whether or not it was a state-protected cultural site. If it was, he'd stay well away.
According to Chinese criminal law, raiding any cultural site or ancient tomb is punishable by up to 10 years in prison. But if the site is protected at the state or provincial level, the offence is classified as severe, and is punishable by up to to life imprisonment. Wang Feng, an official at Zhuzhou's cultural heritage bureau, told The Paper that the tomb in You County was then undiscovered, and as such had not been classified as protected.
Ye Qiang, deputy chief of enforcement and supervision at the Hunan provincial cultural heritage bureau, told The Paper that such tombs are more frequently targeted by raiders. Ye said that cultural heritage protection suffers from inadequate personnel and insufficient funding at local levels, but added that Hunan province had established some protective measures, including designated cultural heritage protection personnel at every level of government.
When Li saw news of his arrest order on television, he went into hiding in a house he was renting in the county seat. "I didn't dare come out," Li said, according to police documents. "I had never anticipated things would blow up the way they did." According to an investigator, Li was involved in a number of tomb-raiding operations, and at the time of his arrest was on his way with other raiders to Shandong province, eastern China, where they planned to loot another tomb.
Li said he used to own his own hairdressing shop, and always harbored an interest toward artifacts. Often he would watch programs on TV about antique valuation or archeology, and would read up on such subjects online.
While raiding the tomb in You County, Li was nearly buried alive. "I was dredging water out of the tomb when the collapse happened," he was quoted as saying by authorities. "The earth came all the way up to my chest. My face turned white right away."
The memory of that moment continues to fill Li with dread. But, he said, "raiding a tomb is just like playing cards. The more you lose, the more you want to win it back. You'll never feel content until you find something."
A Chinese version of this article first appeared on the website of The Paper, Sixth Tone's sister publication.
Translator: Owen Churchill; editor: Kevin Schoenmakers.
(Header image: A man stands at the entrance to a tomb which had been raiden in Lop Nor, Xinjiang Uyghur Autonomous Region, 2011. VCG)