As American internet companies are still coming to terms with 2016's onslaught of fake news, China's biggest search engine, Baidu, on Wednesday announced a new feature that will identify untruths.
Search results for popular online hearsay, such as the false claim propagated by a series of viral videos early this year that certain kinds of edible seaweed contained plastic, will now come with a "rumor" label. The feature currently only works on phones.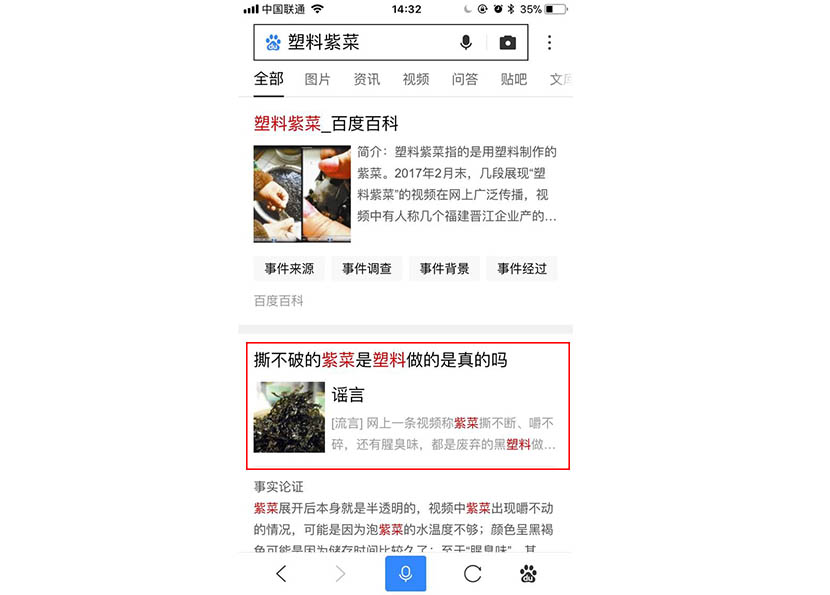 A screenshot from Baidu shows how the search term 'plastic seaweed' returns a message saying that a related story is a rumor (in red box).
At a press conference held in Beijing, Zhang Tao, responsible for content on Baidu search, said that the company's ultimate goals are to build the country's largest rumor database and openly share the data it contains. Cybersecurity departments from some 372 police forces around the country will help to keep the platform up to date.
The country's cyber police will take on the task of dispelling false information about natural disasters, social stability, breaking news, and food safety. The latter topic accounts for nearly half of all online rumors, Party newspaper People's Daily reported in April. Experts will also be invited to contribute and eventually help bring the number of topics the platform can identify as rumors up to one million, Zhang told media.
Baidu's rumor clarification initiative is not the first of its kind in China, but promises to be the largest in scope to date. Science and technology website Guokr.com regularly clarifies rumors, and messaging app WeChat has developed a so-called mini app that can be used to verify whether articles shared on the platform were truthful.
Gao Dawei, a Beijing cybersecurity policeman, said at the press conference that the challenge with their myth busting work lies in the fact that before a story is confirmed as a rumor, it has already spread widely across the internet. Police in China sometimes detain people accused of spreading falsehoods online.
Baidu has previously been involved in scandals about questionable information on its pages. Last year, the company's Tieba online forums were embroiled in controversy after it sold the moderation rights to a community about hemophilia, a blood disorder, and allowed unlicensed clinics to advertise.
In August, the Cyberspace Administration of China ordered investigations into Baidu Tieba and social networks Weibo and WeChat for allegedly spreading rumors.
When questioned at the press conference if Baidu's commercial interests could interfere with the rumor clarification feature — for instance if a company could pay to have certain information featured or deleted — Zhang said that the project was not-for-profit and not related to the company's advertising arm.
Baidu's Wikipedia-like encyclopedia, Baidu Baike, has also been found to contain untruths. Last month, the company corrected the definition of the term "earthquake cloud," which previously said that unusual cloud formations were harbingers of impending earthquakes. The page now says that this interpretation is not widely accepted by meteorological or geological experts.
Editor: Kevin Schoenmakers.
(Header image: People walk past an advertisement for Baidu in Beijing, June 20, 2004. Niu Yixin/VCG)