JIANGSU, East China — Traveling along the main road in Gushan Town, there's a body of water at almost every turn. Most residents of the town, located close to China's mighty Yangtze River, have banned their children from playing in the water: The risk of them drowning while unattended is too high. Some even tell stories of sharks that live in the water, hoping to keep children from getting too close.
In China, drowning is the leading cause of injury death among children between the ages of 1 and 14, according to the World Health Organization. A total of 164 people drown in China each day, many of them kids who never learned how to swim.
The quickest fix is to install physical barriers around bodies of water, but that's not always possible. In rural Jiangsu province, where washing rice and clothes by the river is part of daily life, teaching children how to swim and offering child care services for working parents are more effective ways of addressing the problem — but neither are common in the Chinese countryside, and pools built by local governments are usually located in urban areas.
One exception is Hongdou Village in Gushan Town, under the administration of Jiangyin City. In this rural area dominated by agriculture, peach farmer Shen Jianliang built a pool eight years ago and opened it to local children free of charge, creating both a de facto day care and a safe place where children can learn how to swim.
"It was just for family use in the beginning," Shen told Sixth Tone while working in his orchard and sipping from his thermos. Shen's daughter, who runs her own trading company, had offered to buy him an apartment, but Shen asked for a pool instead. Even today, private swimming pools are a luxury for most families; Shen's pool cost around 180,000 yuan ($27,000) to build, with annual maintenance expenses of several thousand yuan. When kids began climbing the wall around his backyard to swim in the pool, Shen decided to open the gate to them.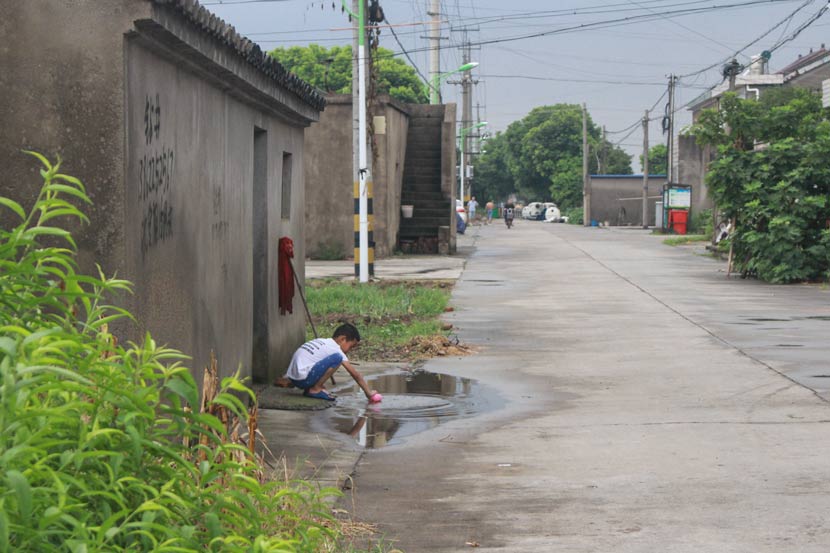 A child plays in a puddle in Hongdou Village, Jiangyin, Jiangsu province, Aug. 29, 2017. The boy used to swim with friends in Shen Jianliang's swimming pool. Wang Yiwei/Sixth Tone
The pool — which measures 20 meters long, 8 meters wide, and 1 to 2.2 meters deep — quickly attracted throngs of local children whose parents had gone to work in cities and whose grandparents were busy on their farms, along with families from nearby villages or even neighboring cities. On busy days in the warm summer months, 60 to 70 people played in the water. Aside from watching the children and ensuring their safety throughout the day, Shen, now 69 years old, became their swimming coach. "Once they have learned the skill, it is useful for a lifetime," he said.
Globally, children in low- and middle-income countries are at higher risk of drowning — both due to a lack of education on dangers associated with water, and because they interact with water differently from their high-income country peers, through activities like washing clothes in rivers or fetching drinking water. In China, rural areas like Gushan Town see many more deaths from drowning than urban areas: More than three-quarters of drowning deaths occur in rural regions, according to a 2013 survey in Jiangsu. The NGO SwimSafe estimates that while 172 children drown each year in Beijing, in largely rural Jiangxi — a province in eastern China with roughly twice the population of the capital city — annual child drowning deaths number around 4,470. In comparison, around 430 children drown in the U.S. each year.
Shen himself learned to swim while serving in the military in the 1970s on an island off the eastern coast of China. He still remembers the instructions he was given: Hold your breath, curl into a ball and grab your legs to float, then stretch out your limbs. Now, he uses the same method to teach the neighborhood children.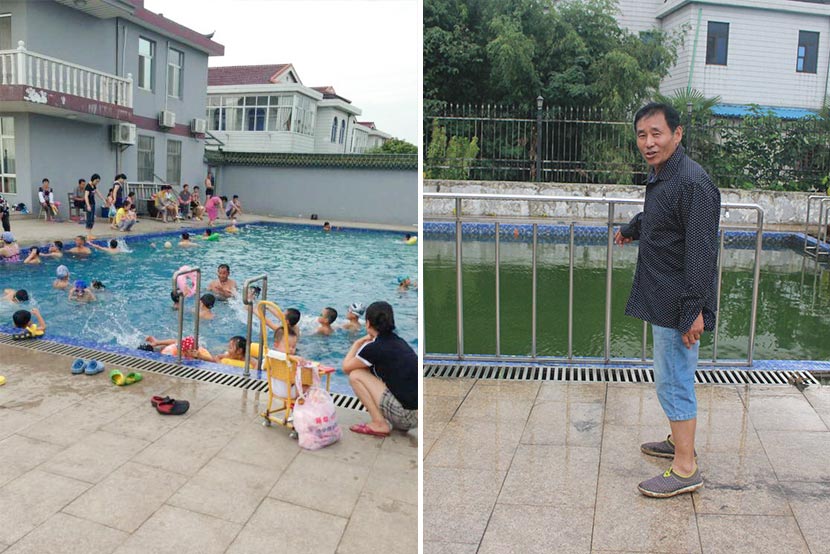 Left: Shen Jianliang's swimming pool is crowded with children in the summer of 2012. Courtesy of Shen Xiaoxia; right: Shen Jianliang stands beside the swimming pool in his yard in Hongdou Village, Jiangyin, Jiangsu province, Aug. 29, 2017. Wang Yiwei/Sixth Tone
Before Shen opened his pool, there were few other facilities in the area for children to practice swimming. "The closest place to learn to swim back then was in a nearby city, half an hour's drive away," said Feng Yunlong, a 50-year-old tailor whose son is now in college but used to swim in Shen's pool. "The fees [for swimming lessons] were expensive, so it was nice to have a place where my son could practice for free."
Shen said he has never kept track of how many children he has taught to swim over the years, but that it must be dozens, ranging from 8 years old to college-age. He claims that he can teach children the skill in less than half an hour. "With some guts and a little guidance, anyone can learn to swim easily," he said. Local children have also taught each other how to swim in the pool, with supervision from parents and grandparents — many of whom never learned themselves.
As part of an effort to provide more exercise spaces, the county government that administers Hongdou Village announced in 2009 that it would "build a pool in every town." It offered financial incentives to local government administrations, as well as free swimming lessons that have now benefitted 11,000 students in the area. There were 46 pools in Jiangyin City by the end of 2014, according to local media reports, but most are located downtown.
The year Shen built his pool, the local government announced that it would offer subsidies of up to 300,000 yuan to build pools in the area — but as an individual, he wasn't eligible. Besides requesting that Shen erect safety signs outside his yard advising parents to take care of their children and park their vehicles in an orderly fashion, the village committee took no interest in his pool, Shen said.
Maintaining the pool has been a struggle. When the facility is in operation, Shen sprinkles a clarifying powder into the water every night before he goes to sleep to keep it clean. Before sunrise, he removes any dirt that has accumulated and adds fresh water, which takes several hours. He carries out a thorough cleaning at the beginning of every summer, which requires at least four days.
Amid work on his 7-acre peach orchard, Shen doesn't always have time to perform maintenance; as a result, the pool remained closed this summer. Many children, including the granddaughters of village resident Cao Jianfen, didn't have a place to swim.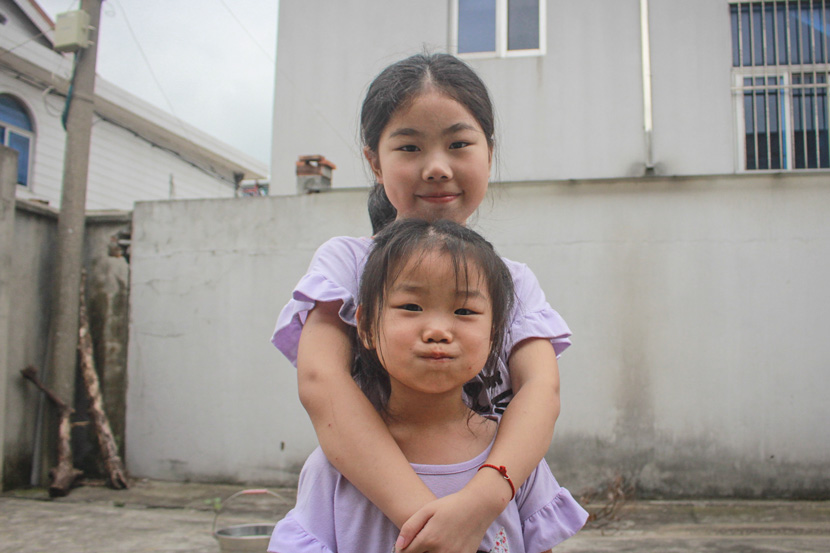 Cao Jianfen's granddaughters pose for a photo in Hongdou Village, Jiangyin, Jiangsu province, Aug. 29, 2017. Wang Yiwei/Sixth Tone
Though her older granddaughter is a good swimmer now, Cao doesn't allow the girls to get too close to the fast-moving river. Like many other villagers, Cao hopes that the stories of sharks in the water will be enough to keep them away. And next summer, she hopes, Shen's pool will open again, providing a safe place for her granddaughters to cool off and for dozens of children to learn to swim.
Despite the challenges, Shen said he plans to open the facility again next year. When asked whether he will inform area residents that the pool is in operation once more, he replied that he won't need to. "I know that they will come," he said.
Contributions: Denise Hruby; editor: Denise Hruby.
(Header image: Shen Jianliang walks past the swimming pool in his yard in Hongdou Village, Jiangyin, Jiangsu province, Aug. 29, 2017. Wang Yiwei/Sixth Tone)