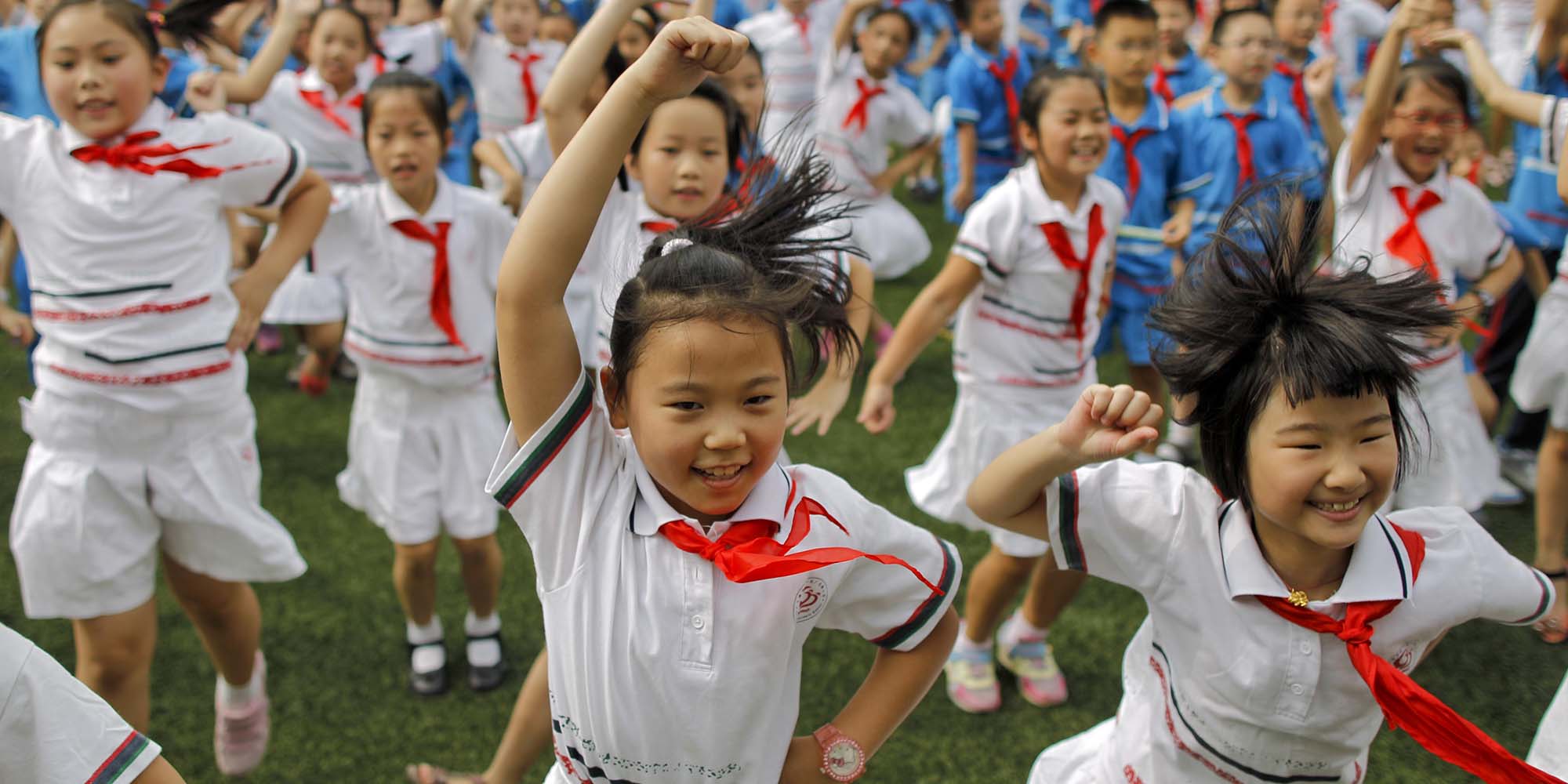 NEWS
Sugar, Spice, Flowerlike: Shanghai Girls Get Schooled in Gender
Girls' textbooks raise questions about gender roles in contemporary China.
In mid-October, China's first "gender education" textbook for girls will be distributed to select primary schools in Shanghai, provoking another round of discussion on how to teach children about sex and gender.
Written for students aged 10 to 12, the illustrated textbook was published by Shanghai Educational Publishing House this week as a companion volume to a similar book for boys released last year that raised debate on whether its contents reinforced gender stereotypes.
Titled "Huayang Nühai," or "Flowerlike Girls," the female-focused textbook has drawn quick reaction from feminist groups. In a post on its Weibo microblog account on Wednesday, Beijing-based nongovernmental organization Media Monitor for Women Network questioned some of the book's contents that maintain stereotypes of girls as being shy, tender, vulnerable, and in constant search of a "missing other half."
The 113-page textbook touches on a wide range of topics, including interpersonal relationships, puberty, the pursuit of beauty, and social responsibilities. In one section about gender equality, the book calls for female students to challenge the limits of gender roles and seek equality while acknowledging biological differences. In another section about "self-protection," the book advises girls to be mindful of guarding their private parts — a topic that some argue is vital for preventing sexual abuse, while others have questioned whether such thinking shifts the responsibility to the victim.
One of the new textbook's editors, Zhong Xiangyang, a psychology researcher at Shanghai Jing An Education College, said it was important to cover gender differences. "Considering the physical and psychological characteristics of male and female students, we composed the book focusing on the confusion about sex and gender that students could encounter while growing up," Zhong told Sixth Tone.
For some, given the dearth of sex education in most Chinese schools, any conversation on sex and gender is welcome — especially one that affirms equality.
"The book is noteworthy for its discussion of sex education from the perspective of gender equality," Liu Wenli, a professor at Beijing Normal University, told Sixth Tone. Liu has been a long-time advocate for better sex education in China. In March, a series of primary school textbooks published by Liu and her research team drew negative attention after a parent complained online about the candid explanation of topics like intercourse, reproduction, and homosexuality.
But Liu disagrees with the division of textbooks for girls and boys, pointing out that the girls' book has a section about manners that does not exist in the boys' version. "That's not something for girls only; boys also need to pay attention to their behavior," Liu commented.
Talking about sex has long been taboo in China. In her research on the development of sex education from 1984 to 2016, Liu found that though there were government policies and legislation supporting sex education, in practice it was held back by conservative thinking and a lack of teaching materials and trained educators. In 2016, for example, asex education textbookin southeastern China's Jiangxi province labelled girls who had premarital sex "degenerates."
A2015 studyof 773 primary school students conducted by the School of Public Health at Fudan University found that over 77 percent of male students did not know that nocturnal emissions were part of puberty and 48 percent of female students did not know that menstruation was related to puberty. The researchers also found that rural students knew less about physiology and self-protection than urban students.
Yuan Jiyou, principal of a primary school in central China's Hunan province, told Sixth Tone that there was no sex education curriculum or textbooks at his school. Instead, the school has one female student advisor whom female students can talk to about their problems.
Xu Jing, principal of Shanghai Jing'an Zhabei No. 1 Central Primary School where the book is being piloted, told Sixth Tone that the book would be available to students after a press conference on Oct. 11. The textbook, however, would only serve as a guide, allowing teachers to give further detail in class.
When asked about the meager coverage of physiology and omission of sexual orientation in the textbook, Xu responded, "The textbook is more indirect in its content so it's more in line with Chinese tradition."
Editor: Qian Jinghua.
(Header image: Pupils jump up and down on the playground of a school in Shanghai, Sept. 3, 2012. Zhang Dong for Sixth Tone)