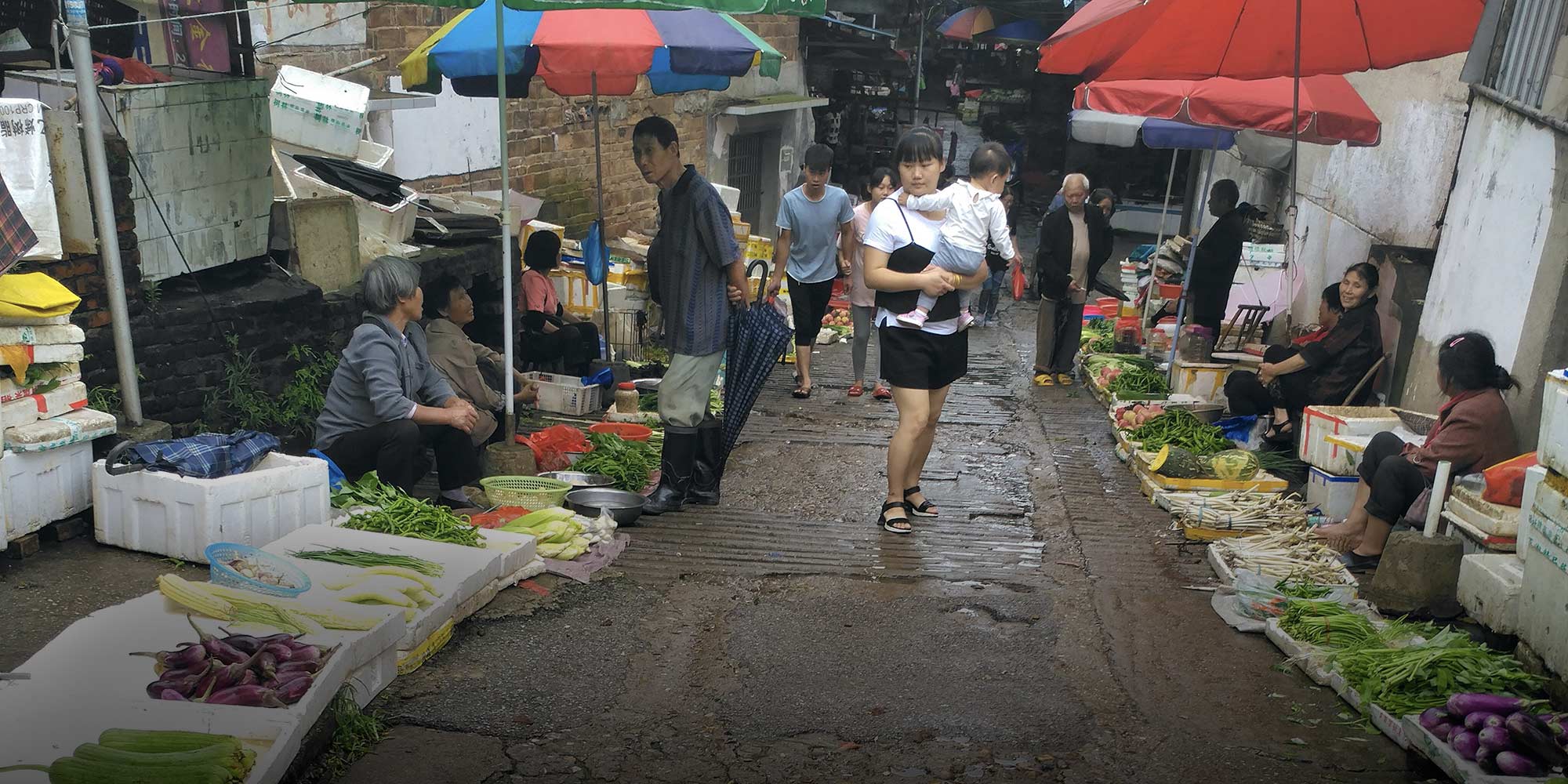 FEATURES
Death of an Eel Vendor
Conflicts with management at produce market in central China turn bloody, revealing ongoing tensions between small businesses and authorities.
HUNAN, Central China — The Shitan Town produce market is chaotic on any day, but on the afternoon of June 24, it was utter bedlam as Zhang Yixiang, 47, lay in a pool of blood — a mixture of her own and that of the eels she sold. Her daughter rushed to her side, but she was unresponsive.
Zhang was dead, and many witnesses called it murder: They said they'd seen the formidable but unpopular market manager, Zhang Yi, drive an eel-gutting knife into her back during a tussle over new fees he had levied. Only his family disagreed with the accusations. He'd simply slipped with the knife in hand, his brother Zhang Qi said.
According to Zhang Yi's mother, no one would stand up for her son because of the long-standing conflict between him and the market vendors over fees. Now, with Zhang Yi and two of his associates in police custody awaiting trial, the picture of the market manager that emerges from most of the vendors and other locals in Shitan is that of a belligerent, hard-drinking bully who underscored their powerlessness against authority.
Though the killing may appear to be a tragic but isolated incident, it comes against a backdrop of heightened sensitivity in China to alleged abuse of power by those who supervise street hawkers and market vendors. In 2013, the execution of hawker Xia Junfeng for killing two city management officers — or chengguan — who had beaten him attracted domestic criticism and international attention.
Established in 1996, the sprawling Shitan produce market covers more than 1,000 square meters of the town in Xiangtan County, Hunan province. A stream of shoppers pours steadily through the entrance for the bustling trade in fresh and processed foods. Stalls fill the middle of the space, while shops with more permanent fixtures line the two sides of the market.
For 20 years, Zhang Yixiang and her husband, Zhou Zheng'an, worked from 5 in the morning to 6 in the evening at their shop in the market, selling beef, lamb, and eels. At first, they paid just 700 yuan ($100) each year in management and sanitation fees to the chengguan.
But in 2003, Zhang Yi — then a chengguan himself — signed a 30-year agreement with the Shitan government granting him management of the produce market and parking in the town. His main role was to chase down fees from vendors, whom his mother said often delayed payment. But rather than being paid by the state as chengguan typically are, Zhang Yi and his team operated as private contractors, giving the town government a lump sum of 380,000 yuan for the right to manage the market and levy fees, in addition to annual payments for parking management rights — in 2010, for example, the local newspaper Sanxiang City Express revealed that they paid the government 73,000 yuan. 
Zhang Yi was fired as a chengguan following a 2013 dispute over his management of parking fees, his brother said — yet he still held on to his role as market manager. According to Wang Guisong, a professor at Renmin University who specializes in administrative law, third parties may assist chengguan in law enforcement but are not authorized to act independently — that is, chengguan may not legally outsource their duties to a private contractor.
Zhang Yi's family said he often clashed with market vendors, who felt that business was declining while fees were increasing every year, with little to show for it. Two weeks before the fight with Zhang Yixiang, he'd implemented another annual fee: 500 yuan for any vendor who used the market's long stainless steel benches to gut their eels. Only half of the market's 10 eel vendors paid up; the rest were disgruntled at the additional cost when they already paid 800 yuan in sanitation fees each year.
On the day of Zhang Yixiang's death, her husband, Zhou, had warned her that Zhang Yi might come calling for the eel-gutting fee. "When he does, don't say too much — just give him the money," Zhou had advised. "I'll just raise one complaint," she'd replied. "They only put up that awning a few years ago, and it's already sprung a leak." Zhang Yixiang and her husband had paid more than 1,000 yuan for the awning, which Zhang Yi had promised would last for 10 years.
Moments before his fight with Zhang Yixiang, Zhang Yi was in an adjacent store arguing with another vendor who'd failed to pay up. Then he moved on to Zhang Yixiang's shop. The owner of the shop opposite said she overheard them shouting and saw Zhang Yi tear down the stand in front of the shop before calling for his associates, Liu Dingbo and Zhou Zhiguo.
Another vendor a few stores down said she saw Zhang Yi slap Zhang Yixiang in the face. In response, Zhang Yixiang grabbed a broom and hit him in the neck. Then, the vendor said, the three men joined in hitting Zhang Yixiang. "I've let you beat me just how you like today," the vendor heard her say. The witness then went back into her shop to call Zhang Yixiang's husband.
At some point during the altercation, Zhang Yi picked up a knife that was used to gut eels. A third bystander, vendor Yin Yinxiang, said she tried to break up the fight but stopped when she smelled alcohol on his breath. "I just let go of his hand — he was clearly too drunk to reason with," she explained.
Many locals portrayed Zhang Yi as a thug. "He's a real loose cannon," one Shitan resident told Sixth Tone, while another commented, "Everyone in Shitan is afraid of him." Both declined to be named, citing fear of retribution because Zhang Yi's family is "rich and influential" in the town of 74,000 people, owning a host of businesses including a meat company and an internet café.
A meat vendor outside the market said he was beaten by Zhang Yi and his associates in 2013 when he moved his stall out of the market, while a fruit vendor claimed Zhang Yi had smashed his car and shop in July 2016 for blocking his way.
Zhang Yi's supporters say he has been unfairly vilified. A shop owner who knew Zhang Yi from middle school told Sixth Tone that he is an amiable person who just likes to drink. "A lot of people are miffed at the management fees, so they say nasty things about Zhang Yi," he said.
Zhang Yi's mother said she heard that Zhang Yixiang had slapped her son first. However, no witnesses who spoke to Sixth Tone corroborated her version of the story. Bystanders said that the tall, burly man drove the eel knife into the shorter woman's back. As the knife pierced Zhang Yixiang's flesh, blood bloomed across her green knit shirt. She fell to the ground. "Look how shameless she is, pretending to be dead," some witnesses recalled Zhang Yi commenting.
Zhang Yixiang's sister-in-law called the police and then her niece, Zhou Can. The now-21-year-old was at home making dinner when she was told to rush to the market, as there had been a brawl involving her mother. She first found her father, Zhou Zheng'an, being beaten by Zhang Yi's buddies near the eel tank. She cradled his head in her arms, blood sticky on his balding head. Then she saw her mother motionless on the ground. According to Zhou Can, she died before she made it to the hospital.
Extremely distressed, Zhou Can was nevertheless determined to seek justice. On the evening of her mother's death, the other market vendors accompanied her to the local government offices, carrying her mother's corpse from the hospital to the building entrance.
Two days later, on June 26, the county public security bureau released forensic findings stating that Zhang Yixiang had been stabbed in the back, puncturing the lower lobe of her right lung. The police announced on the same day that Zhang Yi and his two associates, Liu Dingbo and Zhou Zhiguo — both of whom have existing criminal records for kidnapping and burglary, respectively — had been detained. The Shitan government released a statement announcing that the market would come under the direct management of the town's construction and environmental protection bureau.
Zhang Yi's brother, Zhang Qi, said that the government negotiated with Zhang Yixiang's relatives on his family's behalf, suggesting that they offer 120,000 yuan for funeral expenses, but the family of the deceased refused to accept.

Zhou Can said she is seeking justice, not money. On June 27, she and her boyfriend visited the Hunan provincial government offices. Public servant Xu Guangming told the pair that it would be illegal for a local government to entrust a third party with the task of collecting fees for a produce market.
On the same day, the county procuratorate announced that Zhang Yi and his associates had been detained under suspicion of intentional assault causing death, though they have yet to be formally charged. The victim's family believe the charge should be intentional homicide — a more serious crime with heavier penalties.
The Xiangtan Municipal People's Procuratorate is currently reviewing the case and will decide whether to prosecute. Zhang Yixiang's family have hired two lawyers, Zeng Jingyin and Ma Ruofei. "[We] hope to punish the murderer in accordance with the law," Ma told Sixth Tone on Tuesday. "During mediation, the other party hasn't shown any sincerity or offered meaningful apologies."
Chen Yuhua, Zhang Yi's lawyer, did not answer when Sixth Tone called for comment.
Since her mother's death, Zhou Can has turned to her Weibo microblog to publicize the case and seek support. "Mama, I promise that no matter the difficulty or the cost," she wrote in one post, "I will bring you justice."
Zhang Yi's wife called Zhou Can's father on Oct. 15 to apologize, but Zhou Can said she is unable to forgive. "Before, I had a happy family, but now it's completely broken," she wrote in another Weibo post. "I will remember the harm that the murderer brought to my family for the rest of my life."
Additional reporting: Liang Chenyu; contributions: Zou Jiawen, Chen Yusi, and Wang Di; translator: Lewis Wright; editors: Qian Jinghua and Liang Chenyu.
(Header image: A view of the entrance to the Shitan produce market in Xiangtan County, Hunan province, June 2017. Ming Que/Sixth Tone)