A man in northeastern China has been missing for five days, after the hydrogen balloon from which he was picking pine nuts became unsecured on Wednesday.
The balloon went "out of control," one of the man's colleagues told the Beijing Youth Daily, adding that he had failed to grab the rope that anchored the balloon. The incident occurred in the woods near Linjiang, a city in Jilin province that borders North Korea.
Fog reportedly prevented rescue workers from seeing which direction the balloon floated, and the 59-year-old man on board — identified only by his surname, Bi — was not carrying a cellphone.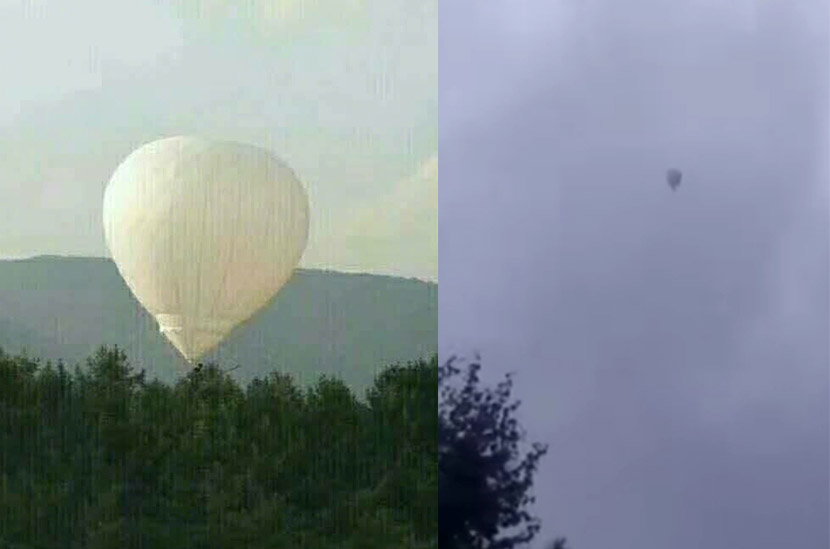 Screenshots from video footage shot at the scene show the balloon aloft. From the Weibo account of the Beijing Youth Daily
Gao Qing, an employee of the Linjiang police command center, told Sixth Tone on Monday that there had been no updates on the case since the Beijing Youth Daily's Saturday report. Gao said she was unsure why Bi and his colleague on the ground lost control of the balloon.
Jilin province is a major production center for pine nuts, the edible seeds of pine trees. In the last few years, it has become common in the industry to use hydrogen balloons instead of climbing trees to pick the nuts, a local resident surnamed Liu told the Beijing Youth Daily, adding that workers can earn about 100 yuan ($15) per day. The balloons are usually anchored by rope to either an object or another person.
The type of balloon Bi was using is equipped with a zipper that can release hydrogen to lower the balloon. But Bi apparently did not use this feature, local police told the Beijing Youth Daily.
Liu added that there have been seven similar accidents this year, but that all those cases ended with the workers' safe return to solid ground.
Earlier this month, media reported on another case of a balloon on the loose in Jilin province, after strong winds snapped its rope. The worker on board initially did not have cellphone reception, but police later managed to contact him and relay landing instructions.
"Not all pine nut pickers use hydrogen balloons; this only started a few years ago," a local villager told the Legal Evening News in response to Bi's disappearance. "Oftentimes, pine nut pickers just climb trees with their bare hands," he added. "It is the most difficult job; they are risking their lives for money."
Editor: Kevin Schoenmakers.
(Header image: National Geographic/VCG)