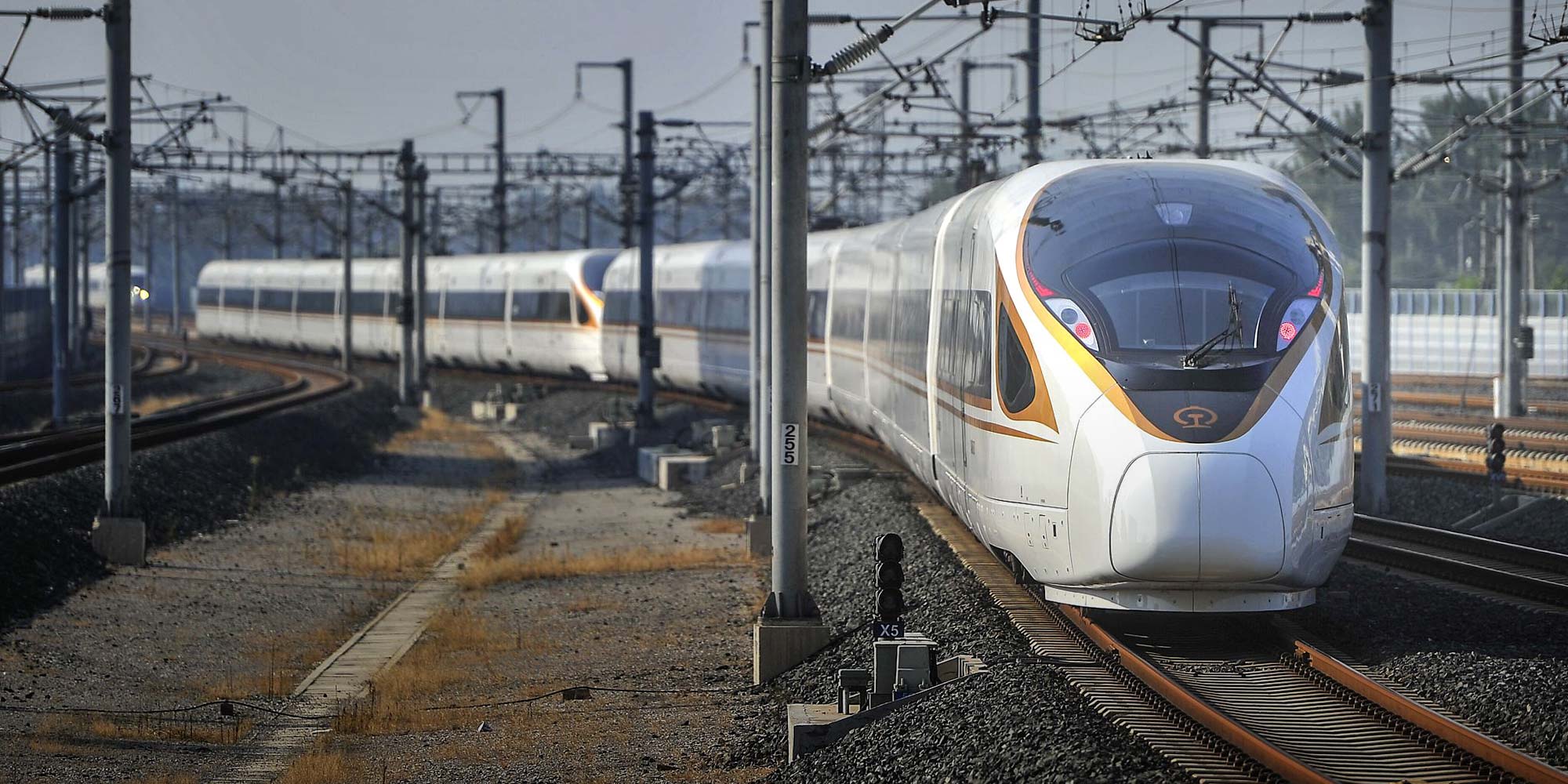 NEWS
How Faster Trains Draw China's Cities Ever Closer
With the abolition of a six-year-old speed limit, China's high-speed trains are back up to 350 kph.
Thursday's 8:01 a.m. train from Nanjing to Beijing was the start of a new era for China's high-speed rail network. The string of cars darted north at 350 kilometers per hour — the world's highest operating speed — for the first time since 2011, when a railway corruption scandal led to a 300 kph cap.
For now, only the 14 high-speed trains that run on the railway between Beijing and Shanghai will see speed increases. Throughout history, the railroad between China's two biggest cities has been at the frontier of fast. Since the first large-scale speed increases in 1997, the time it takes to go from Beijing to Shanghai has been reduced from nearly seventeen hours to around four and a half hours. Other cities in eastern China, too, are now just a few hours away from the capital.
Over the past decade, most time reductions have come from the large-scale expansion of China's high-speed rail network. By the end of 2016, the total operating length of China's high-speed rail system had reached 22,000 kilometers — long enough to stretch halfway around the world.
As a result, traveling from Beijing to far-flung cities across the country has become less time-consuming. Guangzhou in the south, for example, is now much "closer" to the capital, as are other cities that lie along the track.
Relative to other parts of the country, travel to Northeast China has improved the least. Development of high-speed railways has been slower in this region, and rail travel was better there to begin with, in part due to colonial powers Russia and Japan.
In 1949, the year the People's Republic of China was founded, traveling from Beijing to Zhengzhou about 600 kilometers to the south, took 10 hours longer than traveling from Beijing to Shenyang — an equal distance to the north. Now, however, a trip to Zhengzhou takes just two and a half hours, while traveling to Shenyang takes four.
All graphical data from "National Train Timetable of China" (1959-2016) and "Train Timetable, Vol. 4" (Nov. 15, 1949).
Editor: Kevin Schoenmakers.
(Header image: China's newest bullet train, the Fuxing, travels to Shanghai from a station in Jinan, Shandong province, Sept. 21, 2017. VCG)