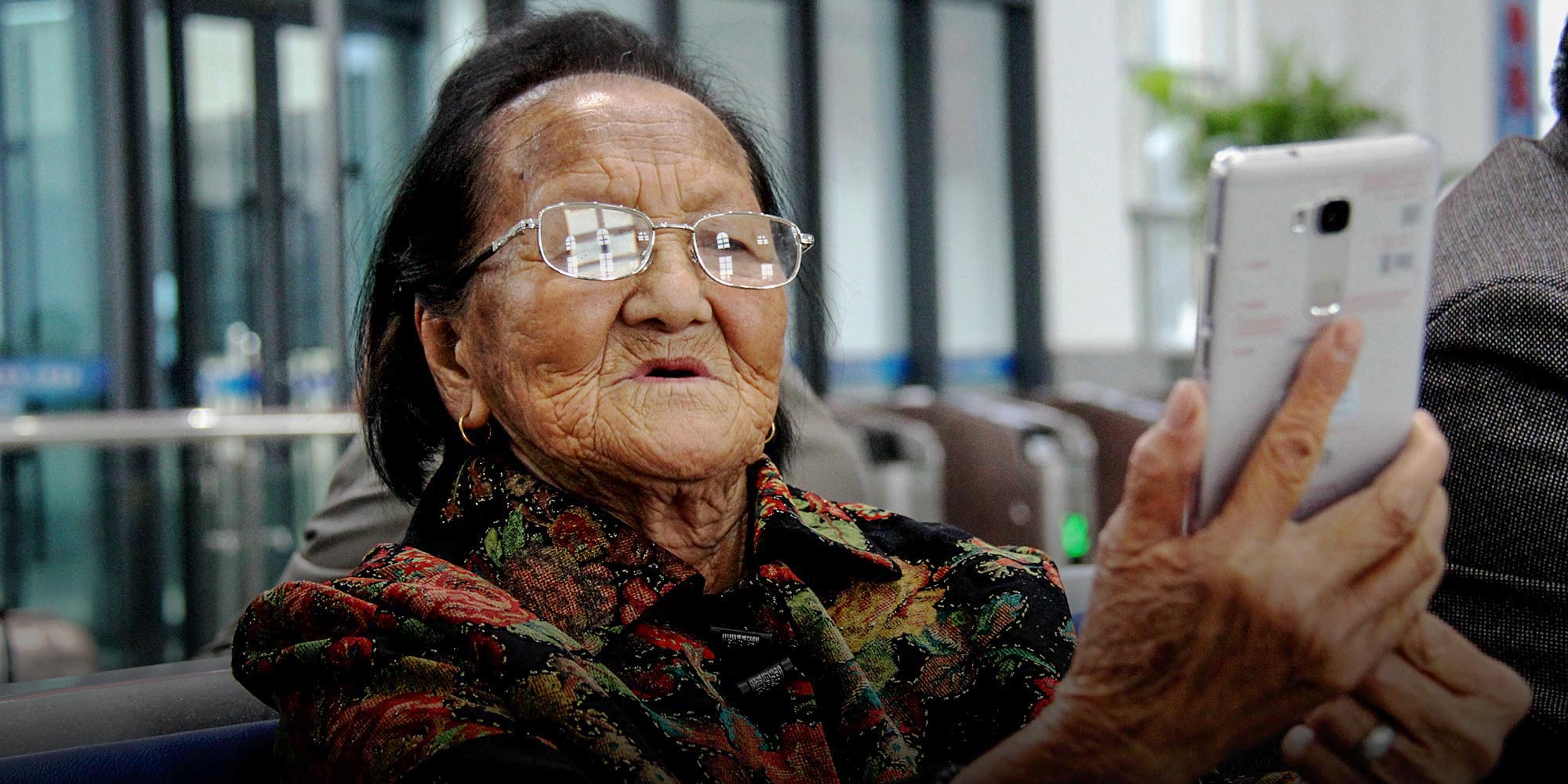 FEATURES
Chinese Seniors Slowly Catch Up to WeChat
Elderly users are still underrepresented online, but many make use of voice and video features to leap learning barriers.
SHANGHAI — More than 100,000 people follow Wang Jizhi's Weibo microblog on how to use WeChat, the app that dominates daily life in China. In a country of over 700 million internet users, Wang's follower count would be unremarkable but for the fact that he is a 77-year-old retired computer engineer who is leading a wave of tech-savvy seniors.
Wang first started using WeChat to keep up with his old schoolmates from Peking University's class of 1963, and he now also relishes his role as a bridge between seniors and WeChat. His straightforward blog posts explain how to use the app, from adding friends and creating group chats to operating the WeChat Wallet payment feature. "When your family isn't around anymore, the internet becomes a way to ward off loneliness. But there's also a category of seniors who never use the internet," he told Sixth Tone.
Sixty-year-old Song Linhua, a former journalist at a legal newspaper, said many elderly avoid communicating via WeChat because they don't understand Pinyin — the official romanization system for Chinese and the text input method of choice for most people. Due to varying educational backgrounds, dialect pronunciations, or unfamiliarity with the alphabet used to write Pinyin, seniors prefer to input characters stroke by stroke on the screen, which can be difficult on smaller devices.
It's little wonder that only 4.8 percent of China's internet users in the first half of 2017 were over the age of 60, though people over the age of 65 made up 10.5 percent of the Chinese population in 2015 — and the proportion is growing. As everyday life in China becomes increasingly dependent on online connectivity, from cashless transactions to cab-hailing via apps, there are fears that the elderly population is being left behind in a world that isn't designed to include them. 
But elderly Chinese are taking the initiative to make WeChat a part of their lives. A report produced by WeChat found that seniors employ the app differently than their younger counterparts, using voice messaging and video call features more often — a means of bypassing text input obstacles.
People over the age of 55 made up 1 percent of daily WeChat users according to the 2016 report, but this number has grown since the findings were published, according to Stephen Wang, director of user growth and engagement at WeChat. "Senior users aged 55 years old or older are the fastest-growing age group on WeChat," said Wang, who is not related to Wang Jizhi.
The company also found that elderly WeChat users largely discover the app through their children. "Consequently, an important factor for closing the technology gap among seniors is for all of us to help play a role in educating our parents," Stephen Wang said.
Shanghai retiree Zao Weiguo is one of the app's new active users, frequently messaging his friends and family and sharing photos and links on Moments, the app's newsfeed feature. "All my friends on WeChat are around my age, and we all share pictures on Moments together," the 74-year-old told Sixth Tone.
At the Riyuexing Nursing Home in Shanghai, around 300 elderly residents have the opportunity to explore the digital world. Every room in the facility has Wi-Fi access, and the retirees use WeChat's free voice and video call features to communicate with their relatives overseas. "We have several seniors who will send me interesting things on WeChat, and I'll send them pictures back," said the facility president, Yu Minmin.
"The seniors here are highly cultured," Yu added. "They can all get on the internet and use phones and laptops." The facility is also considering hiring a teacher to help the seniors further hone their internet skills.
Yu's efforts are not without precedent. Since December 2016, the local government and students have partnered with Beijing's Huabeidong Community Service Center to teach the elderly how to use WeChat. So far, the classes have seen positive results and enthusiasm from participating seniors. Universities for the elderly, which have sprung up across China and now serve more than 7 million students, often also offer computer and software classes.
As seniors learn how to navigate WeChat and other online services on their own, however, entrepreneurs who made a living as middlemen are seeing their customer base shrink. 
At Shanghai's Baoshan electronics market, 30-year-old Yi Ranran sells preloaded memory cards to seniors, who select songs from a list for Yi to download. But her business is declining as more and more elderly purchase smartphones and learn how to use them. "In the beginning, everyone was coming here to buy these cards. But now, basically everyone has smartphones," she told Sixth Tone.
One of her remaining customers, 79-year-old Sun Guowei, does not own a smartphone and regularly turns to Yi for help downloading music onto his MP3 player. But he recognizes that technology is changing the way many seniors navigate the world. "We're several decades behind foreign countries," Sun laughed. In 2016, 55 percent of American seniors aged over 50 reported owning a smartphone, compared with only 30 percent of their counterparts in China.
Though many seniors are eager to access more online content, they are also vulnerable to scams and misinformation. Fake news can be an issue, especially as seniors are the most likely group to share articles on WeChat Moments, Stephen Wang said. WeChat has created an official account that publishes clarifying articles to "refute unsubstantiated health tips or fraudulent scientific claims," according to Wang. Several third-party public accounts also publish myth-busting content on the app.
The government recently issued a warning against discussing rumors and politically sensitive topics in online chat groups. Wang Jizhi often finds himself having to police content shared in the WeChat groups he manages. He's had to curb the spread of fake news about genetic engineering and stop fights among his former classmates over whether Mao Zedong should be praised or criticized. "I don't let people force their opinions and ideas onto others," Wang said. "I also don't allow personal attacks."
Retired journalist Song is a vigilant patriot when it comes to digital content: "Some media and pictures are negative or harmful to the nation. In this regard, we have to be observant," he said. But he is grateful for the new world that WeChat has opened up, stating with pride that he even has young people in his contact list. "Old people are retired; they have nothing to do," he said. "WeChat is just fun for them to use. They want to understand a bit more about society."
Editors: Owen Churchill and Qian Jinghua.
(Header image: An 85-year-old woman uses her mobile phone in Dandong, Liaoning province, May 5, 2016. VCG)