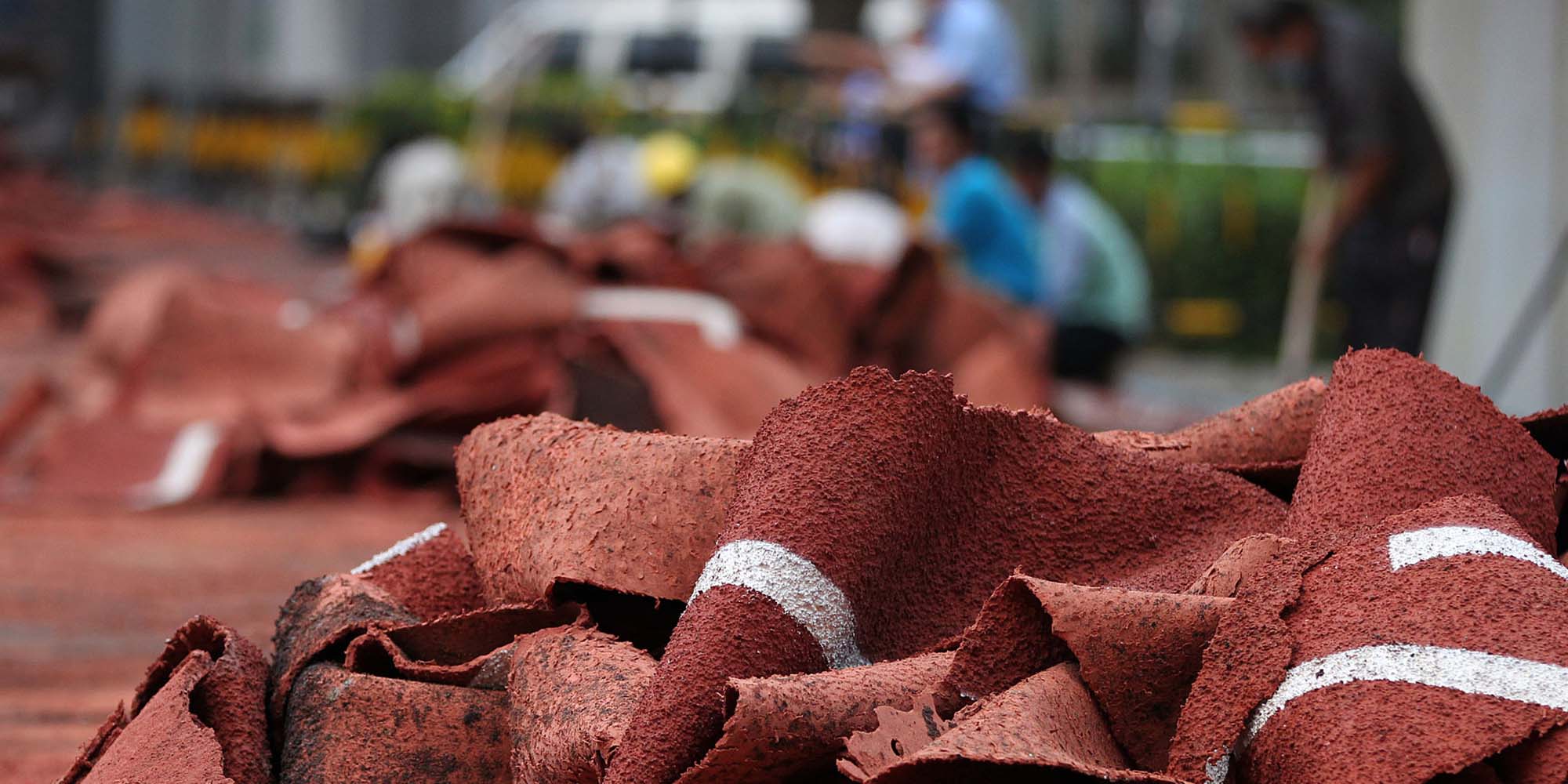 NEWS
Children Sick From Another Toxic Running Track, Say Parents
Expert asks whether benefits of synthetic recreational facilities outweigh the risks.
Sixty-five primary school students in southern China's Guangdong province have fallen ill after moving to a new campus, prompting an investigation into whether the refurbished facilities contain toxins, The Beijing News reported Wednesday.
Since Sept. 4, students at Songgang No.1 Primary School in Shenzhen have shown symptoms ranging from dizziness and shortness of breath to nose bleeds and eczema, according to a local education official. In response to concerns from parents, the official said that a report presented by the construction company behind the recreational facilities showed that all the materials used had been approved.
Nevertheless, the school has closed off its synthetic running track, replaced some new student desks and chairs with used ones, and ordered air quality tests to be conducted in classrooms.
Since 2014, similar cases have been reported across China. In 2015 alone, students in an estimated 15 cities became sick from contact with synthetic sports facilities containing excessive amounts of benzene and formaldehyde.
Last year, Shenzhen drafted the country's first standards for synthetic tracks, after an assessment by the city's education bureau determined that 11 out of 345 newly built synthetic sports facilities at schools in the city contained toxic substances.
"Although there is a national quality standard for the construction of synthetic sports facilities, this standard does not apply to kindergartens and primary schools," Wang Wenyong, a legal advisor at environmental NGO China Biodiversity Conservation and Green Development Foundation (CBCGDF), told Sixth Tone. Unlike local standards, China's national standard for tracks applies only to professional facilities, such as those found at stadiums.
Wang warned that synthetic running tracks might be more risk than they're worth. "So far, there has been no scientific assessment of the influence of synthetic materials on the health of children," he said.
In July 2016, the CBCGDF filed the country's first lawsuit over a poisonous running track at a kindergarten in Beijing. The case was settled through mediation in April, with the kindergarten agreeing to remove the material.
Toxic running tracks aren't the only source of contamination to have sent schoolchildren to the hospital. In April 2016, nearly 500 students at a school built near land that had once housed three chemical factories in Changzhou, in eastern China's Jiangsu province, became ill. And a year later, high levels of arsenic were detected in the air at a vocational school that had moved onto the former site of a metalwork and porcelain factory in Inner Mongolia, northern China.
Editor: David Paulk.
(Header image: A school running track found to contain toxic substances is removed in Shenzhen, Guangdong province, Nov. 12, 2015. Xu Wenge/VCG)