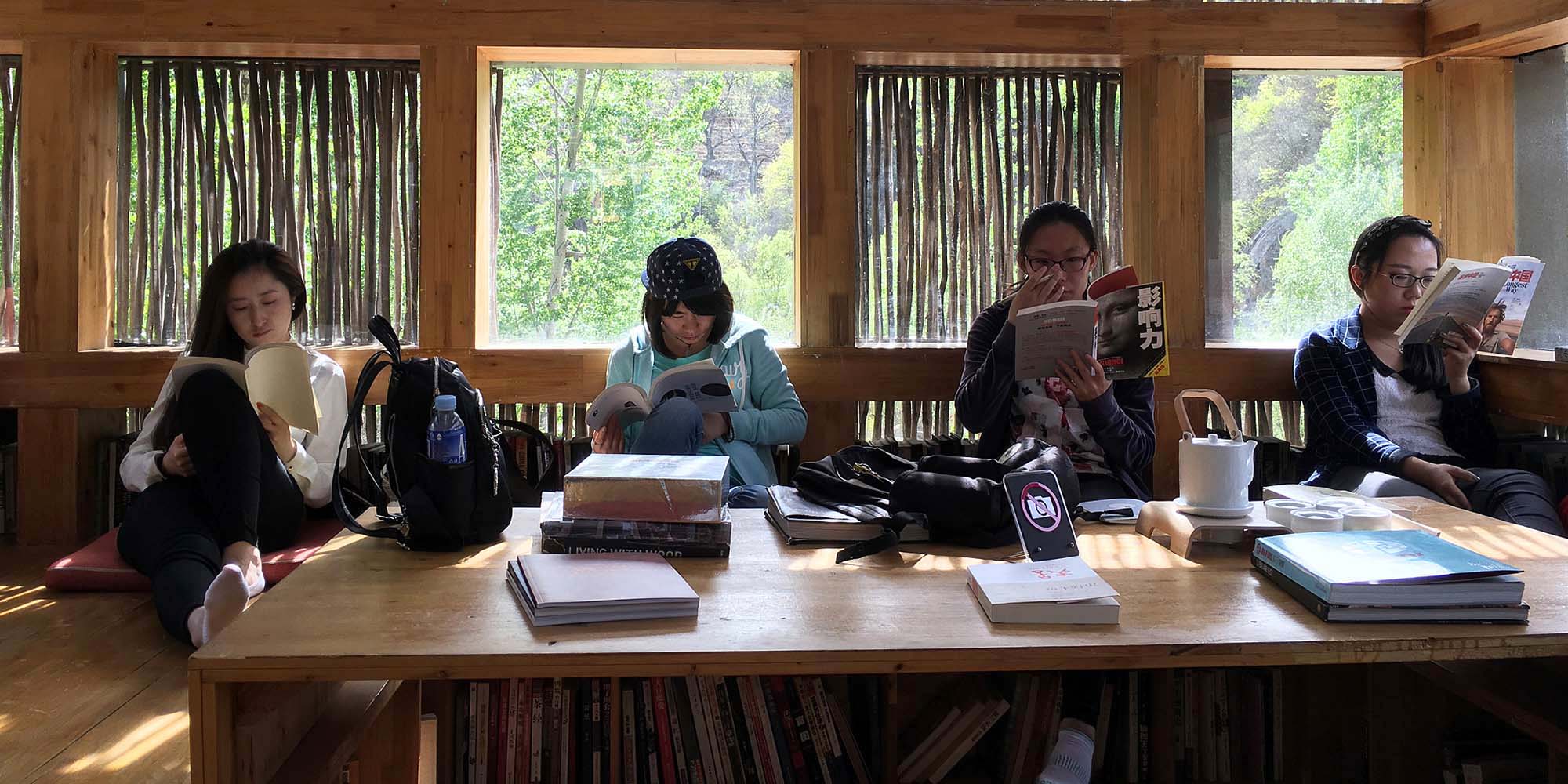 NEWS
Popular Beijing Library Closed Over Pirated Books
Nestled in the countryside outside the capital, Liyuan Library is a favorite reading spot for villagers and tourists alike.
Beijing authorities have ordered one of the world's most iconic libraries to suspend operations after its shelves were found to contain pirated books.
Liyuan Library, a nonprofit organization in Jiaojiehe Village on the capital's outskirts, provides free reading material to nearby households. The stark building, whose design was inspired by tree branches, also draws plenty of tourists looking for a quiet day's escape from the bustle of Beijing — even if they just come for a few selfies.
However, a reading-focused public account on messaging app WeChat published an article Tuesday saying that it had found many pirated books on the library's shelves. It discovered one copy of the contemporary Chinese novel "White Deer Plain" whose cover and contents came from different publishing houses.
And a copy of "Harry Potter and the Half-Blood Prince" had not been completely translated into Chinese. A photo shows one remaining English sentence followed by what appears to be a message from the translator at their wit's end: "How to translate this sentence??? Can anybody help me?"
A Beijing government department charged with combating pornography and illegal publications has ordered Liyuan Library to temporarily cease its operations, The Beijing News reported Tuesday. While praising the library's charitable initiatives, the department said it still had to obey the law and protect intellectual property.
Liyuan Library said in an announcement later on Tuesday that it would close on Sept. 23 to clean up its collection. "It was always our intention to let farmers in the village get in touch with the outside world, and to allow urban readers to enjoy reading in the mountains," it said.
Liyuan Library was designed in 2011 by architect Li Xiaodong, who won an international prize for the building in 2014. The library is run by volunteers and currently has around 30,000 books.
The first batch of 7,000 books, which came from Li and his friends, were all originals. In 2013, the library initiated a program that allowed people to exchange three of their own books for one of the library's, but this policy was short-lived, lasting just two weeks. "My original intention was that you could bring in the books you liked and take home one that you wanted to read," Gao Xi, the library's manager, told Sixth Tone's sister publication The Paper on Tuesday. "But the result was really disappointing."
Pirated books have long been a problem for China's publishing industry. Last year, before "Harry Potter and the Cursed Child" was officially available in China, unauthorized translations were already being sold on the internet. Online literature, too, has had to deal with issues of copyright infringement: In 2014, pirated e-books led to financial losses totaling more than 7 billion yuan ($1 billion).
While the number of books the average Chinese person reads per year has remained relatively constant, the country has seen a growing enthusiasm for fashionable bookstores and libraries. Kuang Rui, an editor at SDX Joint Publishing, told The Paper that compared with pirated books, the popularity of such boutique bookshops was more worrisome. "If it's all about design, then the books have become decorations," he said.
Editor: Kevin Schoenmakers.
(Header image: People read books at Liyuan Library in Huairou District, Beijing, April 23, 2016. Zhang Xinghai/VCG)