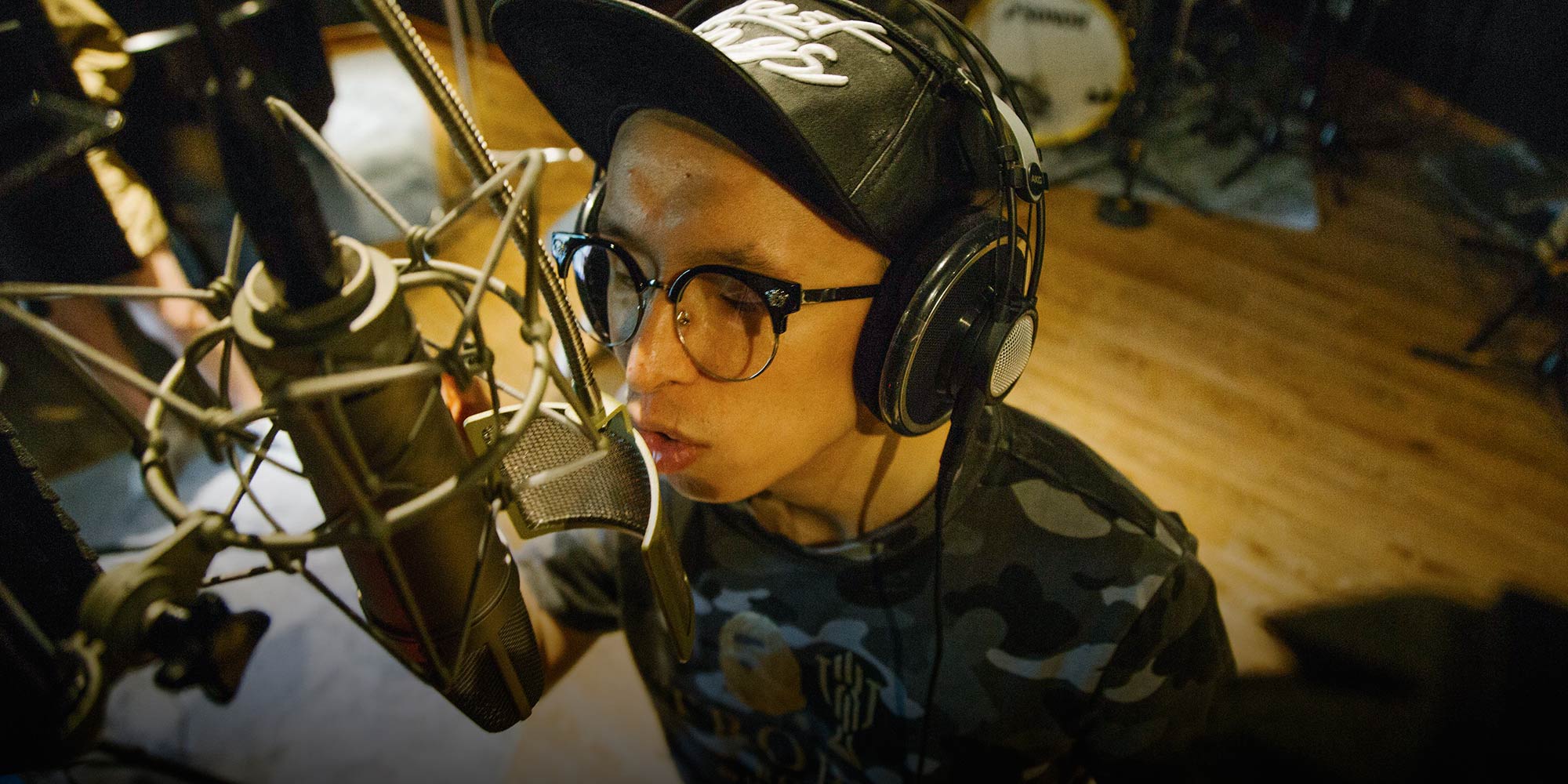 FEATURES
Hip-Hop Gives Chinese Dialects Fresh Expression
Well-versed in dozens of dialects, Chinese rap is breaking free of Mandarin.
On his recent track "Stupid Foreigners," rapper Cai Zhenhong — better known as "Xie Di" or "Fat Shady" — rails against arrogant and entitled expatriates living in his homeland. Although it drew attention primarily for its provocative subject matter, the track is also notable for being entirely in the Chengdu dialect, part of the family of Sichuan dialects spoken by over 100 million in China's southwest.
Xie Di is a champion of dialect rap. In an earlier song, he dishes out blistering, tongue-twisting disses aimed at his fellow countrymen who disparage dialects: "Your mother, your father, your ancestors didn't even speak Mandarin," he spits.
China's official language is Mandarin, but the country is also home to over 275 indigenous languages and thousands of regional dialects categorized into eight major groups. Many are mutually unintelligible, and more than 130 are endangered, according to UNESCO.
Rap music in Chinese dialects started to emerge in the 1990s, around the same time as Mandarin rap. While some dialect rappers regard their art as an avenue to fame and fortune, for others, it is a tool for promoting and protecting local language and culture.
Another Chengdu artist, Pang Ke — who goes by the moniker "Er Mao" — also raps in her mother tongue. She says that dialects, as a grassroots form of expression, are a natural fit for hip-hop's philosophy of keeping it "real."
"Rap is something that comes straight from the street. It's something very 'real' — you could put it that way," Pang tells Sixth Tone. In her recent stint on reality TV competition "The Rap of China," she performed in both the Chengdu dialect and Mandarin, and she recently released a music video featuring an entire song in the dialect.
But Pang, too, has encountered scornful attitudes toward regional tongues. "Some people think the Sichuan dialect sounds quite... tu — do you understand?" she says, using a common pejorative that means "peasanty" or "unrefined." "But I don't really care," she continues.
Mandarin was proposed as a national lingua franca in the early 20th century. Based on the Beijing dialect, the language was spread after the Chinese Communist Party came to power in 1949 through various linguistic, education, and media policies mandating its use. It has since come to be associated with sophistication and success, while dialects are often considered useless — especially as bilingualism increasingly comes to mean fluency in Mandarin and English. Regional dialects have also declined with increased domestic migration and mobility.
In recent years, however, concerns about the loss of dialects — and with them, rich and distinctive local cultures — have led to official and civil efforts to preserve them. The government has established a national database of dialects, and local "language corner" activities encourage children to speak their native dialect. Many dialects are recognized as forms of "intangible cultural heritage" (ICH) alongside traditional art forms such as opera and calligraphy.
Rui Zhongke, an event host and amateur rapper from Nanjing in eastern China, is passionate about the preservation of local language and culture. He organizes performances of baiju, an art that employs the old Nanjing dialect, in his capacity as a province-level "cultural inheritor."
Rui hopes that hip-hop can ameliorate perceptions of his dialect, which young people often think sounds tu. "Rap music will let people listen to the dialect with new ears, and it may attract young people," he says. "Young people hearing it will think that, actually, the Nanjing dialect sounds great."
Ahead of the Youth Olympic Games held in Nanjing in 2014, Rui released a music video titled "Dear Nanjing," in which he raps about the city's food, places of interest, and history in the local dialect. The song was well-received locally, says Rui, and was even shared by the municipal propaganda department's Weibo microblog.
Over the years, occasional chart-toppers have brought dialect hip-hop to public attention. One example is C-BLOCK's "Changsha Ce Changsha," while another, Xie Di's "Not Going to Work Tomorrow," became an instant sensation after it was performed on a televised singing contest from state broadcaster CCTV in 2014. Chinese authorities have also been fond of using dialect rap to make humorous public service announcement videos on issues such as fraud protection, the hazards of drunk driving, and even constitutional principles.
This summer, the show "The Rap of China" has brought both Mandarin and dialect rap from all over the country to mainstream attention, with top contestants such as GAI from Chengdu and Bridge from Chongqing rapping extensively in their dialects. In June, a clip of Chinese-Canadian singer Kris Wu, one of the show's judges, comically freestyling in the Shaanxi dialect while making hand-pulled noodles became an instant hit on social media platforms.
Online, hip-hop fans debate whether Mandarin or dialects are better suited to rap. In a discussion on Q&A website Zhihu, a commentator claims that Mandarin has less colorful slang and a monotonous flow, owing to its four tones. By comparison, the Changsha dialect — from central China's Hunan province — has seven tones, and Cantonese has nine. Yet using Mandarin to make music gives artists a wider market for their songs and a larger vocabulary to draw from: Most rappers, educated after Mandarin became the primary language of instruction in schools, have a stronger command of Mandarin than their local dialect.
Liu Liangji, a 32-year-old Shanghai rapper known as "Mr. Weezy" — a tribute to his idol Lil Wayne — has been rapping since he was 18. These days, he raps exclusively in Shanghainese out of fear for the dialect's future, as Mandarin has become increasingly dominant in the melting pot of the metropolis.
Liu's 2015 single, "My Town" — released in both Mandarin and Shanghainese — bemoans problems in his home city, including the rise in housing prices, pollution, forced demolitions, and crime. "[They say] Shanghai will go from good to best, but I hear Shanghainese less and less," cries the first verse.
"I use the dialect to rap because I feel strongly attached to Shanghai's regional culture," Liu says. He believes that the disappearance of dialects would mean losing an integral part of China's identity. "If a place or a nation can't even protect its own local culture, how can it talk about cultural development?" he asks.
Meanwhile, rapper and rock musician Cao Shi, who hails from northwestern China's Shaanxi province, feels that dialects are thriving in Chinese arts and entertainment — from film and theater to music and stand-up comedy.
"All these years, I've never felt any limitations," he says. "Quite the opposite: No matter whether it's local media or national media, including CCTV, they actually all welcome dialects."
Cao has been making music using the Shaanxi dialect since 2003. Initially, he admits, he wrote songs in the dialect because he thought it sounded "funny." One of his first successful songs, "Shaanxi Delicacies," was a novelty hit about regional dishes that has often featured in TV programs about the province's food.
Over time, however, Cao grew to appreciate the Shaanxi dialect's "honest, straightforward, and direct" nature, he says. "Our dialect resembles the personality of Shaanxi people; it embodies the toughness of northwestern people," Cao explains.
Yet even for rappers who relish the candor and realness that regional dialects bring to hip-hop, reservations remain. When Rui wrote a song about the Nanjing Massacre, the solemn language of the state seemed more appropriate than the upbeat tones of his mother tongue. "Rapping in the Nanjing dialect sounds quite fun and entertaining, but a subject like the Nanjing Massacre is very serious," Rui muses.
"The topic doesn't suit dialect because I wanted the whole country to understand it," he says. "From this perspective, dialects have their limitations."
Editor: Qian Jinghua.
(Header image: Liu Liangji, a Shanghai rapper known as 'Mr. Weezy,' records at his studio in Shanghai, Aug. 24, 2017. Wu Huiyuan/Sixth Tone)