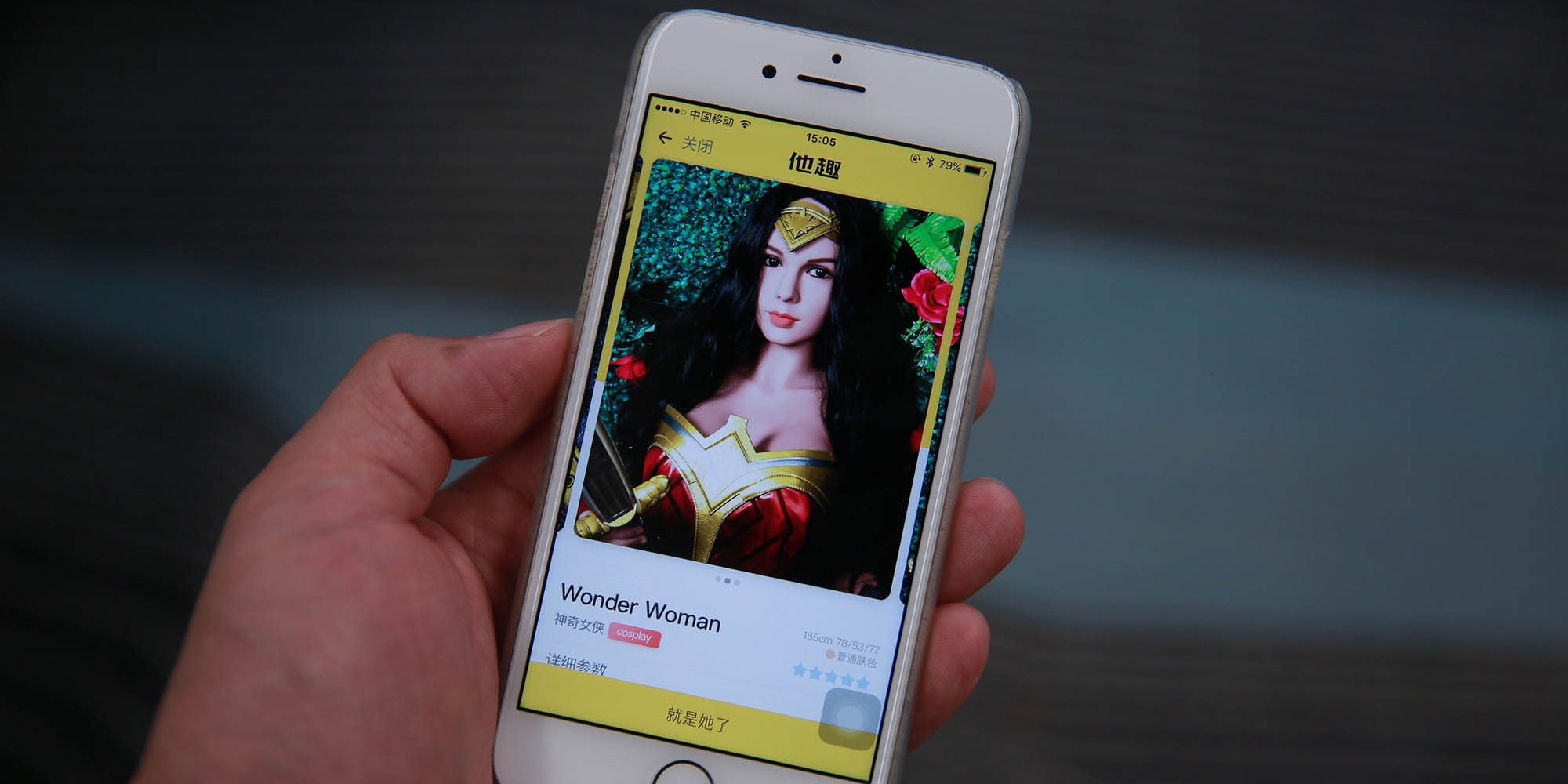 NEWS
Chinese Company Suspends Plans for Shared Sex Dolls
Fined by police for 'disturbing social order,' company says it will focus on selling rather than renting its busty silicone companions.
The company behind a titillating twist on China's booming sharing economy announced Monday that it will not move forward with plans to provide "shared girlfriends" to Beijing's lonely hearts.
The pivot comes four days after two employees of sex toy maker Taqu were summoned to a police station in Sanlitun, the capital's popular shopping and nightlife district, for their involvement in organizing promotional events where rentable sex dolls were placed amid passengers on the subway and displayed in a plaza near a shopping mall. On the grounds that the events had "disturbed social order with vulgar activities," the company was fined "several thousand yuan," a public relations manager surnamed Zheng told Sixth Tone.
"We apologize for the negative impact our 'shared girlfriend' project has had on society — especially the online environment — ahead of the significant meeting," read the company's statement on its official Weibo microblog, referring to the upcoming 19th Party Congress, an important political meeting held once every five years. "As such, we have decided to suspend the project."
Zheng added that in addition to being fined, the two employees who visited the police station were held there for less than 24 hours and obliged to sign letters promising not to engage in similar activities for six months. Zheng declined to give her full name, saying she was already being pursued by prospective business partners.
Based in Xiamen, a seaside city in eastern China's Fujian province, Taqu has been manufacturing and selling lifelike dolls for personal use since it was founded in 2012. The company, which adopted "Touch" as its English name, made headlines last week when it announced that it would rent out a new line of dolls for one, three, or seven days at a time.
On Sept. 13, Touch unveiled five fully customizable silicone rental dolls — "Russian teenager," "Korean housewife," "Greek bikini model," "U.S. Wonder Woman," and "Hong Kong race car cheerleader" — for a trial run in Beijing. Each model had distinct measurements, including height, breast size, waist size, and even vagina depth, though they could all be personalized based on a buyer's preferences. Prices ranged from 298 yuan ($45) for a day to 1,298 yuan for a week, on top of an 8,000-yuan deposit.
While some media were revolted by the idea of shared sex dolls, net users have been largely sympathetic to the company following the authorities' intervention. "Vulgarity is a moral issue — isn't it an overreaction to make it a legal one?" asked one Weibo user. "Alas, the great cause died before it ever saw the light of day," lamented another.
The PR manager, Zheng, said organizers of the plaza event in Zhongguancun — the technology hub in Beijing from which Touch hoped to attract many of its clients — had anticipated a strong public reaction and, as such, intentionally dressed the dolls more modestly than they appeared online.
After the event, Zheng said Touch received 2,000 orders — though none were ever processed, and all will now be refunded. "We founded this company because we wanted to promote the culture of sex toys in China," Zheng said. "We knew there would be difficulties, given the tradition here, but we will continue with our efforts to promote this culture."
Additional reporting: Fan Liya; editor: Kevin Schoenmakers.
(Header image: Taqu's 'U.S. Wonder Woman' model is viewed on the company's mobile app, Beijing, Sept. 15, 2017. Zhao Feng/IC)