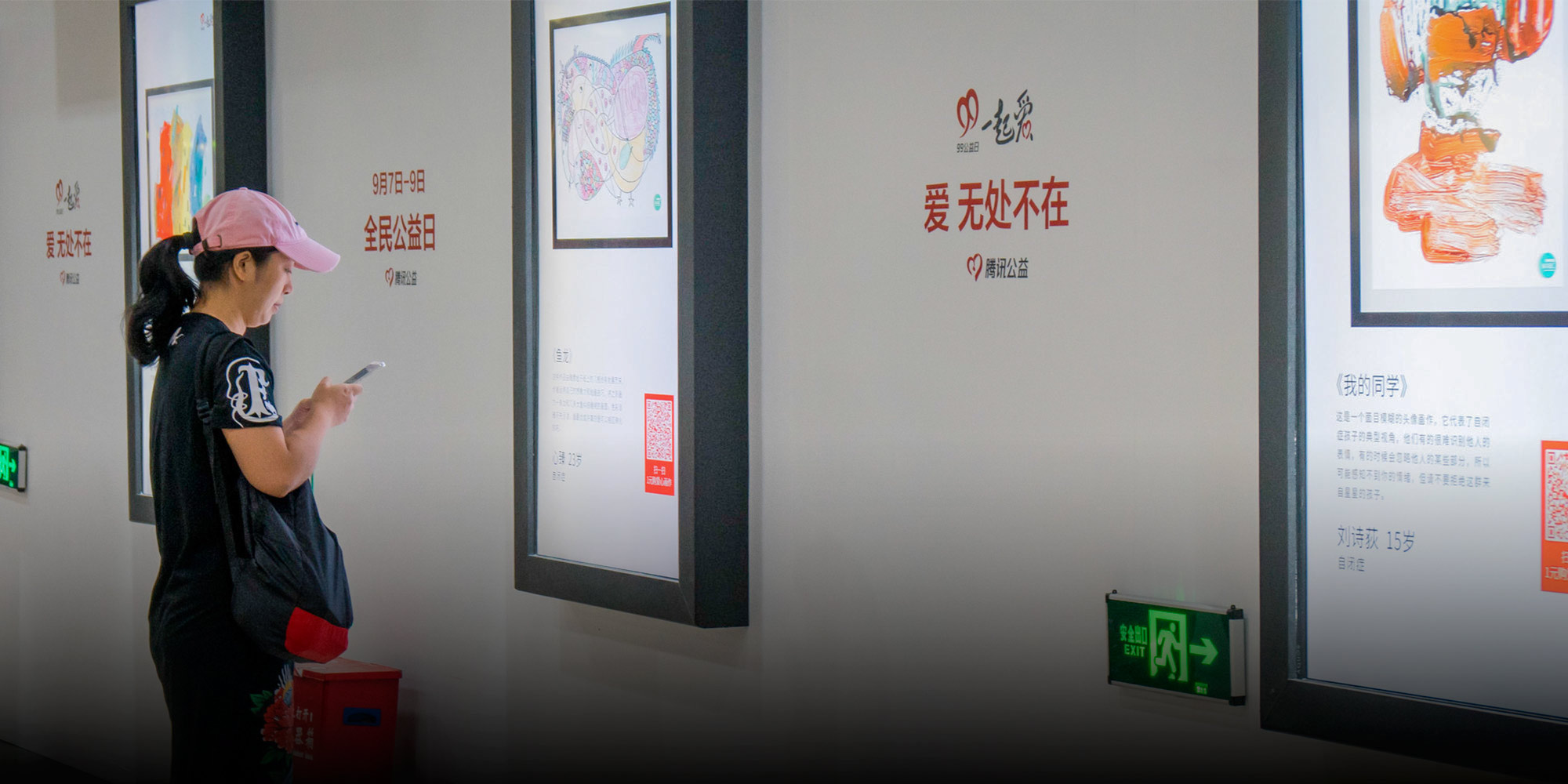 VOICES & OPINION
Charity in China, Where Giving Begins on Your Phone
Across society, online altruism is fast becoming a fun, public, and even competitive mobile phenomenon.
If you were in China on Sept. 9, then your social media feeds were likely flooded with posts about charities. From campaigns to save endangered snow leopards to programs educating children about traffic laws, netizens rushed to donate money to all sorts of different causes, and dutifully informed their friends by posting on their social media accounts.
This barrage of philanthropy, known as "9.9 Charity Day," has been held on Sept. 9 every year since 2015. Hosted by the Chinese tech giant Tencent in cooperation with hundreds of charities, companies, celebrities, and broadcast organizations, it is an annual society-wide event dedicated to charitable giving. What makes 9.9 Charity Day unique, however, is that it takes place almost entirely online.
This year's event introduced a new way to give: so-called 1:1:X matching donations. When online users donated, say, 1 yuan ($0.15) to a charity of their choice, their donation was then matched by one of the company's corporate partners, and the Tencent Charity Foundation — the company's social responsibility arm — then made a further donation of a random amount out of a nearly 300 million-yuan fund. The mechanism is reminiscent of a popular social media game in which a user can send "red envelopes" filled with digital currency to a group of friends, each of whom receives a randomized percentage of the total amount.
Matching donations even let users and companies launch "donate together" pages online, turning isolated acts of charity into group activities whereby friends competed against one another to see who would donate the most. Individual donors were then ranked in a "league table" running from those who contributed the most money to those who contributed the least. As the founders of the group, administrators could have their donation permanently pinned to the top of the list for all participants to see.
In a word, the 9.9 Charity Day organizers have transformed the event into another artificial "holiday" in the vein of the maniacal levels of consumption seen on Singles' Day, an event hosted by online shopping platforms on Nov. 11 each year.
In recent years, Chinese online charities have become increasingly adept at making the act of giving fun, even competitive. As event organizers get better and better at figuring out what attracts web users, online philanthropy continues to blur the traditional lines between charity, entertainment, and social interaction.
The country's ever more diverse methods of soliciting online altruism, as well as an increase in the influence and visibility of such events, do not exist in isolation. They are part of a line that can be traced back to the viral "Ice Bucket Challenge" videos calling attention to amyotrophic lateral sclerosis, or ALS, that so caught the public's imagination a few years ago. They also have much in common with the social media auction of digital paintings created by autistic children in exchange for donations, which recently went viral in China.
Online charity is quietly altering the landscape of Chinese philanthropy, bringing about a shift in giving practices. Previously, government-led emergency response campaigns, organized in the aftermath of large-scale disasters, were a primary means of mobilizing the country behind a good cause. Now, however, everyday acts of kindness have become normalized.
Today, online giving is accessible, streamlined, and relaxed. More and more citizens seem to agree that what charities need above all else is large-scale, proportional public participation. Contrary to the tales of altruism so vaunted in the Chinese media, it's not necessary to bankrupt oneself in order to prop up an ultimately unsustainable vision of charity.
Chinese charities have developed rapidly over the past decade, from providing nutritious lunches to children in poor regions and caring for veteran soldiers, to Shanghai's "Egg Walkathon," which aims to give underprivileged children opportunities to live happier, healthier lives. The industry has pivoted away from traditional narratives exaggerating pathos and sacrifice, instead exploring small acts of kindness. Charitable giving in China today is intimately connected to entertainment, personal development, and social interaction.
Recent Chinese charity campaigns have adroitly utilized the internet to tailor their efforts to users, provide instant feedback, and start viral chain reactions of social communication. All of these features cater to the human need for validation: I can now easily launch a campaign for a cause I care about, and the donation will immediately show up on my social media accounts, even if I only donate 1 yuan. And charities have been able to achieve some stunning results: During last year's 9.9 Charity Day, Tencent racked up 6.7 million individual donations for a total of 305 million yuan. This year, it counted nearly 12.7 million individual donations for a combined 830 million yuan.
Of course, the rapid development of online charity drives has brought with it new challenges. People traditionally tended to give to those who needed it most, but the nature of the internet means that now, more and more donations are funneled toward organizations most able to affect us emotionally or craft an effective narrative.
Additionally, the rapid dissemination of information on the internet has conditioned participants to expect more transparency and information from charitable organizations and events. Traditional philanthropic organizations typically only had to report on their activities after a project was completed, or in quarterly or annual reports. Now, however, online philanthropy campaigns can explode overnight, supported by a public demanding comprehensive, immediate information on their activities.
Online charity will soon be the main medium of philanthropic giving. At the same time, the lines between charity, business, and entertainment have blurred. We should start preparing for this future now, and move quickly to respond to these challenges.
Translator: Kilian O'Donnell; editors: Zhang Bo and Matthew Walsh.
(Header image: A woman scans a QR code on a digital copy of a painting created by people with disabilities, which is available for sale as part of a Tencent charity initiative, Shanghai, Aug. 31, 2017. Wang Gang/IC)