After serving 14 years in prison for murder, Miao Xinhua was declared not guilty by a court in eastern China on Tuesday, reported The Paper, Sixth Tone's sister publication.
Miao had initially been sentenced to death for strangling his former girlfriend, Yang Yanhui, in his hometown in Zherong County, Fujian province, in April 2003. In addition to Miao, four of his family members — who told the court that police had tortured them into confessing — were sentenced to between three and eight years in prison for their alleged roles in disposing of Yang's body.
The court that first heard the case in May 2004 determined that Miao's father and brother had dismembered the victim into seven pieces in the family's bathroom while a younger brother looked on. The father then allegedly persuaded his own brother, Miao's uncle, to drive them in a tractor to an abandoned cottage on a hill, where they left the plastic bags full of body parts.
But on appeal, Miao saw his sentence reduced from capital punishment to a suspended death sentence. With the final appeal, the Fujian High People's Court ordered that the case be reinvestigated. During the July 28 retrial, the defense argued that there was insufficient evidence of guilt, in part due to inconsistencies in the five men's confessions. The provincial court announced its reversal of the original decision on Tuesday, declaring all five men innocent.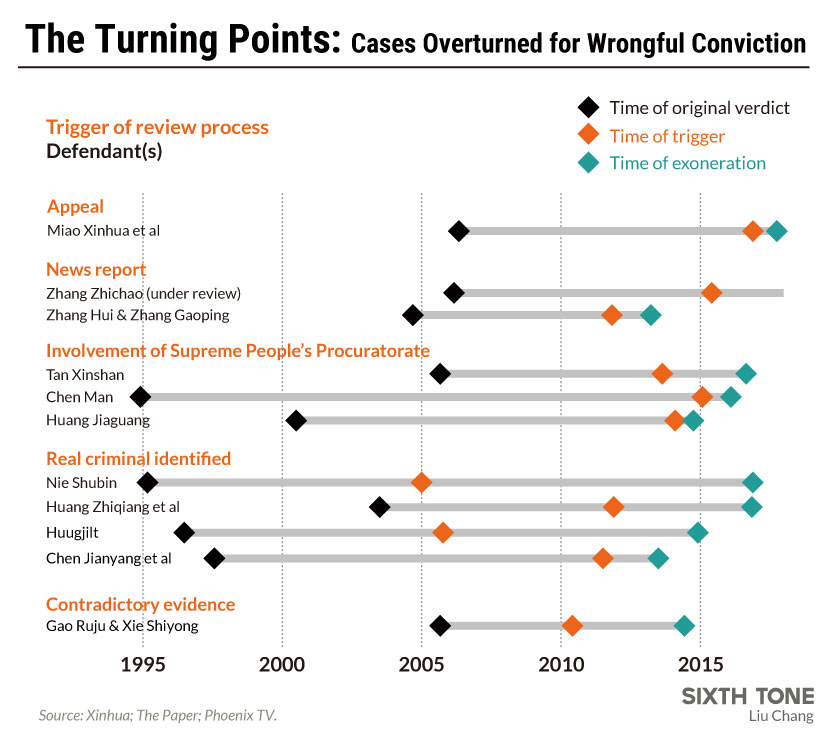 From 2013 to 2016, China's courts overturned just 34 wrongful convictions, vacillating on a number of high-profile guilty verdicts in the past year.
In December 2016, Nie Shubin was exonerated 21 years after being put to death for the grisly rape and murder of a woman in northern Hebei province. In February 2017, a court in Guizhou, southwestern China, was ordered to reopen a murder case after two suspects claimed they were tortured into confessing. In May 2017, a man sentenced to life in prison for raping a high school classmate in eastern China's Shandong province had his case reopened 12 years later, after repeated petitions that he, too, had been forced to confess. And one man who narrowly escaped the firing squad a decade ago is still waiting for a court to hear his appeal for a murder in northern Shanxi province that he maintains he never committed.
China's most prominent miscarriage of justice, however, is arguably that of Chen Man, who was released from prison in February 2016 after serving nearly 23 years of a suspended death sentence — an ignominious record for wrongful convictions. Like Miao and his relatives, Chen, said during his appeal that police had tortured him into confessing to a murder he didn't commit. When the verdict was finally overturned, Chen received a record payout of 2.75 million yuan ($420,000) in compensation from the government, though he lost much of this a year later in a cryptocurrency investment scam.
Mao Lixin, Miao Xinhua's attorney, told The Paper that his client's case shares many of the same qualities as other cases of wrongful conviction, including insufficient evidence and an "inauthentic" basis for the guilty verdict. "On the other hand, it's extremely rare to see a case where five family members are wronged and suffer a grievance," said Mao. "According to the current case file information, the true killer is someone else."
Correction: A previous version of this story reported that the family's and the murdered woman's surnames were Liao and Yan. They are Miao and Yang, respectively. The current version also clarifies the results and sequence of the appeals.

Contributions: Yin Yijun and Liu Chang; editor: Kevin Schoenmakers.
(Header image: Miao Xinhua (left) and his brother, Miao Xinrong, walk out of the courthouse hand in hand in Nanping, Fujian province, Sept. 12, 2017. Chen Leizhu for Sixth Tone)