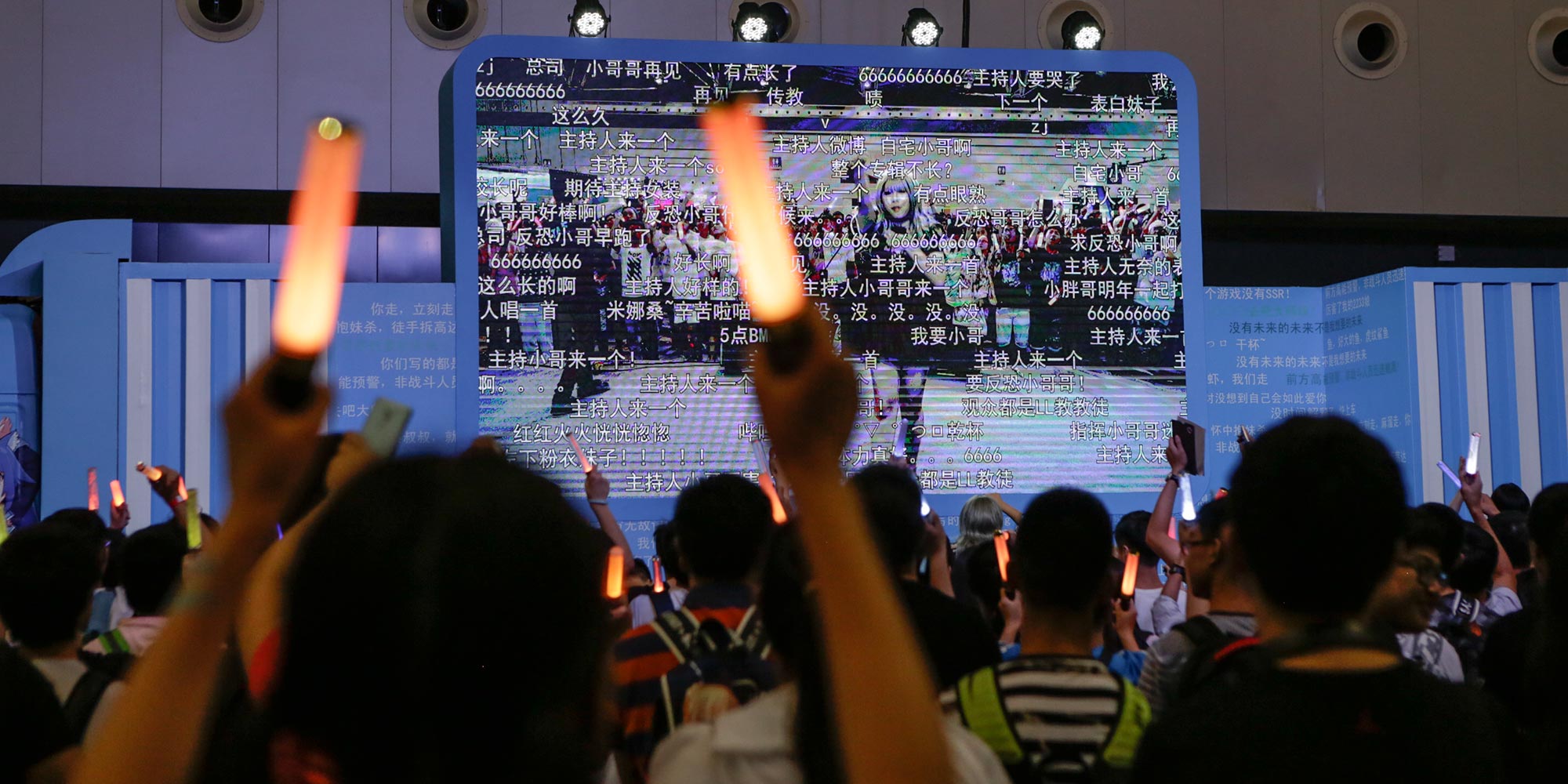 FEATURES
Bilibili Stars Bypass China's Fame Machine
Video-sharing platform gives rise to fan-made celebrities and a growing offline ACG community.
SHANGHAI — At a mammoth exhibition space in Pudong, users of leading Chinese video-sharing platform Bilibili have stepped out of the virtual world to see their favorite online personalities in the flesh.
In one area, gamers are glued to their consoles in live competition. On the freestyle stage, fans can take a turn in the spotlight themselves. Booths introduce the newest virtual idols, while eager attendees brave hourslong lines to purchase souvenirs. Capping off the exhibition is Bilibili Macro Link (BML), an annual concert in which singers and dancers who've made a name for themselves on the site perform for crowds of cheering fans.
One such star is Xiao Yiqing. In loose-fitting jeans and a curly blond bob, Xiao — his stage name — looks like an idol from any one of China's televised talent shows. In fact, the 29-year-old did sign up for the popular Chinese singing competition "Super Boy" in 2007 but didn't make it past the off-air preliminary rounds.
Nearly a decade later, Xiao took fame into his own hands, uploading video content on Bilibili beginning in 2015. He now posts roughly one video a week, often combining animation with his own vocals in an ancient-style music genre called gufeng. He has more than 900,000 followers on the site.
"My life has been fundamentally changed: I quit my civil servant job and now focus on my music career," Xiao told Sixth Tone in late July, the day before his performance at BML. "I feel like I'm a celebrity now — I get recognized on the streets and in shopping malls and airports. I've heard people playing my songs on the train. I feel very flattered."
The rise of the vlogger is not a new phenomenon in China, with an explosion of video platforms turning ordinary people into overnight stars. Many are livestreamers, the most famous of whom have become household names and now earn over a million yuan a month in virtual gifts from fans. But unlike most other video-uploading or livestreaming platforms, Bilibili caters to the distinctive fandom around ACG — the Japanese-influenced anime, comic, and games subculture that is rapidly entering the mainstream.
The nation's followers of ACG culture numbered 219 million in 2015, according to data from market research and consulting company iResearch, and that number is expected to surpass 300 million this year. Among these ACG fans, more than 90 percent were born in the '90s or later.
Bilibili got its start in 2009 as a platform for fans to watch Japanese anime and comment via danmu, or "bullet screens." The site has roughly 150 million active users and more than 1 million uploaders to date, in categories ranging from music, video games, and dance to cosmetics and cooking. The recent exhibition — Bilibili World, the site's first annual offline gala for ACG fans — saw nearly 100,000 visitors gather over three days. For comparison, the long-running Comic-Con International: San Diego sees about 130,000 attendees each year.
"For young people born after 1990, many of them know exactly what they are looking for," Chen Rui, chairman of Bilibili, said at a press conference in late July. The site, said Chen, gives users a platform to explore shared interests and interact with the community.
Nowadays, the most popular Bilibili stars have over a million followers. Uploader "Yaorenmao" — literally "a cat that bites" in Chinese — is one such success story. Hailing from Chengdu, capital of Sichuan province in southwestern China, Yaorenmao posted her first dance video in September 2011: a clip of herself striking a series of cute poses in a cosplay maid outfit and cat ears. Now, she has 1.36 million fans, and her videos integrate rhythmic beats, elaborate choreography, and extensive digital effects.
Yaorenmao — who declined to reveal her real name — told Sixth Tone that she draws inspiration and motivation from her fans. "The reason that I keep dancing and posting these videos online is that I hope this type of positive energy can be passed on to the younger generation," she said.
Eighteen-year-old Cheng Yuxuan came all the way from Haikou in the southern island province of Hainan to watch Yaorenmao perform at BML, which also featured ACG idols from Japan alongside Bilibili uploaders. Cheng told Sixth Tone that the trip was a reward for his strong performance on this year's gaokao, China's college entrance exam.
"It's exciting to finally be able to see her in person," the teen said, after managing to secure a ticket from a scalper just hours before the show. "It's a lot of fun watching her dance while talking to other fans about whether they like the BGM [background music], the sets, her new dance moves, and other things. Above all, she looks so cute."
Although Cheng estimated that he spent nearly 10,000 yuan ($1,500) on this trip to Shanghai, he said he doesn't often "charge battery," a form of tipping on Bilibili through which fans can send uploaders virtual cash.
Official figures on uploaders' earnings from the site have not been released, but most can't make a living off fan tips alone. Because a key portion of ACG culture followers are students without stable incomes, 30.6 percent of fans spent just 100 to 500 yuan in ACG-related expenses in 2015, according to a report by iResearch. Another 22.8 percent spent between 500 and 1,000 yuan that year, while 19.9 percent spent between 1,000 and 5,000 yuan. Those who spent more than 30,000 yuan accounted for less than 1 percent of the total.
On the uploader side, Yaorenmao said that her investment in her video content is huge. "Although I keep a full-time job, my life is literally all about the online world," she said. "If I travel, I won't simply go sightseeing — I'll plan the trip to create a new video for my fans. If I spend a significant amount of money on something, it's definitely for the purpose of filming dance videos."
The amateur dancer with waist-length black hair began making videos as an outlet for a passion she was dissuaded from pursuing in her youth. "I've been interested in dancing since childhood, but my parents insisted that academic studies were more important," Yaorenmao recalled. She said she plans to quit her day job to focus on producing videos as soon as she finds it too difficult to balance the two.
Yet not all popular uploaders hope to make a career out of their online fame. Lorraine Pan — known on Bilibili as "Jizhidedangmei" — has over 600,000 fans on the site but has never treated video uploading as anything more than a hobby.
The 23-year-old from eastern China's Anhui province began posting on Bilibili less than a year ago. She uploads her talk show-like videos in the cosmetics section of the site, though they tackle an eclectic mix of topics, with few solely about makeup. In one video, she invites a friend over to cook a dish at home; in another, she talks about going on a cruise. All are imbued with her particular brand of comedy, which she compares to "cross-talk" — a centuries-old Chinese performance style featuring puns and witty banter about popular culture.
With bright turquoise hair, Pan cuts a striking figure. She said she became an uploader simply to help promote her own idol: Zhang Wei, a singer from Beijing. "I can use his songs as BGM for my videos to make my audience more familiar with his music," Pan told Sixth Tone prior to the live talk show she hosted with a friend at Bilibili World.
Fan Sike, a 21-year-old from the northern port city of Tianjin, made an account on Bilibili just so she could comment on Pan's videos. "She's humorous and outspoken. I was attracted to her personality, and her videos have added fun to my life," Fan told Sixth Tone.
Despite her substantial following, Pan's internet fame hasn't become the focus of her offline world. She plans to pursue a master's degree in the near future. "I've never taken video uploading as a career," she said. "But it's fun, so I'll continue uploading during my graduate school years."
Meanwhile, singer Xiao is set on taking his music career from the virtual to the brick-and-mortar stage. He now has a team of more than 10 mostly part-time staff, and he said he has begun to see small profits from his performances and album sales. "I'm thrilled that I have turned singing into my career and can support my life with it," he said.
In August, Xiao began his first concert tour, which will take him to five Chinese cities. He estimated that his Bilibili followers will make up as much as 80 percent of the audience. "It was they," he said, "who made me who I am today."
Editor: Jessica Levine.
(Header image: Fans wave glow sticks at an exhibition hosted by Chinese video-sharing platform Bilibili in Shanghai, July 23, 2017. Zhong Changqian for Sixth Tone)