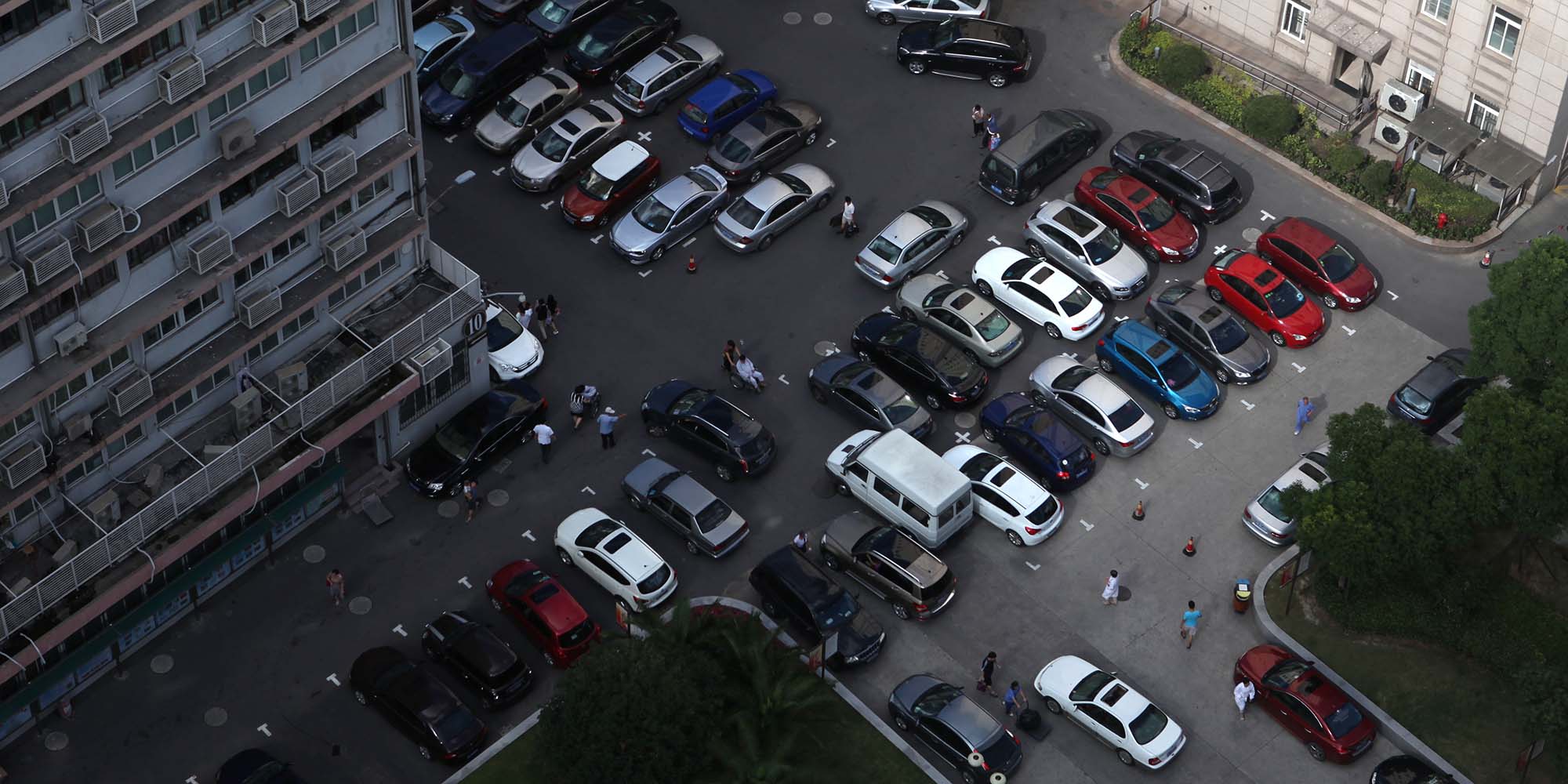 NEWS
The Entrepreneurs Tackling Urban China's Parking Problems
Developers hope their apps will help commuters use existing parking spaces more efficiently.
Commuting by car can test the patience of anyone living in China's major cities. "It's such a headache to find a parking space downtown, and it's been this way for a while," said Zhang Jun, a 27-year-old finance executive who drives across the river that divides Shanghai for work.
With China's 300 million-and-counting vehicles crowding streets and exacerbating the problem, a handful of technological tools have emerged to help people like Zhang quickly find a place to park.
Enter ETCP and Airparking, mobile apps developed by companies in Beijing and Guangzhou, respectively, that make finding and paying for parking as easy as the touch of a button. Both apps provide similar services: Users find a nearby parking spot, reserve it, park, and pay — all from their phones, with no cash changing hands between drivers and lot attendants.
Founded in 2012, ETCP is one of the shared parking industry's earliest entrants and biggest players, boasting more than 5,000 lots in 150 Chinese cities, as well as over 10 million users. The company also has a somewhat unique business model: It does not make money from customers paying to park. Instead, the parking fees go directly to the lot owner, while ETCP profits from advertising and value-added services on their app, including auto sales, washing, and maintenance.
Meanwhile, Airparking, founded in July 2015, has plans to expand to 2,000 lots across 40 cities by the end of the year, and it also employs a more conventional business model, splitting parking fees 50-50 with the property owners.
Like other sharing economy businesses — which already encompass bicycles, umbrellas, phone chargers, and even special pods for exercise, napping, and karaoke — ETCP and Airparking hope to alleviate a mounting social problem by applying technology and convenience.
On Aug. 31, Beijing's transportation commission published the results of its "parking resource census," which concluded that the city needs around 1.3 million more parking spaces. By contrast, Shanghai needs an extra 850,000 spots, and China as a whole an estimated 50 million more.
"Compared with developed countries, which average 1.3 parking spaces per car, the ratio in China is just 0.8," Wang Jie, the leader of a separate parking study conducted by the Tsinghua University-affiliated Tongheng Urban Planning and Design Institute, told Sixth Tone.
Wang's team also concluded that 50 percent of all parking spaces are not being effectively used. Spots in office buildings, for example, are full during the day but nearly empty at night, while the opposite case can be found in residential areas. As a result, Chinese motorists in 2016 spent an estimated 40 billion yuan ($6 billion) on parking fees — or roughly 200 yuan per driver per month, according to Feng Zhidong, Airparking's founder.
Inspired by the vacation rental app Airbnb, Feng told Sixth Tone that he hoped his app would help match properties' surplus parking spaces with driver demand. Today, users can rent spots for as little as one hour or as long as a few months.
"The industry is still in a very early stage," Feng said. "Even ride-hailing app Didi Chuxing needed more than five years to reach its market. It will take longer for our industry."
With the on-demand parking industry's robust market potential, it is attracting ever more investors and entrepreneurs, including venture capital firms and ambitious startups. Last year, for example, ETCP received 1.55 billion yuan in funding from the e-commerce arm of Dalian Wanda Group, China's largest real estate company.
And in August, ETCP installed its digital consoles, which lot attendants use to monitor space availability, free of charge at the OOCL Plaza in Shanghai's central Jing'an District, Zhang Jian, the property manager, told Sixth Tone. Normally, drivers have to pay an attendant in cash when they use one of the plaza's 150 parking spaces; now, however, the process is entirely app-driven and much more efficient, according to Zhang.
"Ideally, this will save time for drivers, who will be able to enter the lot without waiting in line, and also reduce management costs and curb corruption and bribery among parking attendants," Zhang said. He suggested that dubious practices are still rampant at small- and medium-sized lots, where operators occasionally overcharge patrons and pocket the difference.
But since converting the OOCL Plaza lot, ETCP has not recorded a single payment. "It's going to take time for drivers and operators to get used to the system," Zhang said.
Editors: David Paulk and Qian Jinghua.
(Header image: An aerial view of a hospital parking lot in Shanghai, Sept. 23, 2013. Wang Juliang for Sixth Tone)