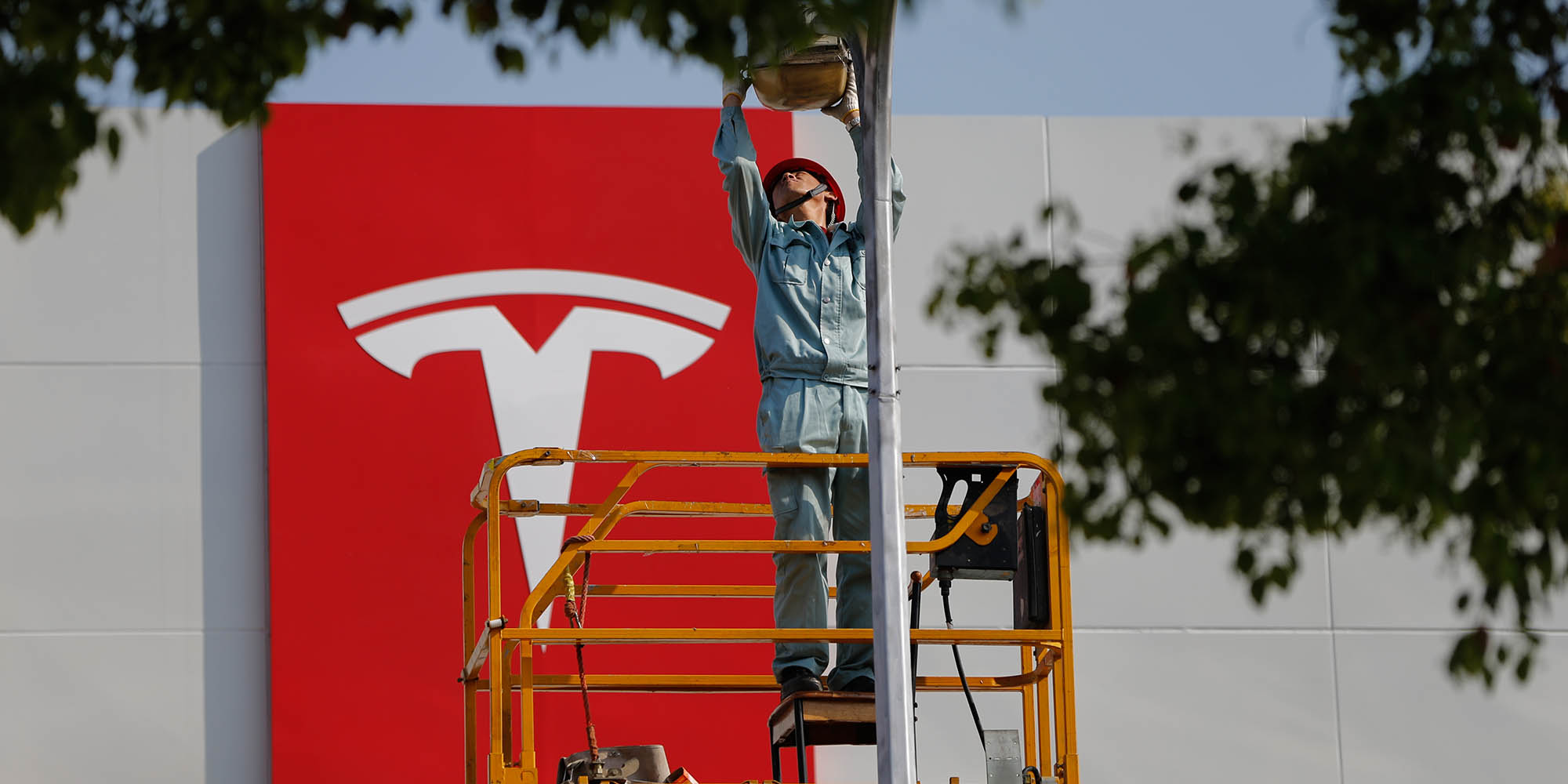 NEWS
Beijing Business Sues Tesla, Alleging Sales Fraud
Plaintiff claims saleswoman told her she and her new electric car would soon be eligible for government benefits.
American automaker Tesla found itself in a Beijing district court on Monday, accused of using misleading sales tactics that could be worth over 4 million yuan in damages ($612,000), according to a court announcement.
The plaintiff, Holy Dash Technology & Development Co. Ltd., which sells mining and medical equipment, alleged to the Daxing District court that a saleswoman for the electric carmaker committed fraud by not disclosing that a Tesla Model X 100D sport utility vehicle, purchased for 1.2 million yuan, does not qualify as a "new energy vehicle" (NEV) in Beijing — a designation that carries with it better odds in the city's notoriously competitive license plate lottery.
Holy Dash is invoking China's consumer protection law, which states that if a judge rules that fraud has been committed during the sale of a consumer good, the buyer is entitled to compensation for three times the item's price. In addition to compensation, the plaintiff is asking Tesla to cover legal and other related fees.
"I would never have chosen this car if I had known beforehand that it can't get an NEV plate," said Feng Qiuzhe, vice president of Holy Dash. "Now I'm watching it rot in my garage and paying 4,000 yuan per month for a parking space," she added, referring to the fact that she has not yet been able to secure a license plate.
Feng told Sixth Tone that when she bought the car in February, the Tesla saleswoman did not tell her that it was ineligible for an NEV plate. When Feng was informed of this upon attempting to register her newly purchased vehicle, the saleswoman assured her that the Model X would be added to Beijing's list of NEVs by May. But as of today, the car had still not been listed by the local government.
According to a court transcript reported by The Beijing News, Tesla's lawyer confirmed that while many Tesla models are included in Beijing's NEV catalogue, the Model X 100D has not yet been added. However, she argued that the sale of the car was still legitimate: "The only difference is that [the customer] cannot enjoy the NEV benefits."
The lawyer also told the court that one of the provisions in the purchasing agreement signed by the plaintiff was that they would complete the vehicle registration process on their own — meaning Tesla's obligations ended at the point of sale.
To tackle pollution problems, the Chinese government has for years advocated wider use of NEVs. In June 2012, the State Council, the country's cabinet, issued a plan to sell a total of 5 million new energy vehicles by 2020 and expressly stated that NEVs should be given preferential consideration.
Local authorities have passed laws to award owners of domestically made NEVs with subsidies and made such vehicles eligible to skirt China's license plate lotteries for gas-powered vehicles, which are meant to slow the growth of new cars on the roads of major metropolises like Beijing, Shanghai, and Guangzhou.
But the rules vary by province, which Tesla's lawyer also mentioned in her defense of the saleswoman. "Tesla has business all across the country, yet license plate registration procedures are different from region to region," she told the court.
When contacted on Tuesday, a Tesla representative who would not give her name told Sixth Tone that the company would continue its efforts to get the Model X 100D added to NEV registries nationwide. "We are working hard to secure this qualification as soon as possible," she said. The Model X is included on the NEV lists of cities like Shanghai and Shenzhen.
"I think Tesla is definitely at fault because it concealed information during the sale, which resulted in a misunderstanding with the buyer," Ting Dalong, an attorney at King A&P Law Firm in Hefei, capital of eastern Anhui province, told Sixth Tone. However, Ting is not convinced that the plaintiff will be able to secure the full amount claimed in compensation.
"According to Chinese law, the definition of a consumer does not include business entities," Ting said. "If the court determines that the purchased vehicle was intended for commercial purposes, then the triple compensation won't happen," he added. "Instead, the plaintiff will be protected by contract law, which covers just the cost of their loss" — in this case, the price of the vehicle and any related fees.
Editor: David Paulk.
(Header image: A worker inspects a streetlight outside Tesla's exhibition hall before vehicles are delivered to their buyers in Shanghai, April 22, 2014. Liu Xingzhe for Sixth Tone)