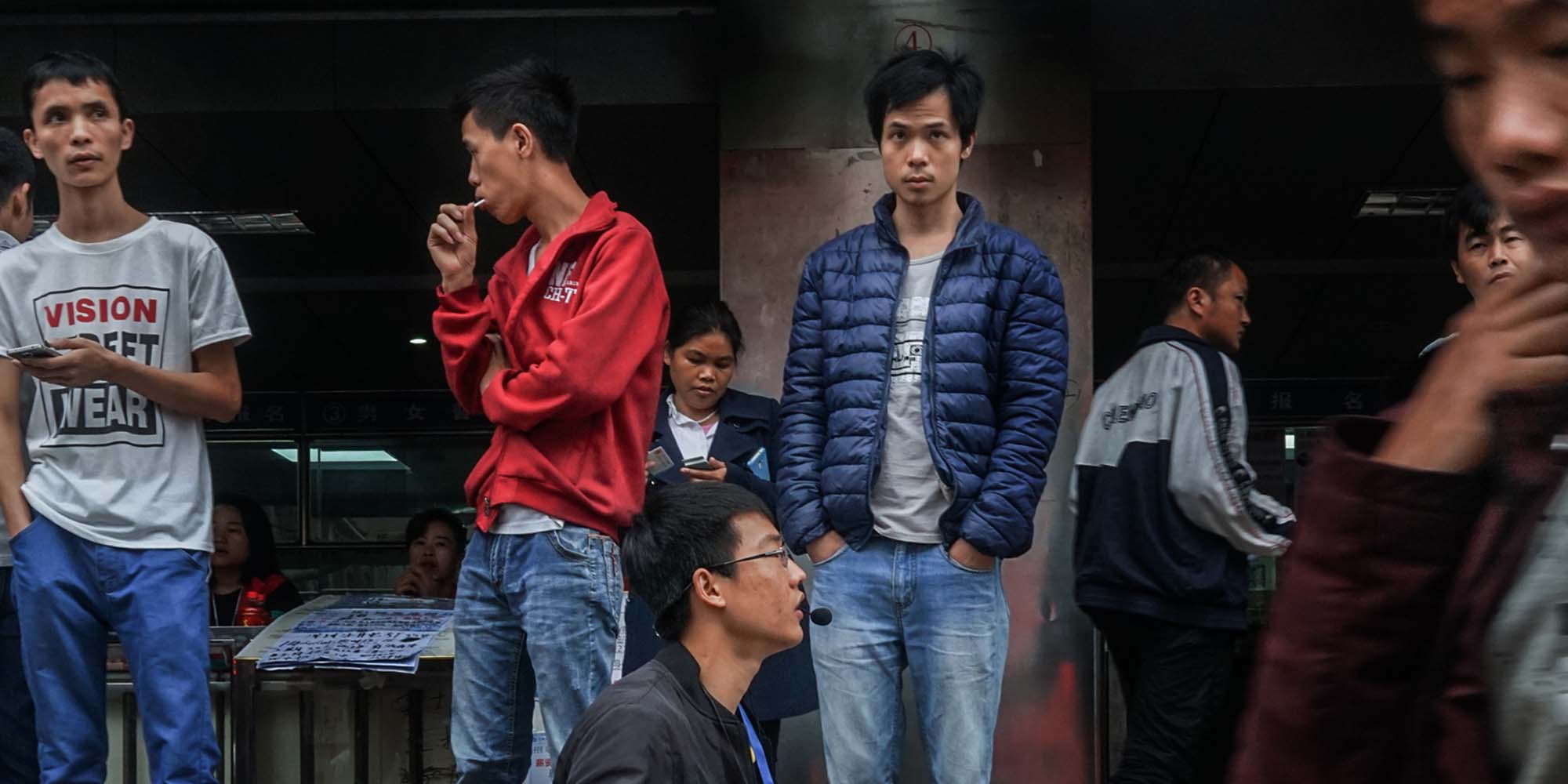 FEATURES
The Shenzhen Gig Market Where Migrants Embrace Being Broke
The San He Talent Markets link China's lumpen laborers with odd jobs, from courier shifts to the downright shifty.
GUANGDONG, South China — At the San He Talent Markets, it's not about getting ahead — it's about getting by. Located in Longhua, an industrial district outside of tech hub Shenzhen, the markets attract people who have given up on being successful and just need some cash to get through the week. "With one day's pay, you can have fun for three days" is San He's unofficial slogan.
The first thing many migrant workers do when they arrive in San He is sell their ID cards at a street value of about 70 yuan (around $10.65). Then, they join one of China's largest, wildest gig economies. Daily jobs range from the relatively mundane — delivering packages — to the obviously shady, like posing as a company representative or using a stolen ID to fill out bank information.
The jobs available at San He require little education or skills, and a day's work goes a long way. Shabby hotel dorm beds go for as little as 20 yuan a day. When workers run out of money and can't find a job, they describe themselves as guabi, a slang term meaning "dead idiot." The only options left are spending the night at an internet café or sleeping in a nearby park.
Started in 1992, San He is a utopia of sorts for people who just need to get away from it all. Huang Bingsi, 27, is one of the "Legends of San He" — a nickname for those who are particularly adept at balancing occasional work with hanging around aimlessly. In 2011, two years after his father died of cancer, Huang decided to leave "the chaos" behind and travel to San He, the almost mythical place he had heard about on the internet where you could live a life without responsibility.
Huang — who hails from Baise, in neighboring Guangxi Zhuang Autonomous Region — joined San He's community of more than 100,000 migrants, sold his ID card, and cut off all contact with his family and friends back home. Some days, he works; some days, he doesn't — usually by choice. Huang spends most nights at internet cafés watching TV shows, his way of keeping up with the outside world.
To Huang, San He provides an escape from reality. He doesn't want to get married, and he doesn't want to make it big in the city. Like most people here, he just wants to live, to survive. "San He is a whirlpool," he says. "Sometimes I really want to get out of here, but I just can't."
Editor: Kevin Schoenmakers.
(Header image: Huang Bingsi looks for work at the San He Talent Markets in Shenzhen, Guangdong province, April 24, 2017. Chen Jin for Sixth Tone)