Watching her sheep collapse one after another, there was nothing Wang Chunzhi could do but swallow her tears. "I lost 80 this time, many of which were pregnant or ready to breed," she told Beijing Youth Daily on Friday. All told, the dead sheep have cost the Shandong farmer 150,000 yuan ($23,000).
One of Wang's neighbors, too, had 47 sheep die. They frothed at the mouth like mad dogs and keeled over about a week ago after eating toxic scallions. Close to Wang's house are several cold-storage warehouses where she goes nearly every morning to collect thrown-out vegetables, which she uses to feed her sheep.
Wang lives in one of the country's largest produce-processing centers: Shouguang, in eastern China. Tons of vegetables are trucked in every day to have their roots removed and their leaves pruned, before being placed into cold storage to await shipping to their next destination.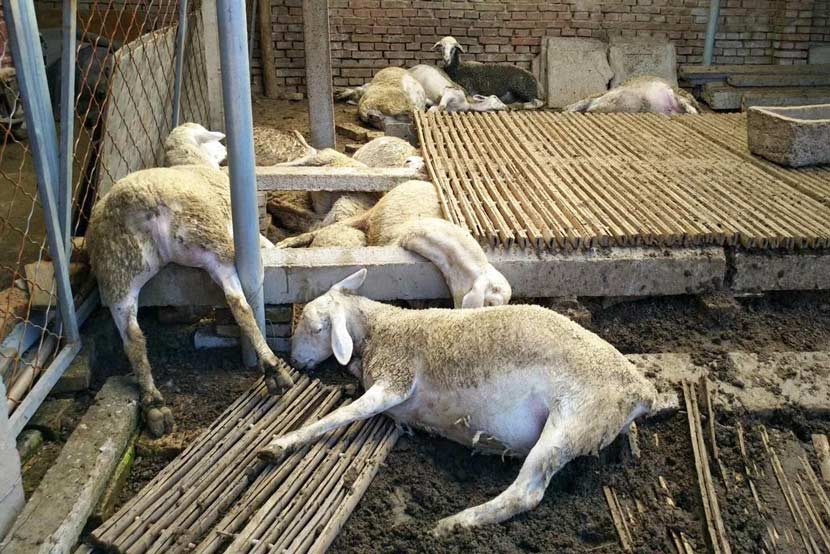 The carcasses of sheep that died from poisoning lie on the ground in a livestock enclosure in Shouguang, Shandong province, Aug. 24, 2017. Courtesy of Beijing Youth Daily
Huang Haiting, an official at Shouguang's publicity department, told Sixth Tone that this particular batch of scallions had come from a farmer surnamed Meng, who grows the plants near Shenyang, capital of northeastern China's Liaoning province. Methamidophos, a highly toxic pesticide that the Ministry of Industry and Information Technology banned in 2012, was detected on the leaves.
Authorities apprehended Meng on Aug. 27 and transported him the next day to Shouguang, where he remains in detention. Meng admitted that he had used the pesticide in early August and sold 26,000 kilograms of scallions to agriculture processing centers in Shouguang on Aug. 22.
Huang told Sixth Tone that the local government destroyed all of the remaining toxic scallions on Thursday, before they could be sold at market. During a subsequent inspection, no toxins were found on the other vegetables at the cold-storage site.
But according to Beijing Youth Daily, Meng had already sold over 500,000 kilograms of the tainted scallions to other parts of China before their possible toxicity came to light. Lethal to smaller mammals, methamidophos can cause neurological damage in humans.
An employee at the police department in Shenyang's Yuhong District, where Meng works, confirmed to Sixth Tone that the case was being investigated but would not give her name or comment further.
Though access to methamidophos is supposed to be strictly controlled, it is nonetheless easy to obtain in Shenyang, according to a report by business news outlet Caixin. And because methamidophos is cheaper than other pesticides, farmers are sometimes willing to overlook its risks.
In Shouguang, authorities say they will start inspecting not just vegetables for sale on the city's markets, but also those in storage. "This can viewed as a wake-up call for us," Huang said. She also promised that the farmers whose sheep had died from eating the poisoned produce would be compensated, without elaborating.
But tons of possibly poisonous scallions are still missing. "Where are the other toxic vegetables ending up?" asked one concerned user on microblog platform Weibo. "Please carry out a closer inspection this time to make up for your past negligence."
Editor: David Paulk.
(Header image: A view of the field where onions were sprayed with illegal pesticides in Shenyang, Liaoning province, Aug. 31, 2017. Zhang Ya/Beijing Youth Daily)