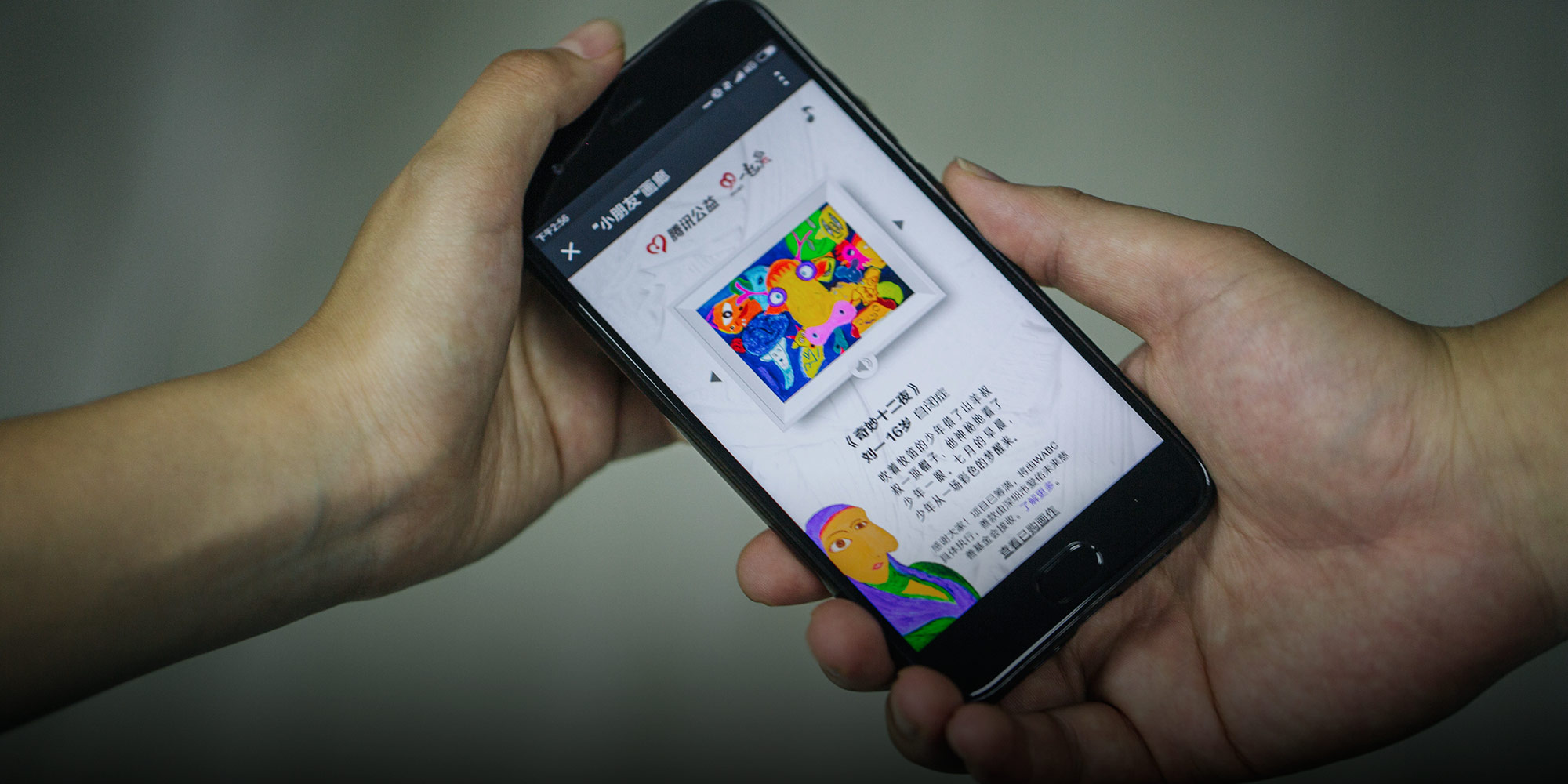 NEWS
Tencent's Autism Charity Drive Inspires Wonder, Cynicism
Wildly successful sales give rise to suspicions of how much of the money raised will actually go toward the artists with disabilities.
In a country where charitable organizations continue to face a crisis of trust, a recent online philanthropic push by internet giant Tencent has China abuzz — and mostly in good way.
Titled "Little Kids' Gallery," the campaign offers people the chance to "purchase" digital paintings created by people with autism and other mental disabilities for prices as low as 1 yuan ($0.15).
Using Tencent's messaging app, WeChat, donors scan a QR code that brings them to a webpage displaying the artworks. Each painting is accompanied by the artist's bio, a brief introduction to the piece, and an audio clip from the painter or their instructor.
When the drive reached its goal of 15 million yuan raised in just the first 24 hours, Tencent closed the donation function. More than 5.8 million donors took part in the campaign, with many sharing images of the artwork they bought with their friends online, in turn prompting others to join in. The images can also be set as backgrounds on smartphones.
Cheng Mingqian, a graduate student at Nanjing University in eastern China's Jiangsu province, bought three paintings. She told Sixth tone that she was "surprised" that people with disabilities had produced such high-quality works of art despite physical or mental challenges. "It can't be easy for them to keep practicing," she said.
The event was organized by Tencent Gongyi, the company's charity arm, and Shanghai-based World of Art Brut Culture (WABC), which describes itself as an NGO dedicated to helping people with special needs develop their artistic potential.
Over the past decade, China has been plagued by a wave of charity-related scandals that have left many in the country suspicious of the intentions of fundraising activities.
The Red Cross Society of China, for example, came under scrutiny in 2011 after a young woman named Guo Meimei flaunted her extravagant lifestyle online while claiming to work for the organization. In a more recent case, a father in the southern Chinese city of Shenzhen raised millions of yuan in donations for his daughter's leukemia treatments, but net users later questioned the family's financial situation, as well as the motives of the company that had initiated the call for donations.
The success of Little Kids' Gallery is unprecedented and sets an example for its peers, Qian Lijun, a marketing executive at a Beijing-based video company, told Sixth Tone.
"It's really smart of the organizers to use social media," Qian added. "People are proud that they helped people with disabilities, and WeChat is right there for them to share their good deed with their friends."
Still, the popular campaign has also brought skeptics and naysayers out of the woodwork, some of whom questioned whether the illustrations had in fact been painted by people with disabilities.
Writing on the Quora-like forum Zhihu, special education teacher Li Laoxi said that based on his experience, people with autism "might just draw a few strokes" or "fill in colors under the guidance of their trainers."
"I don't want people to come away with the impression that autistic people are all geniuses," wrote Li. "Maybe there are some geniuses out there, but I've never met them." As of Wednesday evening, Li's post had been upvoted by more than 4,100 people.
Others took to the internet to assert that less than 10 percent of the proceeds would go to the artists, according to Knews, a website founded by Shanghai Media Group.
Miao Shiming, the founder of WABC, told Sixth Tone without elaborating that the artists would get paid a portion of the proceeds for their creations, and that the rest of the money would be used for the development of WABC. Details of how the funds will be used will be disclosed on the websites of WABC and Tencent Gongyi, he said.
WABC, which currently has branches in 10 cities, plans to use the funds to expand into 30 cities by 2018, Miao added.
As for the authenticity of the works, Miao dismissed any doubts: The public is welcome to visit WABC's studios on weekends and witness the creative process for themselves, he said.
Editor: Colum Murphy.

(Header image: A digital copy of a painting by a person with a disability is available for sale as part of a Tencent charity initiative, Shanghai, Aug. 30, 2017. Wu Huiyuan/Sixth Tone)