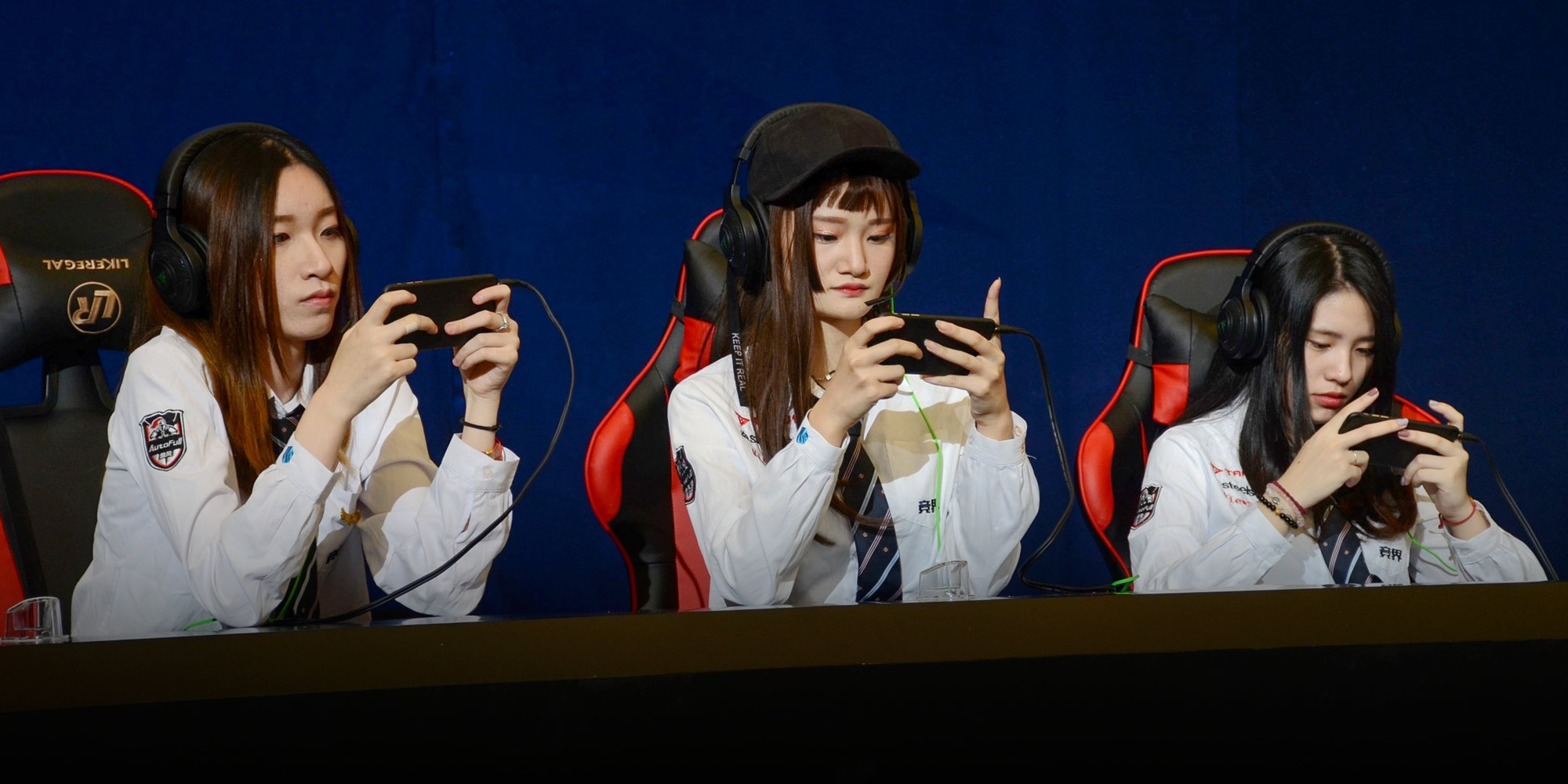 FEATURES
Female Gamers Team Up to Knock Out the Competition
Young Chinese women are forming their own esports clubs to build their presence in the male-dominated industry.
SHANGHAI — Like many of her peers in the esports industry, Zhou Jie got hooked on online games in elementary school during the early 2000s, around the same time that China saw the rise of its first all-female "Counter-Strike" squad, 5LoVe.
More than a decade later, the Shanghai native has become an industry veteran in her own right. The 27-year-old former professional esports player — known as "Nini" in the gaming world — manages the Killer Angels (KA) gaming club, which comprises over 30 professional female players and more than 60 others in entertainment-related roles.
Women's teams provide valuable opportunities for female gamers, who still lag behind their male counterparts in terms of skill and earnings. While male players dominate the top levels of competition and can pocket millions of yuan in prize money, women struggle to garner respect and make a living as gamers. Instead, many are shunted toward alternative careers in the industry — for example, as commentators analyzing gameplay — and forced to market themselves based on looks rather than gaming prowess.
Yet women have come a long way in esports since the turn of the millennium, says Zhou, with the number of women's esports teams in the nation now at 35 and counting. Back in the early 2000s, the industry was seeing an influx of investment and media coverage — but the potential of female gamers was far from fully realized. While training for a national "Counter-Strike" tournament in Beijing in 2002, 5LoVe lived in a space provided by their sponsor that measured just 10 square meters — and was located three floors below ground.
Almost a decade after the team split up due to a sponsorship dispute around 2003, esports saw a jump in viewership as livestreaming platforms took off among young people. Women dominate these platforms, and plenty broadcast themselves playing video games.
In response, major gaming companies and livestreaming sites began hosting a handful of women-only tournaments across China, including the World Dota Championship in the central city of Wuhan, Wanyoo cybercafe's "League of Legends" tournament in Shanghai, and the LongZhu Gaming Queen Invitational in Taicang, eastern China. With increased interest from tournament sponsors and audiences, the number of women's esports teams in the nation began to rise in earnest beginning in 2014.
Some game developers have also picked up on the trend and are offering a greater diversity of female characters to cater to female players. Blizzard Entertainment's multiplayer shooter "Overwatch" has attracted numerous female fans nationwide, and two of the best "Overwatch" teams in China have female members — a rarity at the top of the pro circuit. Meanwhile, female gamers now outnumber male players in tech giant Tencent's fantasy role-playing game "Honour of Kings."
But because esports was professionalized far earlier among men, many female players still can't match their male counterparts in terms of skill. Few women are represented at the top echelons of competition, and it can be difficult for female players to work their way up the ranks. "A lot of girls can't play very well and only play supporting roles, so male players who want to take the prizes wouldn't consider letting them join [their teams]," Zhou explains.
Selection for the 4,000 to 5,000 professional male teams in China is highly competitive: Prospective players are trained in "academies" set up by gaming clubs before they join the pro circuit, and most clubs gain new players by contracting transfers from other teams, so young amateur gamers rarely have a shot. But due to their disproportionately low numbers, the criteria for pro female gamers are far more lax. If you rank highly enough in online qualifiers and perform well enough at tryouts, you're in — though stricter standards have taken root among well-established clubs like KA.
Before she began her professional career, Zhou joined a semi-pro team with four male players; she recalls that she was treated as an equal due to her high skill level and clear commitment to esports. "I wasn't just playing for fun; I wanted to win the games," she says. Yet the consensus in the industry is that the top female pro team plays at about the same level as a third- or fourth-tier all-male team.
And then there's the pay gap between male and female players. According to Jin Haoyang, manager of LLG — another well-established all-female team in Shanghai, where most women's teams are based — professional female players' monthly earnings from club contracts range from around 8,000 to 10,000 yuan ($1,200 to $1,500), which falls on the low end of the men's salary spectrum. At the other end, the highest-paid male players can earn as much as 200,000 yuan a month. "There's almost no upper limit," says Jin.
The same goes for prize money. At this year's EWG, an international women-only tournament hosted by livestreaming platform Huya, LLG won the top award and took home 200,000 yuan. Yet at a tournament of similar scale that is not gender-specific, the winning team can earn five times that amount — and the teams that bag the top prize are almost always all-male. Similarly, at one of the world's most generously paying esports tournaments, internet giant Alibaba's World Electronic Sports Games (WESG), the highest prizes for winners of the general "Counter-Strike: Global Offensive" and "Hearthstone" competitions are $800,000 and $150,000, respectively — eight and five times more than the prizes for the women-only divisions.
When it comes to making the big bucks, it can be far more profitable for female gamers to pursue alternative careers in esports. For example, "Miss" — 28-year-old "Warcraft III" player and "League of Legends" commentator Han Yiying — is a household name among Chinese gamers. After years of building up her e-commerce business and entertainment career hosting tournaments and related shows, Han last year signed a record-breaking contract with Huya for nearly 100 million yuan.
Another top female gamer, Zhang Xiangling — known as "Xiao Cang" in the gaming world — also became a commentator, signing deals with major livestreaming platforms Douyu and Panda TV. She has been featured in several reality shows and films, and an esports movie based on her life is slated for release later this year. Similarly, members of 5LoVe returned to the battlefield at last year's WESG, but they have all since transitioned from pro players to commentators.
While the range of roles available to women who want to make a living in esports has grown, all-female teams often struggle to sustain their careers as professional gamers due to low interest from viewers and sponsors. Earlier this year, one of the most well-known gaming clubs, OMG, announced the disbandment of its female team, followed by the same news from another high-profile club, EHOME.
The announcements sparked heated discussion online about professional female teams' lifespans. An article on IT website Zol.com asserted that a female player is "better off being a streamer than a gamer," and one former gaming club owner quoted on gaming news site WOQU Game couldn't have put it more bluntly: "Female teams either need to know how to create publicity stunts or how to look pretty; otherwise, who's going to watch?"
"In general, the industry is not able to pave the way for [female gamers'] futures yet, and this is something we are working on," says Zhou. She herself has found success as a team manager, a position that involves lining up competitions and business deals.
Sponsorship typically takes the form of short-term contracts with gaming hardware brands, but the investors behind gaming clubs come from a more diverse range of industries. OMG, for instance, is backed by ranching company Chuying Agro-Pastoral Group, while LLG depends on investment from a vessel equipment provider. And while all-male competitive teams are typically more profitable for investors than their female counterparts, Zhou notes that male players face the same pressure to market themselves through livestreaming, promotional videos, posters, and even movies.
KA has seen success in the last year, winning women-only "League of Legends" tournaments sponsored by Huya and e-commerce giant JD.com, and taking second place in the women's "Overwatch" competition at the national China Esports Carnival. In addition, the players — most of whom are in their teens — have comic books, web series, and online films in the works.
"The emergence of all-female teams provides an excellent platform for girls who are fighting hard to be pro players, win tournaments, and prove their capabilities," says Zhou. "We have our independent will, and we know what we want to achieve."
Editor: Jessica Levine.
(Header image: Zhou Jie (left) plays a mobile game during the 2017 Mobile World Congress in Shanghai, June 28, 2017. Zhong Fubao/IC)