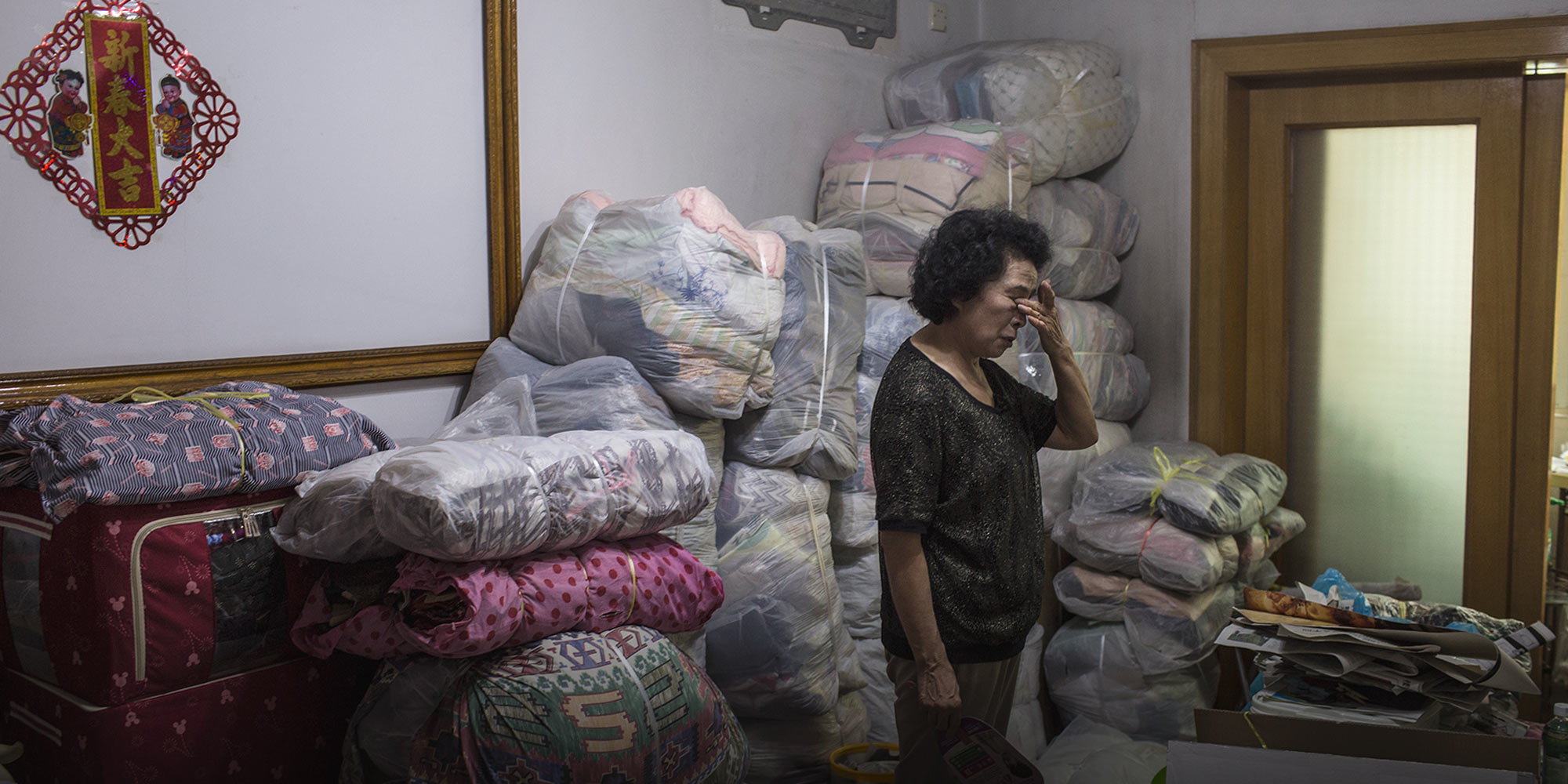 FEATURES
Beijing Elderly Lose Homes to Get-Rich-Quick Scheme
Senior citizens left homeless after mortgaging their family property in exchange for high-interest investment products.
BEIJING — While out of the house one day last October, Li Shuda received a call from her distressed daughter informing her that a group of burly men had broken into their apartment and were demanding that the family vacate the property immediately.
By the time Li arrived back home, her furniture had been tossed out into the rain, her flower pots smashed, and water spilled all over the wood floors. One of the men brandished a document at her showing that ownership of the property had been transferred to someone else. The next thing Li knew, she and her family were out on the street, their few possessions in tow.
"I was stupefied," said Li, a petite 68-year-old Beijing native whose gray roots show through her short black hair. "Everything happened so quickly. I wasn't prepared at all." As she spoke, tears welled up in her eyes.
About a year earlier, lenders persuaded Li to take out a mortgage on her apartment. They introduced her to another man, who promised to invest the loan money in wealth management products with monthly interest yields of 5 percent. What Li didn't foresee was that the deal was a scam that would end in eviction from her family home of more than three decades and losses of around 2 million yuan (about $301,000).
Since 2015, at least 25 elderly people have fallen victim to similar scams in Beijing after defaulting on a payment, according to the Ministry of Justice.
In a country where banks often set tough standards for individuals and small businesses to take out loans, tales of the elderly losing long-held family properties highlight the emergence of a thriving but often shady microlending industry. With regulatory supervision lacking, the lives of unsuspecting Chinese elderly can be turned upside down in an instant.
Those behind such schemes usually rely on word of mouth to promote among groups of elderly, a demographic that lacks basic understanding of the finance world yet is drawn to the prospect of making quick cash. For example, Li found out about the scheme through a referral from a friend, who also fell for the scam.
Generally, the scams work like this: A homeowner mortgages their property to a lender in exchange for a loan. The homeowner then invests the loan money in schemes run by self-proclaimed financial experts, who promise incredible interest rates — sometimes as high as 15 percent a month. (According to Chinese law, lending at a 36 percent yearly interest rate — or a 3 percent monthly interest rate — is considered usury.) Months later, when the homeowner should see their principal sum returned with interest — funds they need to redeem their property from the lender — the "experts" refuse to give back the money.
In Li's case, she took out a 2.3 million-yuan mortgage in May 2016 from a man named Wang Yue, who was essentially a loan shark. She then gave those funds to another man, Guang Yanbin, for investment. But Li wasn't aware that the contract she signed with Wang required her to pay off the mortgage in one month. In contrast, Guang's investment plan would last three months, making default almost inevitable.
To make matters worse, three months later, Guang refused to pay back the principal and only gave Li a fraction of the total interest owed.
It's common practice for courts to auction off a debtor's assets to compensate the moneylender, but the process takes a long time — at least several months, if not years. But because Li notarized her contract with Wang and signed a proxy statement authorizing a middleman named Long Xuewu to administer the property if she missed the payment deadline, the lenders were able to circumvent the court and sell the property without her knowledge.
In general, notarized documents give loan sharks complete control over a mortgaged property should the homeowner default on a payment, said Xiao Fei, a partner at Dentons law firm's Shanghai office who specializes in real estate law. Xiao did not represent Li or others involved in such cases, nor did he review the notarized documents or proxy statements.
"I was so desperate and speechless," said Li's daughter, Zhang Xuefei, recalling the day she and her relatives were evicted from their apartment. "I can't believe this could happen to my family."
By the time Li found out about the scam, the family's 57-square-meter home in the northeastern part of Beijing had been sold for 2.6 million yuan, well below the market price.
"All that the scammers care about is selling the apartment as soon as possible," Xiao told Sixth Tone. In cases like Li's, there is no incentive for the loan sharks to sell the home at a reasonable price because if the profits surpass the debts, the creditor must pay the difference to the original homeowner, he explained.
Although Li's family later learned that the new owner of their apartment was a shareholder in Long's company, the court decided there was insufficient evidence to support Li's claim that the loan sharks had committed fraud.
After other families filed lawsuits against lenders in similar cases, the Beijing Xicheng District People's Court published a commentary in August on its public account on messaging app WeChat, saying that the families' only hope of recovering their losses hinges on whether they can provide evidence demonstrating that their property was sold for an unreasonable price and that the homebuyers colluded with the loan sharks.
Li's and similar scams garnered widespread coverage in Chinese media earlier this summer. In response, Beijing authorities have begun to take action against those involved and to tighten oversight of the city's notary public offices, whose role is to witness the signing of important documents and guard against fraud.
In November, Guang, who invested Li's money on her behalf but failed to pay back the funds, was investigated on suspicion of illegal fundraising activities. In February, the second branch of the Beijing Municipal People's Procuratorate arrested him on fraud charges.
All the contracts and supplemental documents that the elderly individuals signed with loan sharks were notarized by three notary public offices, which have also come under scrutiny. Li and several others recalled that the notary officials were absent during the contract signing and only reappeared later to collect the completed paperwork. While the scam victims should take responsibility for their own actions, said Xiao, the notary public offices are also to blame for neglecting their duty to fully inform the elderly.
None of the three offices — Fangzheng Notary Public Office, Beijing Zhongxin Notary Public Office, and Guoli Notary Public Office — could be reached for comment.
Earlier this month, the Ministry of Justice ordered the Beijing Municipal Justice Bureau — which oversees notary public offices in the capital — to investigate the notaries' involvement in the scam cases. The bureau's investigation into eight of the 25 lawsuits revealed no "obvious violation" of China's notary law, according to a statement on the Ministry of Justice's website. However, the statement acknowledged that "there were some flaws in the accreditation, notification, and delivery procedures."
Fangzheng Notary Public Office was suspended from taking on new business, and the office's director, Wang Shigang, was dismissed from his position, the statement said. The Beijing Municipal Justice Bureau said it is still looking into the other families' cases. The bureau could not be reached for comment.
"Even if we can stamp out illegal private lending companies this time and reform the notary offices, without a system to protect [the elderly], what if they sign other contracts in the future?" said Wu Jie, a lawyer with Zhicheng Public Interest Lawyers, which has provided free legal aid to four elderly people who fell victim to scams but can't afford legal representation. Wu told Sixth Tone that the government should establish a guardianship system to protect elderly individuals who are susceptible to scams.
To prevent the elderly from stepping into similar traps in the future, the Beijing Municipal Justice Bureau stipulated that beginning Aug. 3, people over 60 years old must be accompanied by their adult children when authorizing others to administer their property at a notary public office.
But for people like Li, these measures come too late. She and her family now live in a one-bedroom rental apartment. The tiny flat will soon become even more crowded: Li's daughter, Zhang, is due to give birth to her second child in September.
Editor: Colum Murphy.
(Header image: An elderly scam victim stands amid her family's packed belongings as she prepares for eviction from her home in Beijing, July 11, 2017. Zhao Heting/Tencent News)