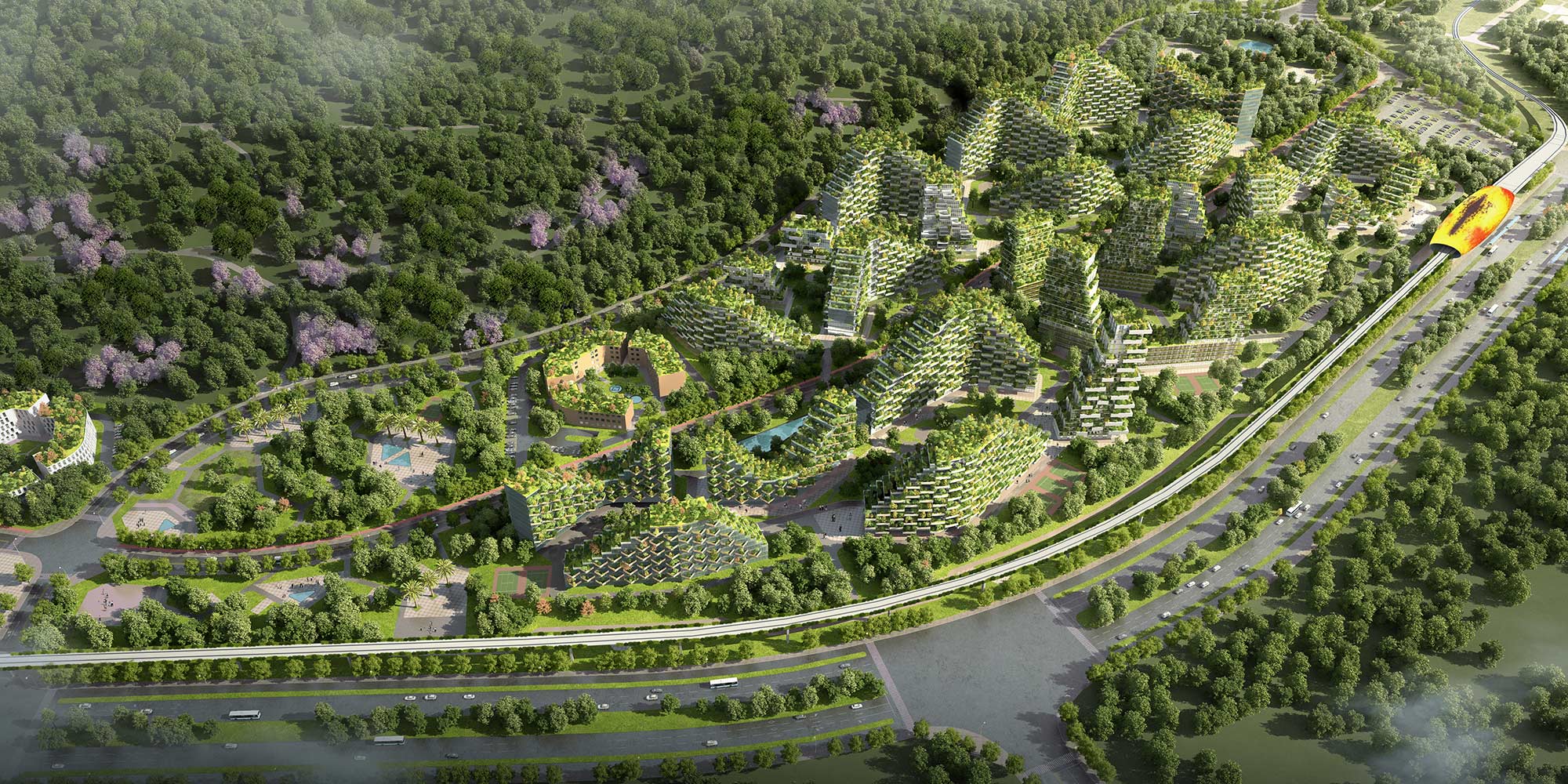 FEATURES
The Forest Revolution Headed for Chinese Cities
Italian architect Stefano Boeri hopes his flora-focused designs will spawn a new generation of green buildings.
China's smog is so bad that it can be seen from space.
The country's pollution has become a fixture in global news, but more recently, so have plans to combat it — from capping coal consumption and shifting to renewable energy, to cleaning up toxic soil. One of the latest headlines: an entire city being built to guzzle pollution.
Created by Italian architect and urban planner Stefano Boeri, China's first "forest city" is in the works in southern China's Guangxi Zhuang Autonomous Region. The city is designed for 30,000 inhabitants and even more trees, which will help absorb carbon dioxide, increase biodiversity, and reduce energy consumption. Ultimately, it will improve the quality of life in the area, said Boeri, who hopes that construction will begin by 2020. A similar city planned for northern China's Hebei province will house 100,000 people.
Boeri's expansive plan for the city started with an experiment in his hometown, Milan. The architect's radical sustainable housing project Bosco Verticale — meaning "vertical forest" — combats air pollution and visualizes urban spaces as key contributors to regeneration of the environment and biodiversity.
However, critics have questioned the ecological value of urban greening projects like Boeri's, with some slamming them as "greenwashing" — expensive, technocratic solutions that provide a lush facade without fundamentally reducing humanity's footprint.
"There was a lot of skepticism [about the project] from the beginning," Boeri said. "It was an experiment, but now it's working well. In 10 to 20 years, people will be happy to look back on it — happy about resolving the CO2 [issue], which is very important."
Boeri's vertical forests — reminiscent of the ancient Hanging Gardens of Babylon — have inspired similar projects in countries like Brazil, Switzerland, and the Netherlands. His first vertical forest in China is slated for completion next year in the eastern city of Nanjing. There, more than 1,000 trees and other plants will absorb 25 tons of carbon dioxide annually — equivalent to the emissions produced from driving 87,300 kilometers, or twice around the world.
Boeri spoke to Sixth Tone from his office in Milan about his green designs and his projects in China. The interview has been edited for brevity and clarity.
Sixth Tone: Your projects have inspired a lot of enthusiasm and optimism, but they've also been criticized in the debate on greening versus greenwashing. How do you address these criticisms?
Stefano Boeri: I wasn't and am not ideologically conditioned by this kind of green obsession. Our project in Milan was an experiment, and it's a serious one. We didn't copyright anything so that other urban planners, architects, and public administrators could [reproduce] this and make our solutions better. We really want this urban forest revolution to spread everywhere.
We are increasing green surfaces, so in that way, you can say we are greenwashing. But we are [providing solutions] to the problems and seriously contributing to reducing energy consumption. That's a critical issue for China.
Sixth Tone: You have launched similar projects in many cities around the world. Why are you investing in China, and are you doing things differently here?
Stefano Boeri: China is like my second home. I first visited China in 1979 as a tourist and, since then, have come many times for work, as we have an office in Shanghai. I know the country well. For me, it was only natural to think of [launching] a project there and how we could improve [green projects] in China.
In Nanjing, we are using local resources to build these structures. The buildings will have 1,100 trees from 23 species, and they're all from China, including Shandong maple, Chinese redbud, Chinese plum, and Chinese elm.
Sixth Tone: How do the vertical forests work, and how costly are they?
Stefano Boeri: We work with botanists and engineers to design a specific soil with high amounts of nutrients, while maintaining the lowest possible weight. There is a unique stratigraphy for all the plants, and it's designed in a way to accommodate the roots while they grow, as well as to protect the constructed elements.
As for the soil substrate, it's a mixture of inorganic and organic loose earthy materials to ensure water retention, permeability, structural stability, and density. We also work on several variations on the theme of balconies and their ability to host nature.
The cost of trees is nothing, and the cost of soil is irrelevant — so the cost of the buildings is around 5 to 8 percent more than an ordinary building. The maintenance part is what makes it potentially more expensive, but we have come up with cheaper solutions in Milan — we call them "flying gardeners," who climb the buildings to maintain the trees.
Sixth Tone: You're also leading the initiative to build China's first forest city. How do forest cities differ from vertical forest buildings?
Stefano Boeri: It's the variation in the scene. If you want to deal with the urban solution, we must do many things parallelly — like increasing parks and gardens, making green corridors. And we're working on that.
A vertical forest is something you do locally, connecting the new structures with the green corridors. That's what we do when we have to intervene in an existent city. If we can design a new city, we can start from the beginning — imagine every building with trees and plants. So it's a different approach, but the same philosophy.
Sixth Tone: Are vertical forest buildings and forest cities forms of reforestation? Should governments consider this concept when developing new cities?
Stefano Boeri: I think it's a part of the urban forest revolution, and it's a crucial issue for China. If you want to try to stop the expansion of cities and increase biodiversity, we must imagine a new way of building them. So it's not just adding trees, but also densifying the area with green spaces — for instance, vertical forests.
In huge metropolitan areas, we have to intervene, and that's what we are proposing in China. We should also think of how to create new cities. The idea of forest cities is an important solution to tackling many problems that come with urbanization.
Sixth Tone: Do you think your projects in China will inspire future environmentally friendly architectural designs?
Stefano Boeri: I hope so. I am not expecting [anything], but I hope that this is simply a prototype of a new generation of buildings — and not only from an aesthetic point of view.
We need to recreate the balance and relationship with cities, and it's high time we reversed climate change. We have a big responsibility. We can't simply look the other way. We are builders of urban cities; we are builders of habitats.
China is a part of my life. I hope what we are doing now will be a contribution, and I hope there will be many other cities that will do what Nanjing is trying to do.
Editor: Denise Hruby.
(Header image: A digital illustration shows plans for a 'forest city' in Liuzhou, Guangxi Zhuang Autonomous Region. Courtesy of Stefano Boeri Architetti)