Five people have been punished by Shanghai law enforcement for taking photos in World War II-era Japanese military uniforms in early August at the site of a famous 1937 battle between Chinese and Japanese troops.
Three men — identified only by their surnames, Li, Gao, and Xiang — have been placed in administrative detention for disrupting public order, according to the Shanghai Municipal Bureau of Public Security's official account on microblogging platform Weibo. Administrative detention can last up to 15 days, but police didn't specify how long the men would be held. The other two, minors surnamed Hu and Liu, were reprimanded for their misconduct, said the statement.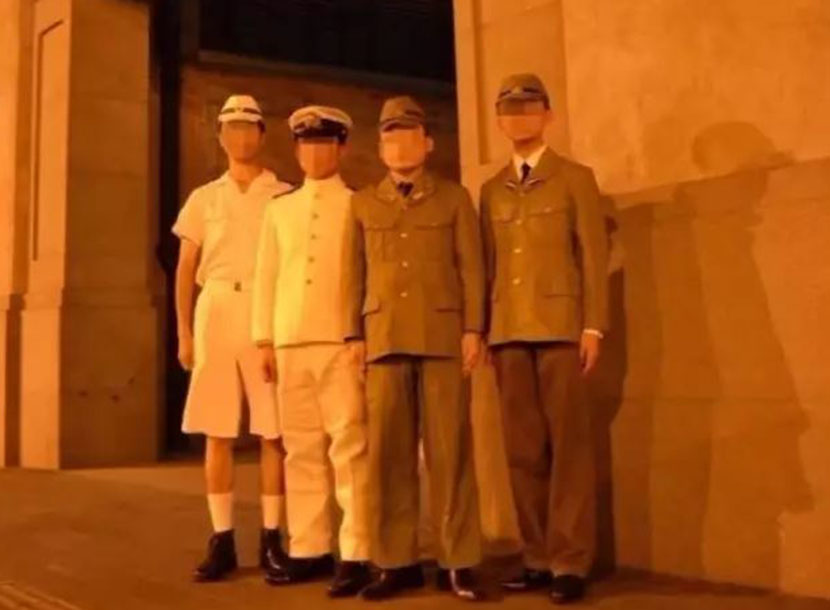 Four men dressed in WWII-era Japanese military uniforms pose for a photo in front of the Sihang Warehouse War Memorial Hall in Shanghai, Aug. 7, 2017. From Weibo user 'ShanghaiZhiying_5ZN'
Four of the so-called uniform enthusiasts dressed up and posed for photos on Aug. 3 in front of the Sihang Warehouse War Memorial Hall. The monument commemorates the October 1937 battle in which some 400 Chinese soldiers fended off superior numbers of Japanese troops for four days. The photos began circulating online after the fifth man, Li, posted them to Facebook-like social media platform Qzone.
On Aug. 7, a net user reposted the images on Weibo, where they elicited widespread public outrage — particularly because this year marks the 80th anniversary of the battle.
According to police, all five men turned themselves in and confessed to their misconduct. "Li and the others seriously hurt the patriotic feelings of the people," the Shanghai public security bureau's statement said. "They violated the core values of socialism with Chinese characteristics."
In a similar case this month in southern China's Guangxi Zhuang Autonomous Region, two men were detained for dressing up and role-playing as World War II Japanese soldiers at a local railway station. Police said the men were hoping to become internet celebrities, reported Sixth Tone's sister publication, The Paper.
Editor: Jessica Levine.
(Header image: A man takes photos at the Sihang Warehouse War Memorial Hall in Shanghai, Aug. 13, 2015. Gao Zheng for Sixth Tone)