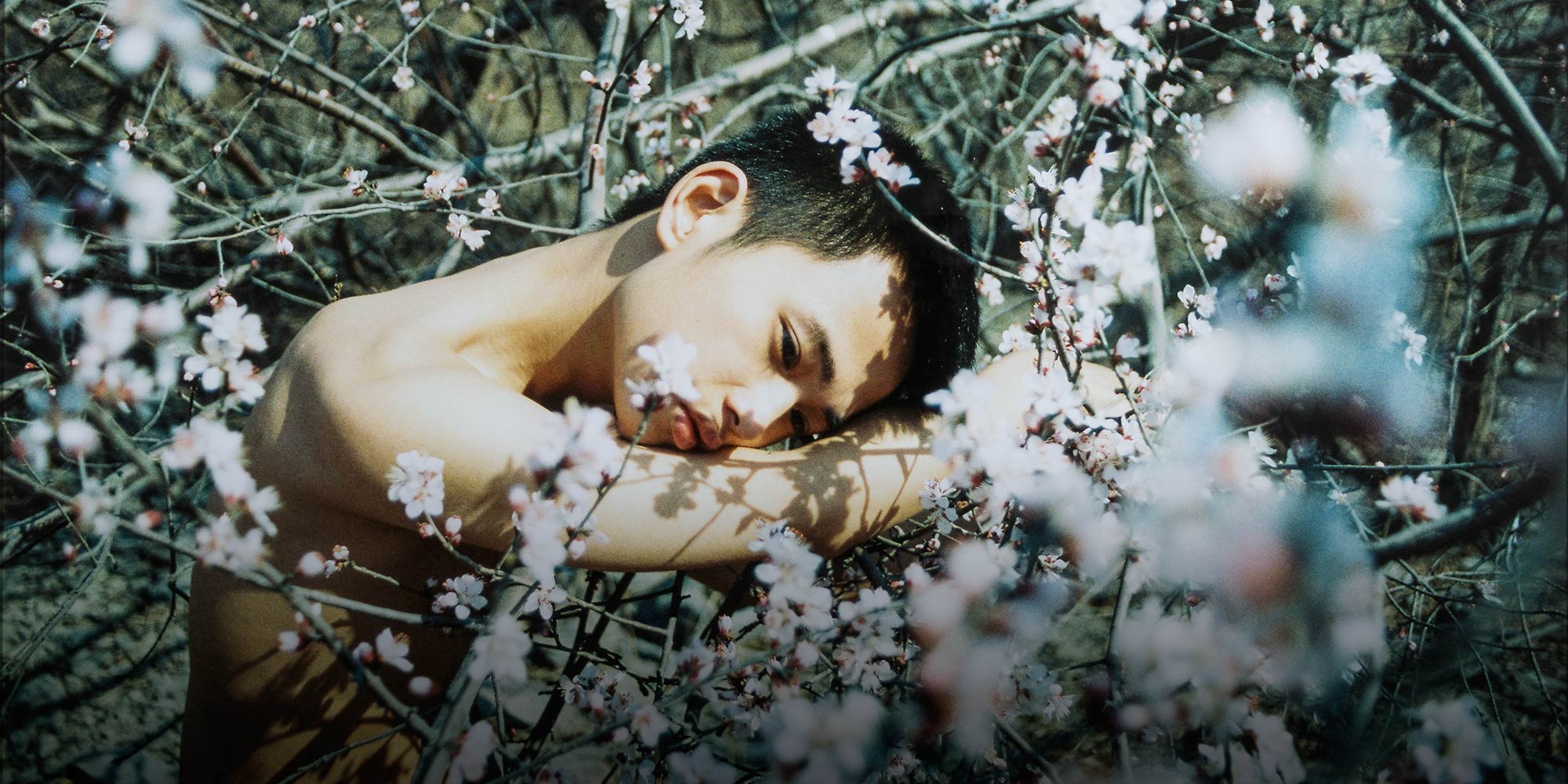 FEATURES
Remembering Ren Hang's High-Contrast Charisma
The late photographer's bold and sensual work has left an indelible mark on contemporary Chinese art.
SHANGHAI — The first mainland solo exhibition of Ren Hang's work since the young artist's suicide in February features 19 photographs of nude young men, often posing amid flowers, animals, and natural landscapes. The exhibition, which will run at Shanghai's Modern Art Base until Aug. 26, showcases Ren's luminous style — even as the mood among visitors feels mournful.
"[His photographs] were all dark, although they are bright visually. It's the contrast that creates the charm," exhibition co-curator Zhang Yuling tells Sixth Tone. "It's all about youth, young bodies, beautiful girls and boys, and nature; yet in fact, they are quite dark."
On Feb. 24, the 29-year-old photographer and poet took his own life in Beijing after a long struggle with depression that he had chronicled on his website. "I live my whole life as if in a hospital, spending each day in a different ward," Ren wrote in September 2016. "Outsiders cannot enter, and I cannot leave."
Born in Changchun, in the northeastern province of Jilin, Ren began taking photos of his friends in 2007. Most of his photographs feature his friends, photographed in their homes or out in nature. The artist soon earned international recognition for his intimate and distinctive work, showing in 24 solo exhibitions across more than 20 countries.
Ren's photographs are known for being erotic and bold, yet despite much coverage focusing on the explicit nature of his work or his queer identity, for Ren, sex was never the core subject of his photography. Rather, he was more interested in how nudity — which he described as "a human being's most fragile and real state" — could reveal the truths of the unguarded mind.
"The way people deal with the body and desire is one of the main expressions of their mental state, which is hugely different from language and behavior after it is rationally filtered," Zhang says.
Zhang first met Ren in November. She later curated an exhibition of his work at KWM Art Center in Beijing, and Ren attended the opening in mid-January. The pair made plans to have a drink together after Chinese New Year, but the meeting never took place, as he died shortly afterward.
The memorial show reuses the title of the Beijing exhibition, "Beauty Without Beards" — a reference to classical Greek aesthetics that exalted the bodies of beardless young men. According to Tim Crowley, Zhang's co-curator for both exhibitions, Ren was pleased with the title, especially because he had done a two-month residency in Athens. His photographs from Greece were later published in a work titled "Athens Love" — one of the prolific artist's 17 photo books.
To Zhang, Ren was a very gifted photographer whose methods were as unique as his vision. "His composition process was very spontaneous," Zhang says. For example, she explains, he once told her that his photograph of a man eating watermelon in a bathtub came about simply because someone had brought the fruit to the shoot as a snack.
Zhang spoke to Sixth Tone about Ren's work and legacy. The interview has been edited for brevity and clarity.
Sixth Tone: Ren lived in Beijing since he was 17 years old. He was arrested several times due to the content and nature of his work. What do you think of Beijing as a place for an artist to develop?
Zhang Yuling: The atmosphere for an artist is not bad. I have never considered a zero-pressure environment to be optimal for producing art, and the history of art has never proved that. Excellent art is often created under pressure. Yet it is impossible for us to create pressure in order to produce excellent art — this is not a reversible relationship.
In some ways, I think Beijing can be a "pressure cooker," but there is also a side that is very free. This is a place where great minds gather, where active thinkers are always dissatisfied with their daily shackles.
Sixth Tone: What makes Ren's photographic depictions of human bodies so special?
Zhang Yuling: You can identify his visual language at a glance. He used human bodies as an artistic tool — for example, to form geometric shapes. Even the sexual organs were purely part of the picture's composition. In one photograph, the four hands are just lines, and the young man's mouth in the middle is a circle.
The idea of the multiple is very powerful, a very important concept in art history. Multiple figures appear in different scenarios, usually in a natural environment, creating completely geometric forms that repeat in a pattern. This is a very strong feature of Ren's work.
Sixth Tone: What do the animals in his photographs convey?
Zhang Yuling: He used birds, doves, lizards, snakes, and other animals, and he would let them touch the naked human body. From my own point of view, I always feel that it creates a palpable sensuality.
For example, you have the snakes close to your skin, and it's very dangerous, or you have the doves just flying — everything is moving, and you cannot catch them. It's sometimes disgusting to think about fish and octopuses directly on your skin. It's very stimulating for me; I just feel a chill. I think animals have this kind of effect — very sensual.
Sixth Tone: Ren passed away during the previous exhibition you co-curated in Beijing. How did you deal with his sudden death?
Zhang Yuling: The KWM Art Center and the law firm that founded it, King & Wood Mallesons, worked closely with his parents, helping with the legal aspects of inheritance. It's the first time that contemporary China has seen the sudden death of an artist who didn't leave any will or documents for us to reference; it's especially an issue with photos, as they're so easy to steal and reproduce.
Ren's mother became the sole beneficiary of all his works. She wanted to burn them after his death, as she didn't want to see these pieces that caused her sorrow. We had to explain a lot of things about legal protection to his parents. They're not in the art world; they had a limited education, and on top of that, they had just experienced the pain of losing their child.
Sixth Tone: What is Ren's impact on artists in China?
Zhang Yuling: The bravery and honesty with which he confronted the truth. It sounds like a cliché, but in China, there are not many artists like him.
In the first place, it was certainly not easy for him to capture naked bodies. It demands a kind of frankness to be in front of nude people. He treated them as objects of art, presenting the bodies of himself and others in ways that aren't necessarily attractive — which takes courage.
In the second place, his photos and poems reflect his inner life, the parts that most of society does not consider positive, nice, or bright — the repressed, dark parts, things about sex and the body. Only an honest and brave person can expose these things in his works.
Editor: Qian Jinghua.
(Header image: 'Untitled' by Ren Hang, 2015. Courtesy of KWM Art Center)