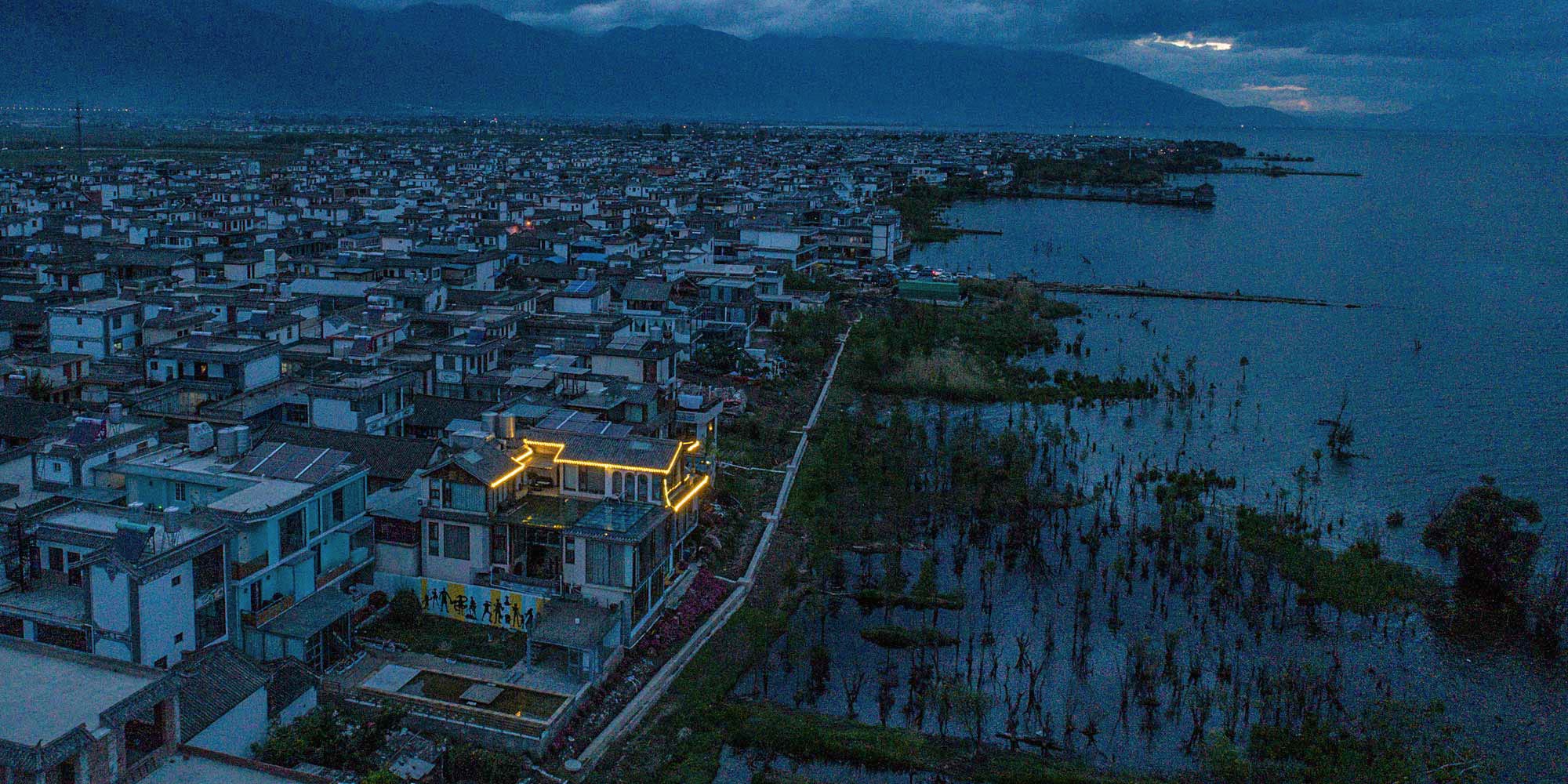 VOICES & OPINION
The Once-Pristine Paradise Fighting a Tide of Tourism
Hordes of visitors to Dali, a formerly quiet corner of Yunnan, have turned rich local culture into a gimmick.
About a month ago, my son and I spent some time traveling in southwestern China's Yunnan province. The region's cool climate — near the southernmost glaciers in the northern hemisphere — brought a welcome reprieve from the brutal heat of the Shanghai summer. Home both to the landscapes immortalized in James Hilton's 1933 book "Lost Horizon" and to one of the great bends in the upper reaches of the Yangtze River, Yunnan is famed for its rich ethnic diversity and its numerous tourist destinations: Kunming, Dali, Lijiang, and Shangri-La. Of these, Dali embodies both the best and the worst of Yunnan's tourist offerings.
There are countless reasons to love Dali. With its long history dating back 10,000 years, it was one of the cradles of Neolithic civilization. Its unique culture is rooted in its legacy as the capital of two kingdoms: Nanzhao and Dali. For 600 years, these kingdoms ruled the majority of what is now China's southwest — as well as parts of Vietnam, Laos, and Myanmar — before they were destroyed in the Mongol invasion that led to the region's unification with northern China. More importantly, the skies over the city are crystal clear, thanks to a dearth of heavy industry in the region.
Dali Old Town sits on the western banks of Erhai Lake. Resembling a giant ear, the lake reflects the 19 mountains situated to its west, shimmering in its waters. Collectively known as the Cangshan Mountains, they include seven peaks higher than 4,000 meters above sea level. Traces of the region's glacial past can be seen everywhere. If the nearby Tibetan Plateau is the roof of the world, then these are its eaves.
About a third of the local population belongs to the Bai ethnic group. At the Dali Zhang Family Garden, a museum dedicated to Bai architecture and art, my son and I explored an ancient royal guesthouse, listened to folk music, learned about local tea culture, and chatted with our Bai tour guide. According to her, it is impolite for a man from another ethnic group to ask for a Bai woman's name. All Bai women share a single name: Jinhua, or "golden flower." The same is true for Bai men: The Kingdom of Dali was devoutly Buddhist, and Bai men are all called by the name Ah Peng, a reference to the roc, a mythical bird significant both in the Buddhist canon and as a protector god in the Bai tradition.
The world caught its first glimpse of Dali — long content to remain hidden away between the Cangshan Mountains and Erhai Lake — in the 1959 romance film "Five Golden Flowers," in which Ah Peng and Jinhua sing to one another along the banks of a natural spring.
While in Dali, we encountered a taxi driver, Zhang, who extolled the inclusivity of Bai culture. According to him, Bai men and women enjoyed a greater degree of equality than in any other of China's 56 ethnic groups, and men who move in with their wife's family face no negative judgment from their peers. The region's well-preserved customs and beautiful natural scenery have led large numbers of migrants to settle down and open businesses in the city. These migrants hail not only from other parts of China, but also from other countries. Many foreigners are attracted to the area's tradition of tolerance and religious harmony, and move there in search of a place where they can practice their faith freely.
Dali refers to itself as an ancient capital situated along the "southwestern branch of the Silk Road" and at the "crossroads of Asian culture." Yet regrettably, after a 20-year tourism boom, all that remains of this natural beauty and cultural heritage is an ancient, now over-commercialized town.
In China, such towns are largely identical: Each might have a music shop, a scarf store, a guesthouse, a place that sells rocks, another place that sells CDs — and every 50 meters or so the sequence repeats. High rents and noisy environs combine to gradually drive the original residents out, while commercial pressure to constantly duplicate what has been proven to work causes the ancient feeling of the town to slowly fade away. Today, it seems that Dali's pristine past may be gone for good.
In order to try and control polluted runoff from the few thousand guesthouses located around Erhai Lake, the city government in April ordered them all closed, causing quite the hullabaloo: Many of those affected had invested their entire savings into opening lakefront guesthouses, the construction for some had run into the millions of yuan. After the order, many owners had their incomes abruptly cut off, with no way to pay for daily necessities or, in some cases, to repay loans.
Dali's closest rival is the city of Lijiang. Located just 180 kilometers apart, the two cities are both home to a diverse mix of ethnic minority peoples. Years ago, when Dali was already a well-known historical and cultural site and the recipient of numerous national honors, Lijiang was nothing more than a remote village.
In 1996, Dali's tourism industry made 590 million yuan (then $71 million), roughly twice that of Lijiang. Yet the completion of a 500-kilometer rail link between Lijiang and the provincial capital, Kunming, began to affect the pace of growth. In 2010, Dali chalked up 5.9 million visits, up a paltry 5 percent from the previous year, while Lijiang boasted more than 9 million — 20 percent more than in 2009. In terms of tourism revenue, Lijiang outperformed Dali by 6.6 billion yuan, a gap that has only widened in the years that followed.
A tourist could spend a week in Dali without learning anything about Nanzhao, the Kingdom of Dali, or Bai culture. Dali is a collection of scattered fragments; as such, it's impossible to assemble anything resembling a coherent picture. Scenic spots are scattered around a lake that stretches across more than 260 square kilometers. Tickets to see the Cangshan Mountains or go boating on Erhai Lake are expensive and, more importantly, make no attempt to diversify the visitor experience. From a tourism perspective, the two locations are completely disconnected from one another.
Problems arise from two main issues: the increasingly outdated nature of the traditional tourism products Dali offers and the insufficient investment in minority culture as a tourism draw. Some tours of the city are in dire need of an overhaul, such as the "Dali in a Day" tour, which stops at each of the city's traditional scenic spots. These out-of-touch tours leave visitors feeling less than impressed with the city.
As the city attempts to dig deeper into its own cultural traditions, it must convince local residents to value the preservation of their heritage, and motivate them to actively work toward this end. It must also increase efforts to disseminate and promote minority culture — raising outsiders' awareness of and interest in it — and minimize the impact of tourism on local cultures.
Dali's problems, great and small, reflect the city's inadequate sense of its own identity, something that can be seen in how it presents itself to the world. A lack of image-consciousness can lead to a failure on the part of traditional tourism destinations to develop their own identity, or even to their being left behind altogether. Dali is in clear need of a reincarnation, one that will nudge it along the path of sustainable cultural tourism.
Translator: Kilian O'Donnell; editor: Matthew Walsh.
(Header image: A single inn keeps its lights on following the initiation of a lake protection plan in Dali, Yunnan province, April 21, 2017. Chen Liang/VCG)