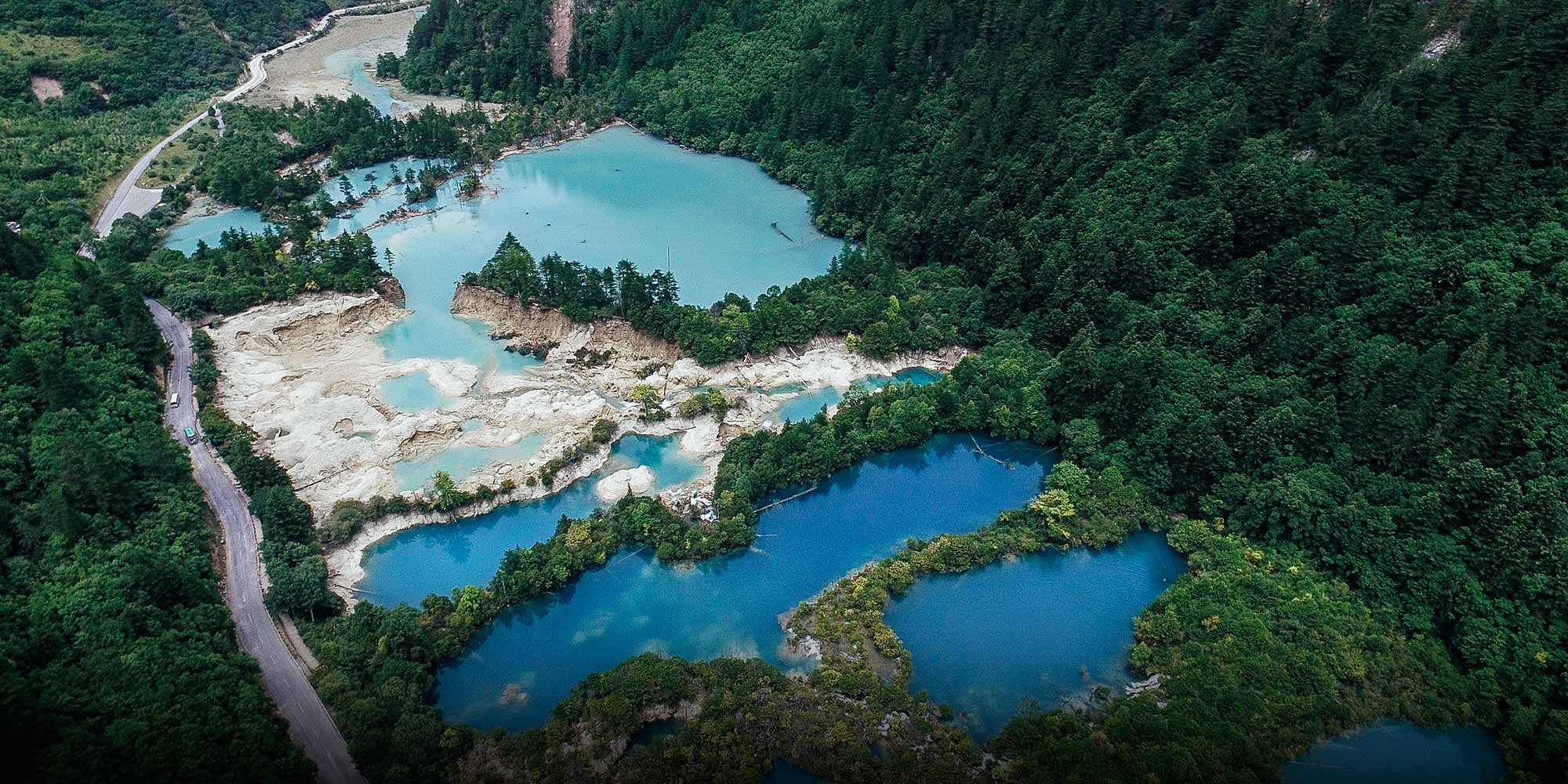 FEATURES
Tourism-Dependent Jiuzhaigou on Shaky Ground After Earthquake
Local residents and migrant workers grapple with the uncertain future of the famous scenic area.
SICHUAN, Southwest China — After a magnitude-7.0 earthquake hit southwestern China last week — killing 25 people and injuring 525 — the UNESCO World Heritage site Jiuzhaigou, or "nine village valley," is slowly recovering. Dubbed "Heaven on Earth," the area's waterfalls, iridescent lakes, virgin forests, and snowcapped mountains are so popular that the site saw nearly 40,000 visits per day the week before the earthquake.
Now, the park is closed until further notice. When Sixth Tone visited the disaster area last week, relief efforts to treat the wounded and clear the roads were ongoing. Jiuzhaigou had been in the process of diversifying its tourism industry, with new investment and plans to build more resort-like accommodation — but since the earthquake, uncertainty about the future of the famous site has spread.
At a local hospital treating disaster victims, Sixth Tone met a 16-year-old girl surnamed You, who was working in a restaurant in Jiuzhaigou during her summer vacation. She was injured in the quake and had to have her right arm amputated. In the bed next to her, 25-year-old hotel employee Zhu Yueming recalled that her hotel was fully booked on Aug. 8, and that she'd been waiting for the last wave of guests to arrive when the ground started to shake at 9:19 p.m.
Zhu immediately knew what was happening. Nine years earlier, she'd experienced the devastating Wenchuan earthquake, which killed over 87,000 people. But this time, the shocks felt even stronger. The lights in the hotel lobby went out. Before Zhu dove under the reception desk for cover, a block of marble crashed down on her right arm. "But I was calm," Zhu said. Thinking she might need to call an ambulance, she even remembered to grab her phone before she ran outside.
"I don't think I will return to work in Jiuzhaigou," Zhu said while being treated for a broken arm. Many tourists and thousands of fellow workers who had come from out of town to find employment are also questioning whether to avoid the area.
Jiuzhaigou lies along a major seismic belt where the Indian and Eurasian tectonic plates meet. The Indian plate pushes into Central Asia at a rate of about 4 centimeters per year, causing strains and deformations that then trigger earthquakes. Thousands of years ago, these earthquakes gave rise to some of the breathtaking scenery that has attracted millions of modern-day visitors to Jiuzhaigou. In just a few seconds, however, last week's earthquake reclaimed parts of this natural landscape.
Until the 1960s, Jiuzhaigou was a designated logging area where ethnic Tibetans had lived off the land for generations. They planted corn, wheat, and other crops, and they let their yaks and cattle graze openly. But when an earthquake hit the region in 1976, a provincial official in charge of rescue efforts came upon Jiuzhaigou and recommended it as a tourist site.
Not long afterward, the government started to develop the area, ordering in the '90s that farmland inside the park be reforested to restore the region's natural beauty. Inside the designated park area, locals renovated their mostly Tibetan-style wooden homes to make room for dozens of beds for tourists. Hotels popped up along the edges of the park, including international chains like InterContinental, Hilton, Sheraton, and Banyan Tree.
Financially, it was a blessing, 33-year-old Changru Luodeng — an ethnic Tibetan whose family lived inside the park — told Sixth Tone. In the late 1990s, his family made about 270,000 yuan (around $40,400) annually from tourism. "It was much higher than in other places nearby," Changru Luodeng said.
Last year, Changru Luodeng took out an 800,000-yuan loan to renovate the family home he had inherited. He was still working on the finishing touches when the earthquake hit, but luckily, his house wasn't damaged in the disaster. Since the Wenchuan quake, all buildings in the region must be able to withstand a magnitude-8.0 earthquake. Official regulations even dictate certain construction details, including the type and quantity of steel permitted.
In 2016, the Jiuzhaigou national park and nature reserve saw 7.2 million visits, up from 2.4 million in 2011. Before the earthquake, Jiuzhaigou's tourism industry had created full-time jobs for more than 14,000 people and amassed a total revenue of 9 billion yuan in 2016, accounting for 70 percent of the revenue from all Sichuan scenic spots that year.
Now, locals worry whether tourists will return, or whether the central pillar of their economy will crumble.
After the government issued a policy in 2001 requiring tourists to stay in accommodation located outside the park, homeowners inside the park resorted to converting parts of their houses into small businesses, such as souvenir shops. For between 100,000 and 150,000 yuan a year, Changru Luodeng rented out the ground floor of his home to a businessman who'd come from another province to sell candy and artwork — but the man left shortly after the earthquake.
Without a renter or tourists, Changru Luodeng worries that he won't be able to pay off his loan. "I don't know what to do," he said, adding that his full-time job at a tourism agency is also in jeopardy. Out-of-towners can simply find jobs elsewhere, Changru Luodeng said, "but our local people have to think about how to solve these problems."
Zhao Daiyou, who worked as a gardener at the InterContinental Resort Jiuzhai Paradise, told Sixth Tone that the gray bricks of the hotel's castle-like walls fell when the earthquake struck. Six people died inside the hotel, which was one of the largest in the area and among the most badly damaged in the disaster. Most hotels have been closed since the quake, including the InterContinental.
Working at the hotel, Zhao earned 2,300 yuan per month, plus free accommodation and meals. Sixth Tone met him in Jiuzhaigou County, where he sat in front of a relative's shop that sold plastic flowers and firecrackers for funerals. "We don't know when the hotels will open again," said Zhao, who is ethnic Tibetan but goes by a Mandarin Chinese name. His line manager told Sixth Tone that this month's salary would be paid on time, but employees remain unsure whether they'll still have jobs next month.
When Zhao returned to his house after the earthquake, he found cracks in the walls and decided that it wasn't safe to stay. At least 1,680 buildings in Jiuzhaigou were damaged during the disaster. "We were quite happy before, but now life will be hard," Zhao said.
Inside the national park, Sparkling Lake has dried up, and part of the cliff down which Nuorilang Waterfall cascaded just days earlier has collapsed. Footpaths and roads have suffered damage along with several Buddhist temples, which tourists and local Tibetans alike used to frequent. Reconstruction in the park and its surrounding areas is ongoing.
It remains to be seen whether tourists and out-of-town workers will return in similar numbers once the dust settles. The first weekend after the earthquake, buses that once transported crowds of tourists sat empty.
Meanwhile, locals were leaving the temporary disaster relief camps to return to their own houses. For most, moving away from the natural disaster-prone region is out of the question. "My parents are familiar with this area. They wouldn't leave their home," said relief camp volunteer Huadan Namo.
As some residents prepared for funerals, the rain suddenly stopped, and Huadan Namo hung a wet quilt out to dry in the sun. The air had cleared, and in a long arch over Jiuzhaigou, a rainbow appeared.
Contributions: Yin Yijun; editor: Denise Hruby.
(Header image: An aerial view of Five Flower Lake after it was damaged in the earthquake in Jiuzhai Valley National Park, Sichuan province, Aug. 11, 2017. Liu Zhongjun/CNS/VCG)