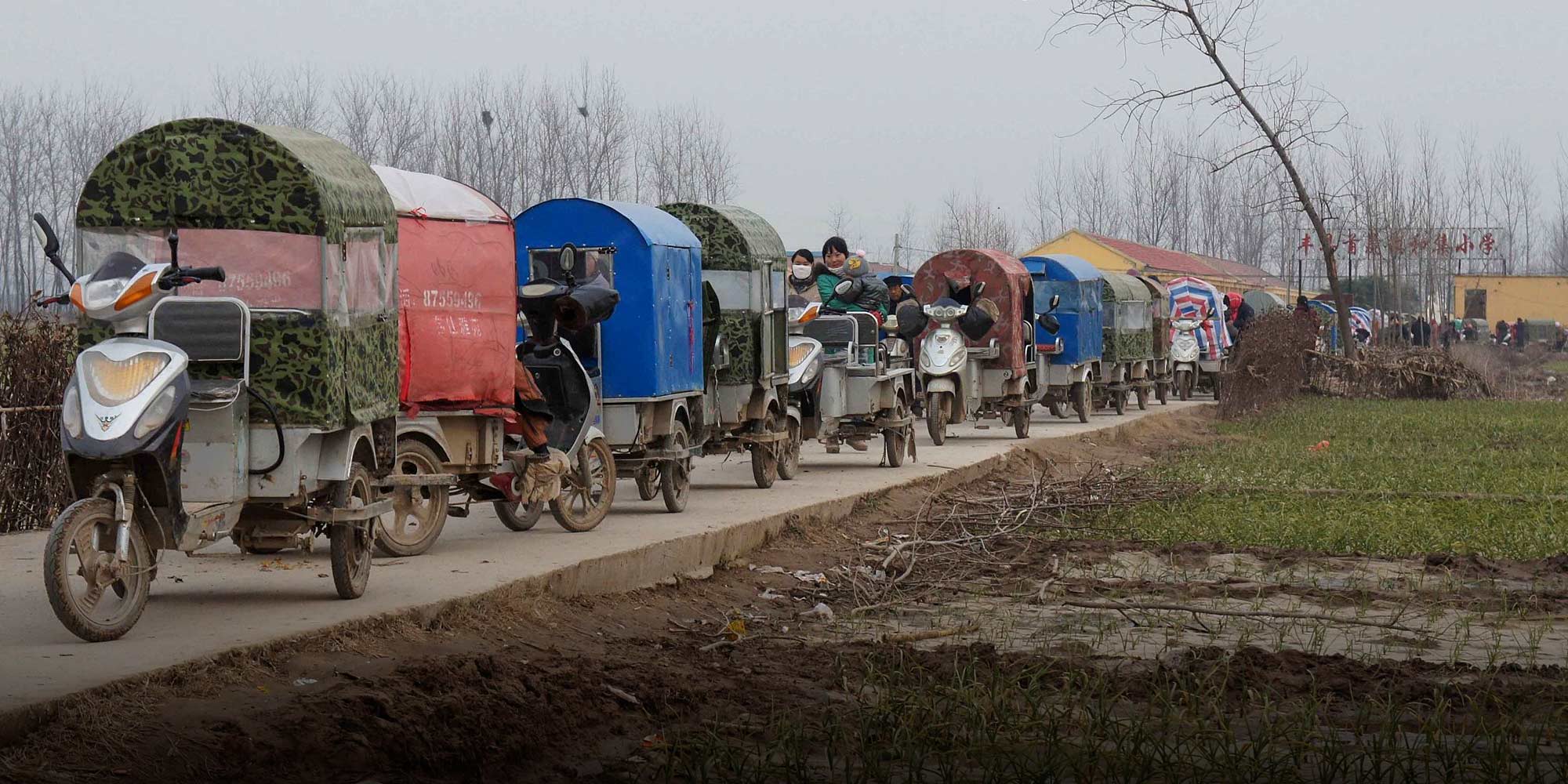 NEWS
Electric Tricycle Manufacturers Punished for Polluting
Industry insiders call official response yet another obstacle for already-struggling businesses.
A provincial government in eastern China has shut down more than a dozen electric tricycle manufacturers for violating environmental standards during production.
A team of government inspectors closed 14 companies in Jiangsu province's Feng County, where more than half of China's e-tricycles are produced, after finding irregularities in their production processes, Sixth Tone's sister publication, The Paper, reported Monday.
The inspections carried out on July 31 found that some manufacturers were discharging acid waste into the surrounding environment, failed to operate their waste-discharging equipment appropriately, or released harmful gas into the air, according to The Paper.
Of the 20-plus manufacturers that were inspected, 70 percent failed to meet production standards. While some faulty companies have been ordered to close permanently and leave the industrial area, others have been allowed to resume operations after rectifying the problems.
Si Zengwei, general manager of Pengli Electric Tricycle Co. in Feng County, told Sixth Tone that while factories should be used to government inspections, they still frequently manage to fail them. "Companies in our county seldom meet government standards, as their awareness of environmental protection is still quite low."
Prohibited in many Chinese cities due to safety concerns, electric tricycles are mainly used to carry freight in rural areas. By the end of 2015, there were an estimated 50 million electric tricycles in China, more than half of which were manufactured in Feng County.
The electric tricycle industry has served as an important economic pillar for a county categorized as impoverished by the provincial government, providing jobs and generating revenue. The government has also introduced subsidies and several policies to boost the industry. The county is home to more than 200 e-tricycle manufactures, which together account for 60 percent of China's market.
Guo Jianrong, chairman of the Shanghai Bike Industry Association, said that currently there are no standards for producing electric tricycles in China. In Feng County, where most bike-makers are relatively small, the production techniques are outdated, he told Sixth Tone, and thus don't conform with new environment protection standards. He added that the company closures could have a problematic effect on the county's tricycle business.
The industry has faced other setbacks in recent years, too, mainly due to declining demand and the rising cost of raw materials.
"The entire industry is sluggish," an executive surnamed Liu from Yinfeng Electric Vehicle Co., also located in Feng County, told Sixth Tone. "The cost of steel and plastic is increasing; coupled with price wars, almost 90 percent of companies are losing money, and many can't afford better equipment."
As China aims to curb pollution, the country's environment ministry has made routine factory inspections part of its yearly plan. But authorities still face resistance in implementing environmental protection laws at the local level. In the first quarter of 2017, government inspectors recorded more than 3,000 cases of environmental violations across China.
Editor: Bibek Bhandari.
(Header image: Colorful rickshaws line a road in Feng County, Jiangsu province, Dec. 14, 2012. Su You/VCG)