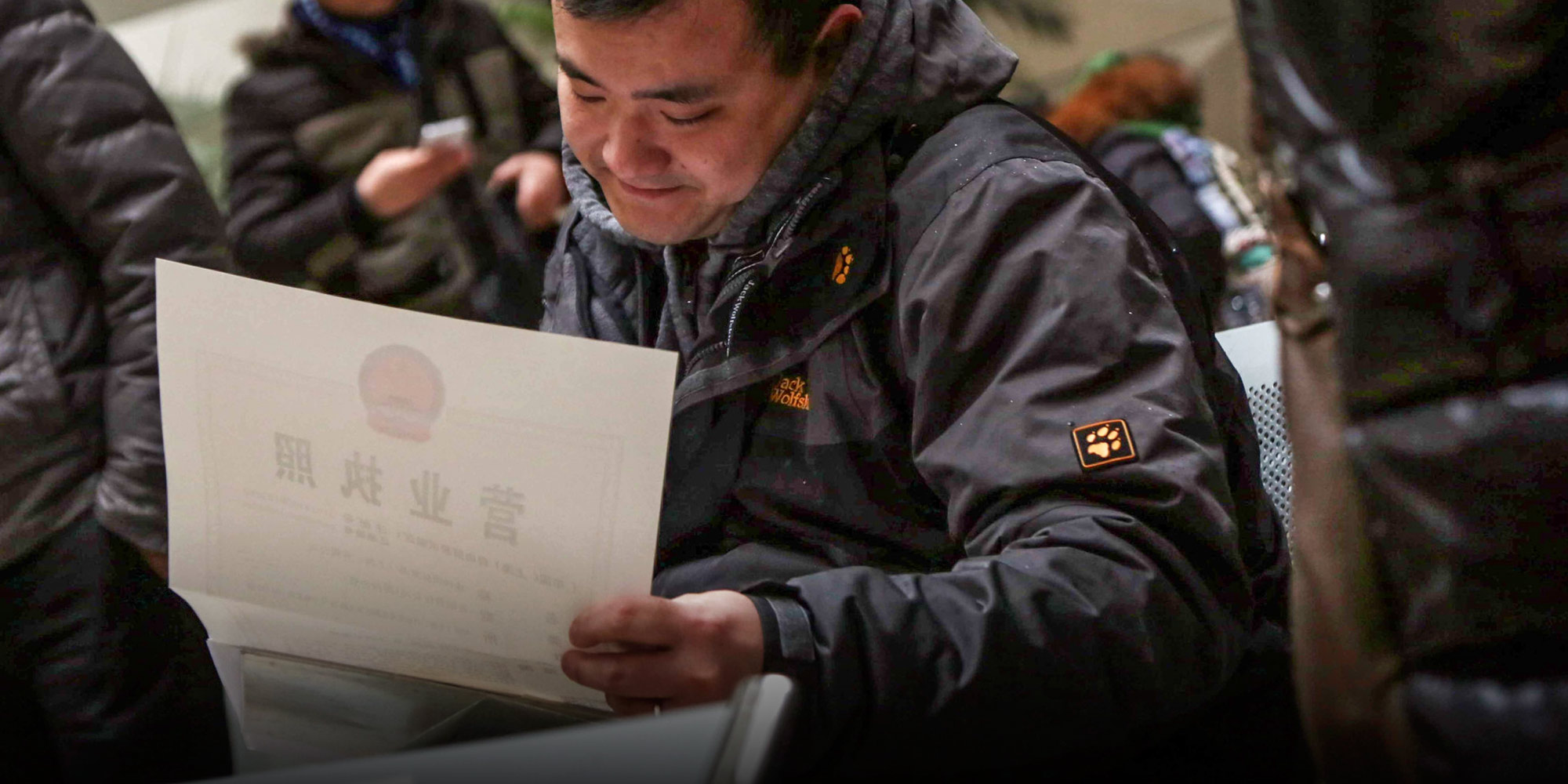 NEWS
China Bans Too-Long, Too-Weird Company Names
Other taboo criteria include discriminatory, religious, and politically sensitive terms.
China's State Administration for Industry and Commerce has banned companies from registering "weird" names, according to a set of guidelines that went into effect on Saturday.
The new rules will curb outlandish company names, according to a report by Legal Daily that referenced the famous example of a condom company from northern China. Called "Uncle Niu" for short, its full name is "There Is a Group of Young People With Dreams, Who Believe They Can Make the Wonders of Life Under the Leadership of Uncle Niu Internet Technology Co. Ltd." The 39-character name went viral in June on microblog platform Weibo.
But such names will no longer pass. One section of the 33 guidelines prohibits long-winded names such as Uncle Niu's by insisting that all company names be comprised of just a few words rather than sentences, paragraphs, or full literary narratives.
Further rules prohibit language that discriminates against genders, races, or ethnicities; overtly religious terms related to Christianity or Islam; and words associated with politically sensitive subjects such as national law, the People's Liberation Army, or the banned Falun Gong spiritual movement. References to dissident groups or terrorism — such as the term "9/11" — are forbidden, as are companies claiming to be "national" or "the best." Finally, the rules aim to cut down on copycats by banning duplicate registrations.
In response to the new guidelines, news outlets and netizens have been searching the National Enterprise Credit Information Publicity System, a database of companies registered in China, for the most ridiculous-sounding names. Among those found are such favorites as "What Are You Looking At Shenzhen Technology Co. Ltd.," "Hangzhou Looking for Trouble Internet Technology Co. Ltd.," "Beijing Under My Wife's Thumb Technology Co. Ltd.," and "King of Nanning, Guangxi, and His Friends Trading Co. Ltd."
Before the guidelines against weird company names, China's most eccentric entrepreneurs were banned in February 2016 from dabbling in architecture. This prior directive put a stop to buildings deemed too "odd-shaped" or "weird," such as state broadcaster China Central Television's Beijing headquarters, affectionately nicknamed "Big Pants," or an office building in the eastern province of Fujian that resembles the Starship Enterprise from the Star Trek franchise.
In March 2016, then-minister of civil affairs Li Liguo called for an end to strangely named housing complexes or developments named after places in the West. "Venice Gardens" and "Merlin Champagne Town" were among the residential areas accused of being too bizarre or occidentalized. In May of that same year, an article in Party mouthpiece People's Daily argued that using foreign names for Chinese residential complexes fails to promote Chinese culture.
Editor: David Paulk.
(Header image: A man examines a business license while waiting at a service center in Shanghai, Jan. 21, 2016. Bai Kelin/IC)