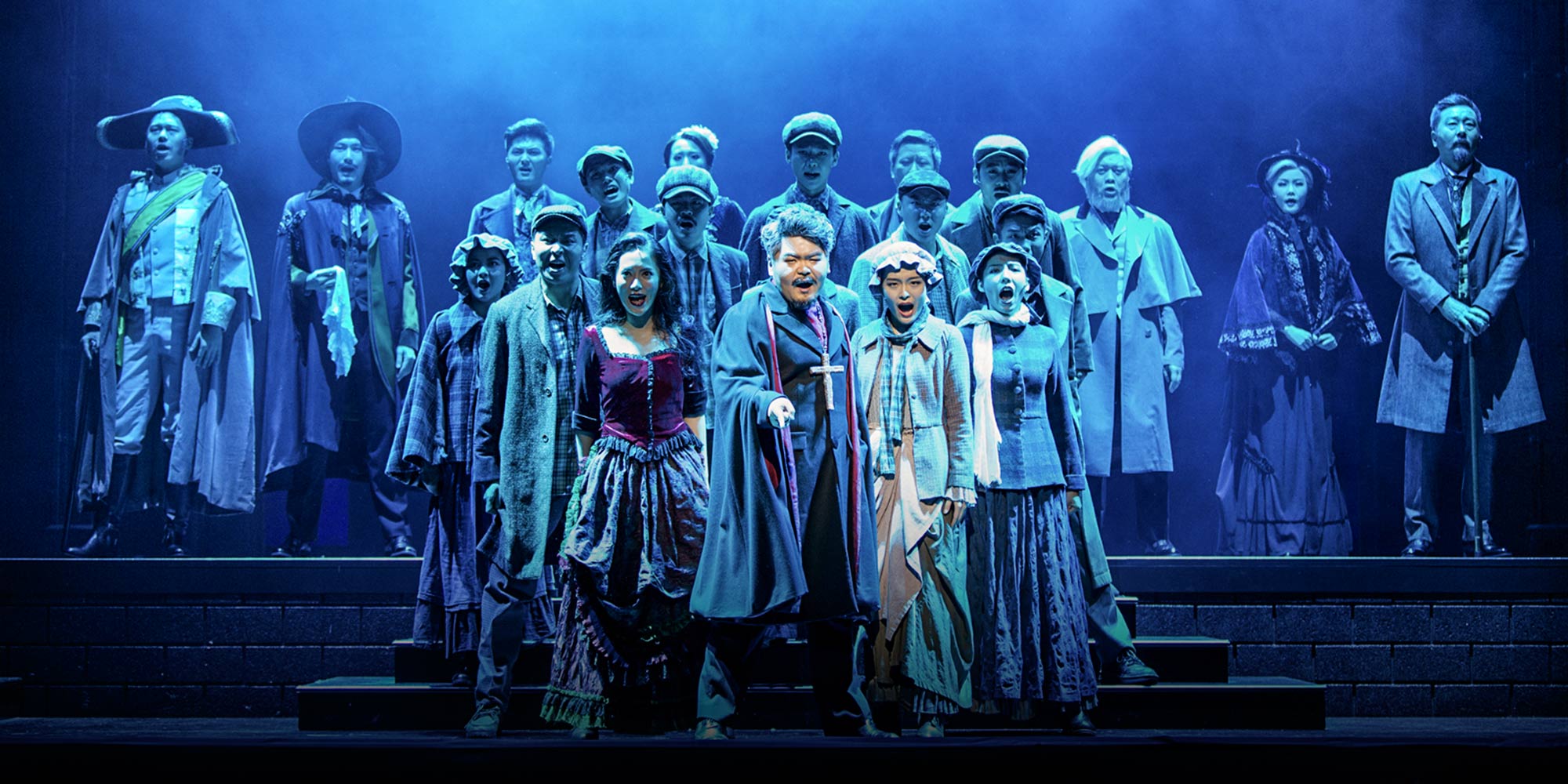 FEATURES
East Side Story Overshadowed as Chinese Opt for Western Musicals
In a boom year for foreign productions, makers of homegrown musicals struggle to draw audiences, investment, and talent.
SHANGHAI — Fifteen years ago, Zhou Xiaowei sat entranced beside her piano teacher as she beheld the harrowing tale of Jean Valjean, peasant hero of Victor Hugo's "Les Misérables." Though 12-year-old Zhou only had a rudimentary grasp of English, the powerful combination of drama and song moved her deeply. Turning teary-eyed to her teacher, she declared that this — musical theater — was what she wanted to do.
That same year, 2002, veteran film composer Jin Fuzai stepped in as the first director of the newly opened musicals department at the Shanghai Conservatory of Music, China's oldest higher education institution for musical study. Ten years prior, Jin had been inspired by the many Broadway productions he saw during his year as a visiting scholar at Pennsylvania State University. In his new role at the conservatory, the musical mind behind many widely loved Chinese animations — including "Shuke and Beita," "Calabash Brothers," and "Lotus Lantern" — would dedicate himself to the development of China's burgeoning musical industry.
Fifteen years on, Zhou and Jin find themselves at two very different hearts of China's musical sector. Zhou — now in her late 20s with a master's degree in directing from the U.S. — translates and directs large-scale musicals flooding in from the West. Jin, now in his 70s, composes scores for Chinese productions from his home office, holding out for the day that domestic musicals rival foreign imports in quality and popularity.
So substantial is the mass of musicals being staged in China in 2017 that pundits are calling it "The Year of the Musical." Over 15 original-language and translated imports — including "Ghost," "Wicked," and "The Bodyguard" — are hitting the stage in major cities. "Wicked" brought in close to 80 million yuan ($12 million) in box office revenue as it bewitched audiences in Shanghai, Beijing, and the southern city of Guangzhou, according to Yang Jiamin, CEO of musical production company Seven Ages Investment Co. Ltd. Meanwhile, the box office success of cinematic blockbusters "La La Land" and "Beauty and the Beast" earlier this year points to evolving tastes among a domestic audience that generally doesn't favor films that feature singing.
"This is a big year for us — it's the biggest year for us, perhaps of my whole career," said Qiu Ye, who has worked as a translator for numerous imported productions since 2004 and maintains an online forum on musicals in China. "It's a good thing that we have so many musicals imported into China," Qiu told Sixth Tone at a fast food outlet in Shanghai, adding that the rise in productions presents an opportunity to attract more investment and expand the Chinese musical market by introducing more locals to the genre.
Inspired by "Les Misérables" all those years ago, Zhou now holds a master's in directing from UCLA School of Theater, Film, and Television, and she has acted in and directed over 30 Western and Chinese stage productions in the U.S. and China. Most recently, she worked as a translator and assistant director for the first Chinese-language production of the 1990 musical "Jekyll & Hyde," translating the script and all 35 songs in the show, which will run through October in major cities around China.
For Zhou, imported productions such as "Jekyll & Hyde" provide an invaluable opportunity for local teams to practice and gain experience staging musicals without having to start from scratch. "The visuals, set design, and costumes have already been made, so we don't need to worry about these areas," she told Sixth Tone.
That said, Zhou still hopes to see more homegrown Chinese musicals come to the fore. "Everyone's doing these Chinese versions of musicals," she said, "but actually I also hope to see more truly original — and good — productions."
Composer Jin shares Zhou's hopes. Over the last 15 years, Jin has written the scores for numerous original Chinese musicals ranging from romantic sagas to wartime dramas. Nowadays he uses a simple digital keyboard and music notation software on his computer to score his compositions, the most recent of which was for a children's musical.
Jin has seen musicals go from relative obscurity in the 1990s to wider recognition, particularly in the cosmopolitan cities of Shanghai, Beijing, and Guangzhou. Yet two decades later, the domestic ecosystem of talent, investment, and infrastructure necessary to produce quality homegrown musicals remains in the early stages of development. For imported musical productions, for instance, it is common practice to bring in experienced foreign directors: Indeed, one of Zhou's responsibilities in the staging of "Jekyll & Hyde" was translating for the production's American director.
"Investors have looked to invest in local musicals, but so far there have been no successes," said Qiu. On China's popular reviewing platform Douban, "Wicked" is rated 8.3 out of 10 based on over 2,700 user reviews. In contrast, Jin's local productions "Street Angel" and "Flowers and Fire" are not rated because they have fewer than 10 reviews. "People prefer to see foreign musicals because they're more mature productions," said Jin. "Our original musicals still have many issues — with the market, theaters, production, rehearsals."
One particular issue, believes Qiu, is that Chinese musicals suffer from clumsy scripts. Many playwrights consider musicals to be simply a matter of "adding a storyline to a gala" or "a drama plus songs," he said.
"Our creators and producers are lagging behind actors and musicians," said Jin. "They need to slowly work out the laws of musicals." Jin believes that most local productions are hastily thrown together without a clear development process; he previously complained in an interview with Party newspaper Jiefang Daily that domestic productions focus too much on visuals and too little on the music and script.
In contrast, Zhou pointed out, successful international productions often center on strong narratives and timely themes. "Americans are good at telling stories; they're good at finding problems that exist in the here and now," she said. For example, Zhou explained, "Fun Home" — a musical about a young lesbian and her relationship with her gay father — opened on Broadway the same year that same-sex marriage was legalized in the U.S. "Only when we find things that we want to express will we truly find the soul of original musicals," Zhou said of Chinese productions, which she believes rarely address contemporary societal issues. "Only then will musicals really be good and will people really want to see them."
Yet the development of homegrown musicals is also hampered by a lack of investment from the private sector, forcing productions to rely on government funding, explained Qiu. As a result, teaching staff at theater academies vie for funding to stage plays by chasing buzzwords and ensuring that their productions cater to government tastes by reflecting socialist values, a phenomenon Jin knows all too well, given two recent commemorative productions for which he provided the music. The 2011 production "Flowers and Fire" was staged to celebrate the 100th anniversary of the revolution that overthrew China's last dynasty, while 2015's "Shanghai Ark," which tells the story of Jewish and Chinese youth in Shanghai during World War II, was performed 70 years after the victory against the Japanese in 1945.
Jin, who maintains that translated musicals "don't feel quite right," believes that the catalyst for domestic musicals will come from creators going beyond the creative paradigms associated with imported works. "We can combine of all kinds of theatrical styles, all kinds of music, to reflect content," he said. "We can even include elements of Chinese folk music and traditional Chinese opera — the key is to combine them well."
Despite the challenges, Jin feels that the Chinese musical scene is undergoing a gradual maturation process, albeit one that can't be confined to a strict time frame. "China could soon reap huge economic benefits from this industry, but it's hard to predict when," he said. "[The U.S.] has already been doing it for over 100 years — it's very mature. But we've only just started."
Editor: Owen Churchill.
(Header image: A scene from the musical 'Jekyll & Hyde' in Kunshan, Jiangsu province, July 20, 2017. Courtesy of CClive)