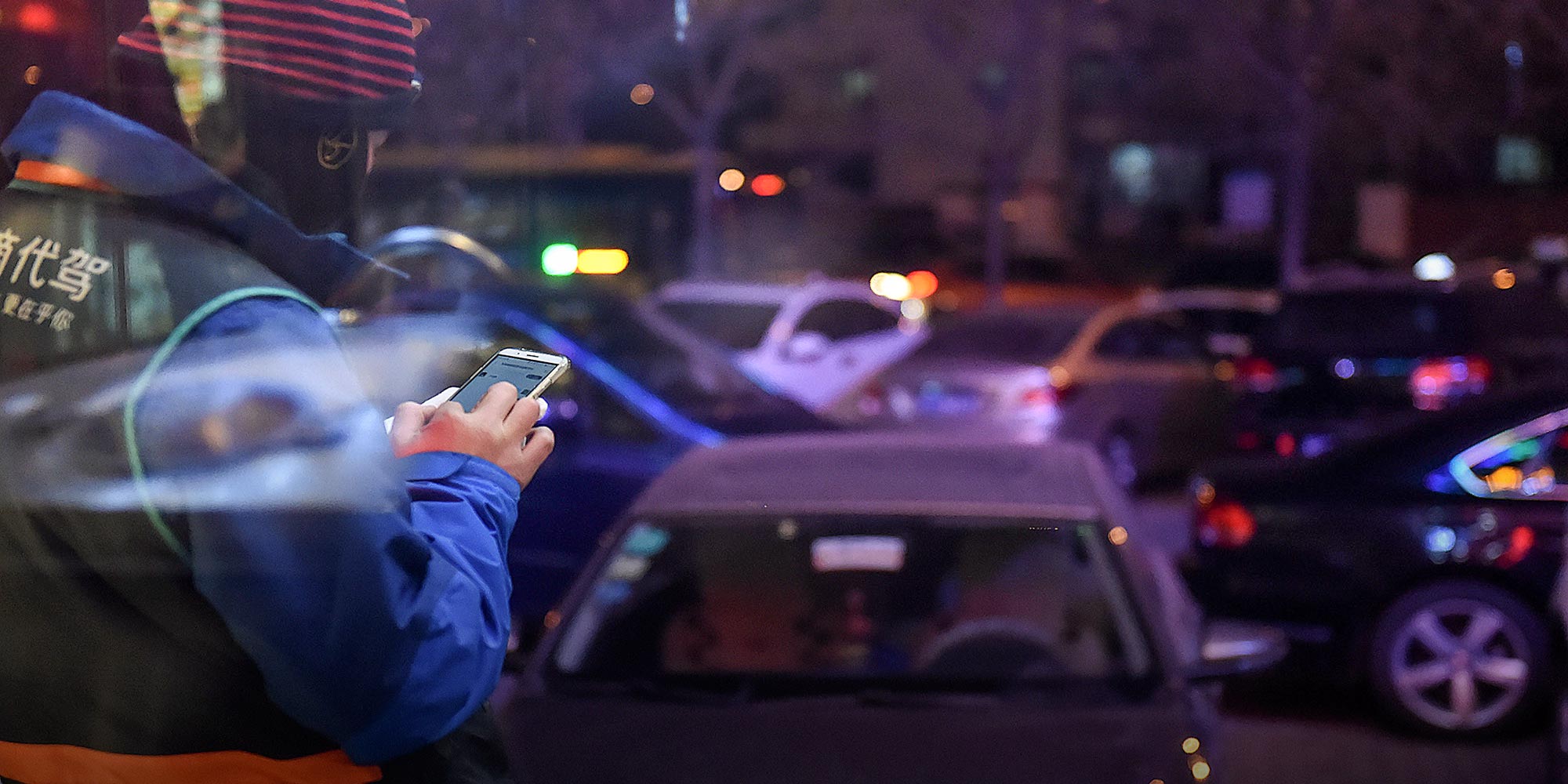 NEWS
Drunk Chinese Spend Billions Getting Their Cars Home
Chauffeur services for late-night revelers prevent millions of traffic accidents annually, report says.
With ride-hailing apps already deeply entrenched in the lives of many urban Chinese, the country is now witnessing the growth of chauffeur services, which last year generated 15.4 billion yuan ($2.3 billion), according to a white paper published Tuesday.
The paper, written by a research division of Tsinghua University's School of Law, stated that in 2016, over 25.3 million customers — 98 percent of whom were to some degree inebriated — requested designated drivers to help get their cars home safely.
A spokesman for E-Designated Driver, an industry pioneer founded in 2011, told Sixth Tone that in the company's first three years of operation, they experienced up to a 500-percent growth in orders. He refused to give his name because he believes the statistics in the white paper are lower than reality but doesn't "want to get involved."
Staggering demand from staggering passengers has even made some chauffeurs small fortunes. "It's a piece of cake for us to cash in over 20,000 yuan per month — and that's not including tips," Liu Ailun, a Shanghai resident who has been working as a professional designated driver for over two and a half years, told Sixth Tone. "Nowadays, people are rich, and if you're lucky, they might tip you 1,000 or even 10,000 yuan for one ride."
Tsinghua's white paper concluded that the average monthly pay for a professional designated driver last year was nearly 7,000 yuan — roughly on par with the average monthly salary in major Chinese cities.
Drivers aren't the only ones enjoying the industry perks, either. The Tsinghua researchers stated that there are social benefits as well, such as an estimated 3.5 million traffic accidents prevented in 2016 because of the millions of drunk people who didn't end up behind the wheel of a vehicle.
However, as in any other fast-growing industry, flaws in the business model are inevitable, potentially even endangering customer safety.
"Some designated drivers aren't registered at the local police station," said Liu, referring to the tendency for some registered drivers to allow others to use their permits, for a price. "And if you're leaving a club in the middle of the night and entrust your car keys to a driver with a criminal record, there are inherent safety risks."
Regardless of these risks, though, experts anticipate continued growth for the fledgling industry. "With public awareness of safe driving habits on the rise, demand for designated drivers should continue to increase, especially in small cities that may not be fully served yet," Wang Chenxi, a consultant at market research firm Analysys, told Sixth Tone.
As for the possible pitfalls, Wang said that these are not new concerns to people who take taxis or use ride-hailing apps like Didi Chuxing, which also offers a designated-driving service. "Platforms like Didi are trying to incorporate new technologies like facial recognition to tackle these safety issues," she added.
Still, Wang believes the platforms themselves can only do so much. "What these industries need is for the authorities to join in and impose more regulations on drivers," she said.
Editor: David Paulk.
(Header image: A professional designated driver uses her mobile phone to contact a client from a parking lot in Tianjin, Jan. 24, 2017. Li Ke/IC)