SHAANXI, Northwest China — Left untouched, the land around Xu Haijun's home seems unremarkable. But beneath the overgrown weeds and earthen embankments, there is the possibility of uncovering something priceless from one of the region's millennia-old tombs.
Five years ago, Xu discovered a site of tremendous archeological significance here in his village of Shizuitou, near the famed city of Baoji. The farmer and father of two was laying the foundation for a new house in June 2012 with three other villagers when he came across a piece of green metal in the ground.
Without hesitation, Xu alerted the authorities. What he helped unearth turned out to be 101 artifacts from an ancient tomb, including one of only 10 jin — a type of low bronze table — in the world. The pieces date back to the early Zhou Dynasty, nearly 3,000 years ago.
"There had been two similar discoveries in the village earlier in 2012, so we knew the cultural relics belonged to the country," the 35-year-old farmer told Sixth Tone. "We never thought about keeping or selling them."
Surrounded by mountains and the windswept Loess Plateau, the area near Baoji in Shaanxi province is known as the cradle of ancient Chinese civilization. The Zhou and Qin dynasties were born here, and today, the region is known as the home of Chinese bronzeware.
Ancient Chinese bronzes are some of the most prized artifacts among local and international collectors. Last month, a bronze pan from the imperial palace collection of the Song Dynasty fetched a record 213 million yuan ($32 million) at an auction in China.
With growing awareness and appreciation of cultural heritage, domestic buyers have also become increasingly active in overseas sales of Chinese artifacts, often hoping to repatriate relics displaced during periods of war and civil unrest as a matter of national pride.
Aside from the high monetary value, these objects — especially those with inscriptions — also offer great archeological insights into the development of ancient China. But in the past, black market sales have diminished the nation's collection. Now, the government is trying to stop illegal dealings with a carrot-and-stick approach.
For his contribution to the discovery and protection of cultural relics, Xu was awarded 15,000 yuan by the local government. He was also praised by the provincial government and the State Administration of Cultural Heritage and was invited to visit Beijing.
"I've never received such a big honor before and probably never will again in the future," he said.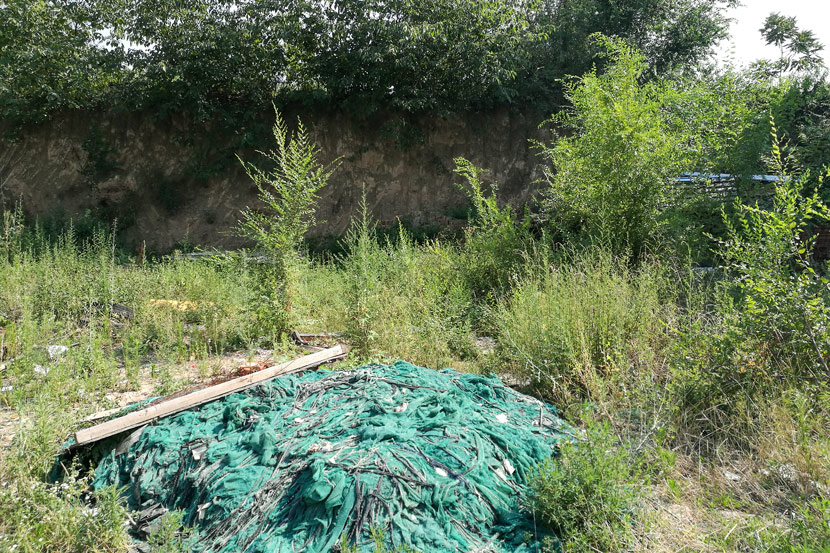 A view of the site where Xu Haijun discovered bronze relics in 2012 in Shizuitou Village, Baoji, Shaanxi province, July 12, 2017. Yan Jie/Sixth Tone
Xu's reward is part of the Chinese government's efforts to safeguard national treasures from greedy art dealers and tomb raiders looking to make a quick buck. Although Chinese law stipulates that all uncovered relics are the property of the state, news about discoveries attracts looters alongside archeologists and academics. By lavishing praise and rewards on people who report discoveries, as well as punishing those who break the law, authorities hope to curb illegal trade in these artifacts.
The efforts appear to be much-needed. Soon after Xu found the relics, he noticed strangers sneaking around the village. "I found a spade at the place overlooking the site of my discovery," Xu said. "About two years ago, I also saw some explosives when I was hanging around in the fields." Suspecting tomb raiders, Xu tipped off the police, though the owners of the spade and explosives never reappeared.
Xu's village lies at the foot of Shigu Mountain, which is well-known for the discovery of ancient stone drums in the seventh century. Local officials plan to build a heritage park in the area to preserve ancient tombs that archeologists believe are buried in the hillside.
After Xu's discovery, tomb raiding became so rampant on Shigu Mountain that while archeologists were working below, raiders were boring holes in higher ground, said Hao Mingke, director of a local museum that houses a few hundred bronze artifacts found in the area. Hao said he had also witnessed dealers arriving in the village within hours of new discoveries, leading him to believe that traders maintain a local network of contacts in the villages around Baoji.
However, Baoji's efforts to promote the protection of cultural relics appear to be paying off, with more members of the public reporting leads on tomb raiders and dealers to the authorities, Hao said.
Since 2003, Baoji residents have voluntarily reported 29 cases of relics discovered by accident, according to Wang Mingli, the head of the cultural relics protection and archeology department in the city's tourism bureau. More than 570,000 yuan has been given out as rewards, he told Sixth Tone.
In the meantime, the government has continued to crack down on crimes related to cultural relics. From 2011 to 2016, Baoji authorities successfully closed 873 criminal cases involving ancient artifacts, with a total of 2,146 items recovered, according to the city's cultural relics and tourism bureau.
Tomb raiding is punishable under China's criminal law, and perpetrators can receive punishments up to life imprisonment. However, a typical sentence is three to 10 years, depending on the severity of the crime. Illegal traders can receive prison sentences of up to 10 years.
Wei Bingxiang, a 43-year-old farmer from Weijiaya Village, heard stories about his neighbor being captured by police in the 1990s after selling ancient bronzeware to illegal dealers. Some unemployed people from his village have even been lured to join the tomb raiders, according to Wei.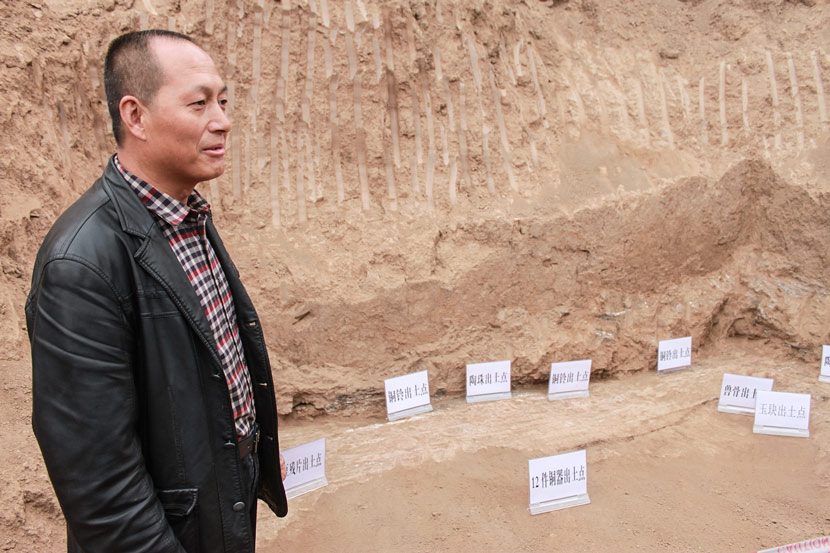 Wei Bingxiang stands by the artifact excavation site in his backyard in Weijiaya Village, Baoji, Shaanxi province, Oct. 22, 2014. Zhou Jinzhu/VCG
In October 2014, Wei was tempted to take part in illegal dealings himself when he unearthed his own treasure trove while digging in his backyard. The discovery included 30 artifacts from a spot that archeologists recognized as an ancient tomb.
"Only once in a thousand years could you stumble upon cultural relics on your own land," said Wei, whose eyes lit up as he recalled the moment of his discovery. At the time, he was sure the objects could be sold for more than 100,000 yuan to relics dealers, leaving him hesitant about what to do with the artifacts.
Wei had grown up poor, and though he was making a decent living as a self-employed backhoe operator — he earns as much as 1,000 yuan a day when he has business — he also had debts to pay off after purchasing his machinery. He ultimately decided to report the discovery after speaking on the phone with his son, who was serving in the army and stressed to his parents that the relics belonged to the nation.
When he received a 10,000-yuan reward from the government a few months later, Wei was disappointed. He said that at first, he felt the reward was too small compared with the value of the artifacts. But later, he came to accept the money for what it was: "I realized that the government only gives the reward as a form of praise," he explained. "I'd better make money myself."
Editors: Colum Murphy, Qian Jinghua, and Doris Wang.
(Header image: Bronze relics discovered in Wei Bingxiang's backyard are displayed in Weijiaya Village, Baoji, Shaanxi province, Oct. 22, 2014. Zhou Jinzhu/VCG)