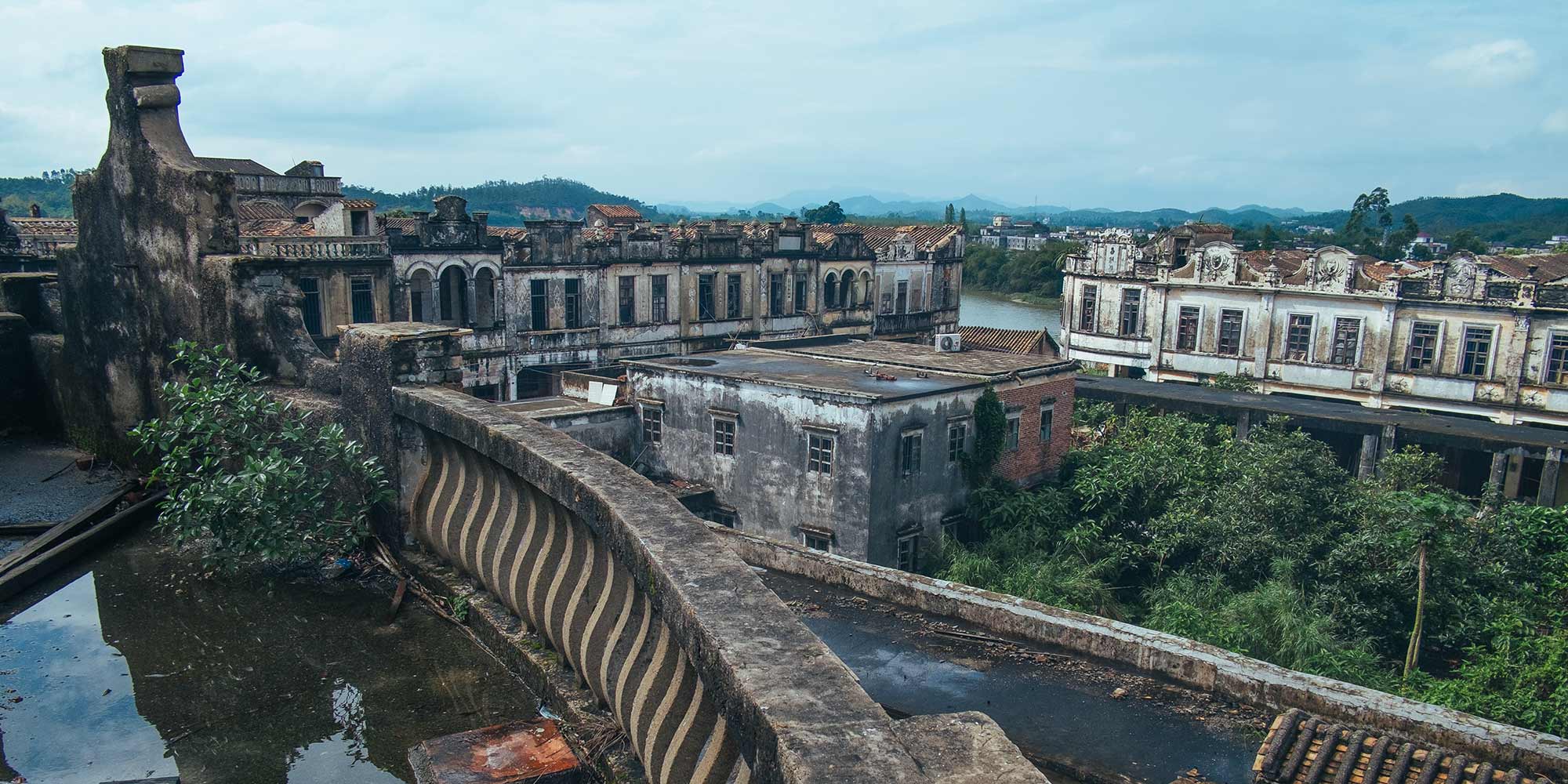 VOICES & OPINION
How the 'Home of Overseas Chinese' Is Memorializing Emigrants
Taishan County is honoring the memories of emigrants by restoring the pier from which they began their journeys and building a museum for 'silver letters.'
A dump truck rumbles down a dusty village road. Workers bustle around boarded-up storefronts. An orange excavator rises against the hills of southern China.
The Haikou Pier in Duanfen Town, Guangdong province, is undergoing an 18 million-yuan ($2.7 million) restoration. Once the primary point of embarkation for Taishan County natives heading overseas, the town is fast becoming a major node on the New Maritime Silk Road. Its next iteration will include a museum that hopes to attract tourists and bring new life to an otherwise somnolent region.
In its heyday, the Haikou Pier witnessed the exodus of tens of thousands of Taishan County residents. Local instability, overpopulation, and a dearth of economic opportunities incentivized Taishanese to seek economic opportunities abroad. The Haikou Pier, built in 1853, ferried Taishanese to larger ports, including Hong Kong, from which they would continue their journeys abroad. By 1901, around 200,000 Taishanese people — then one-quarter of the city's population — resided abroad, with 60 percent living in North America. Gary Locke, the former U.S. ambassador to China, traces his roots to Taishan, which has cultivated a reputation as the "home of overseas Chinese."
After changes in North American immigration policies in the mid-20th century, many Taishanese settled abroad permanently, with China's reform and opening-up policies of 1978 facilitating this process. According to official statistics, the population of Duanfen Town declined from 56,000 in 1979 to 45,000 in 2010.
Today, Taishan lags behind the rest of Guangdong province economically. In 2015, the town's per capita GDP was 34,500 yuan. Guangdong's, meanwhile, was almost twice that, at just over 67,000. A two-hour drive from its more-developed neighbor, Guangzhou, Taishan has not kept pace with the growth of other cities in the Pearl River Delta, such as Shenzhen, Dongguan, and Hong Kong. In fact, many of Taishan's villages have been hollowed out, as young people move to big cities in search of work.
Duanfen Town itself consists of dozens of struggling villages, one called Yongheli in particular. Of an original population of 300, only about 100 residents remain.
Yongheli carries the scars of its overseas emigration. The old school building, built in the early 20th century and ornamented with a five-pointed star, stands locked and abandoned. The town's former volleyball court is covered with underbrush. Yongheli's hundred or so homes are still arrayed in an orderly grid, but some have lain empty for over a century, their roofs caving in. Ferns grow in the ancestral hall, stretching laterally to catch the sunlight.
When I visited in early April, the villagers I spoke to could not recall who owned the abandoned homes. "This one is very old; no one has been here for a long time," said one woman, gesturing to a dilapidated structure behind the volleyball court. Her surname — like that of nearly everyone else in the village — was Mei.
The village chief, Mei Jingyuan, withdrew a faded stack of papers from a cabinet in his home, one of the few in Yongheli to have been renovated with modern amenities. The stack of papers contained deeds and lists of names, as well as information on émigrés and outdated means of contacting them.
Yongheli, along with other villages in Taishan County, is a testament to the wealth of overseas Chinese. Since the 1770s, Taishan has relied heavily on remittances for its development. Qiaokan, or magazines for Chinese expatriates, maintained connections between overseas villagers and their hometowns. The landscape of Taishan's villages is inscribed with traces of overseas Chinese wealth: water towers, electric generators, concrete driveways, ceremonial pagodas, and traditional archways. Most recognizable are the region's diaolou, or "watchtower houses," built as a fusion of Western and Chinese architectural styles to protect against bandits. Taishan's overseas Chinese are famously munificent. In 1930, over 50 percent of all remittances to China via Hong Kong were from the U.S. or Canada, although these North American Chinese — more than half of whom were from Taishan — accounted for just 1.7 percent of the total Chinese emigrant population a few years prior.
In 2013, overseas remittances to China — also known as yinxin, or "silver letters" — were inscribed in the United Nations' Memory of the World Register. According to the U.N. nomination, overseas Chinese began sending yinxin around 1860, with the oldest extant yinxin dated 1883. Over 160,000 documents have been preserved. In addition to renovating the Haikou Pier, the Duanfen government will erect a two-story, 512-square-meter "Silver Letter Museum" to memorialize the correspondences.
The museum plans to immortalize China's historical links to other nations at a time when modern China, via the trillion-dollar Belt and Road Initiative, is once again looking outward. In May, President Xi Jinping convened the Belt and Road Forum in Beijing. Over 2,000 kilometers away, Duanfen Town hastened to complete the rebuilding of Haikou Pier by August.
The Haikou Pier development and the Silver Letter Museum carve out a place for overseas correspondence in the country's rich history. To the villages of Duanfen, however, the story is ongoing. Although yinxin officially ended in 1979, when the Bank of China began processing overseas remittances, many families to this day remain separated by the Pacific Ocean, and remittances remain a pillar of support for these divided families.
Mei Achun is a 30-something-year-old resident of Yongheli. She wears a striped long-sleeved shirt and smiles reluctantly, but with warmth. Her young son clings to one pant leg. Eight years ago, Mei's husband left for Canada to work in a meatpacking plant. She applied for a Canadian visa to join him, but her paperwork was denied. Visa applications for one family can cost up to 4,000 yuan, or several months' disposable income.
Mei hasn't seen her husband since he left. She can't afford to visit him, and he hasn't returned. She has no immediate plans to apply for another visa, and consequently doesn't know when she will see him next. In the meantime, she commutes to Taishan seeking out day labor. The couple keep in touch via WeChat, China's ubiquitous messaging app.
Mei is not alone in these circumstances. Next to Yongheli is the village of Huanzhou — and Xiagang, Daguo, Duanyuang, and Shuiheli, on down the line. The hollowed-out villages seem to stretch on indefinitely.
Not far from Mei's home, the Silver Letter Museum is nearing completion. It will feature hundreds of correspondences from decades of Taishanse emigration, and yet its purview is limited. In Duanfen Town, residents need not visit a museum to reflect on the past, for they live among its artifacts. And on WeChat, the correspondence continues — not in silver letters, but in green and white speech bubbles.
Editors: Wu Haiyun and David Paulk.
Correction: A previous version of this article misstated the proportion of Taishanese among overseas Chinese, as well as their contribution to remittances to China in 1930.
(Header image: A view of dilapidated buildings in Taishan County, Jiangmen, Guangdong province, April 18, 2013. Wu Huiyuan/Sixth Tone)