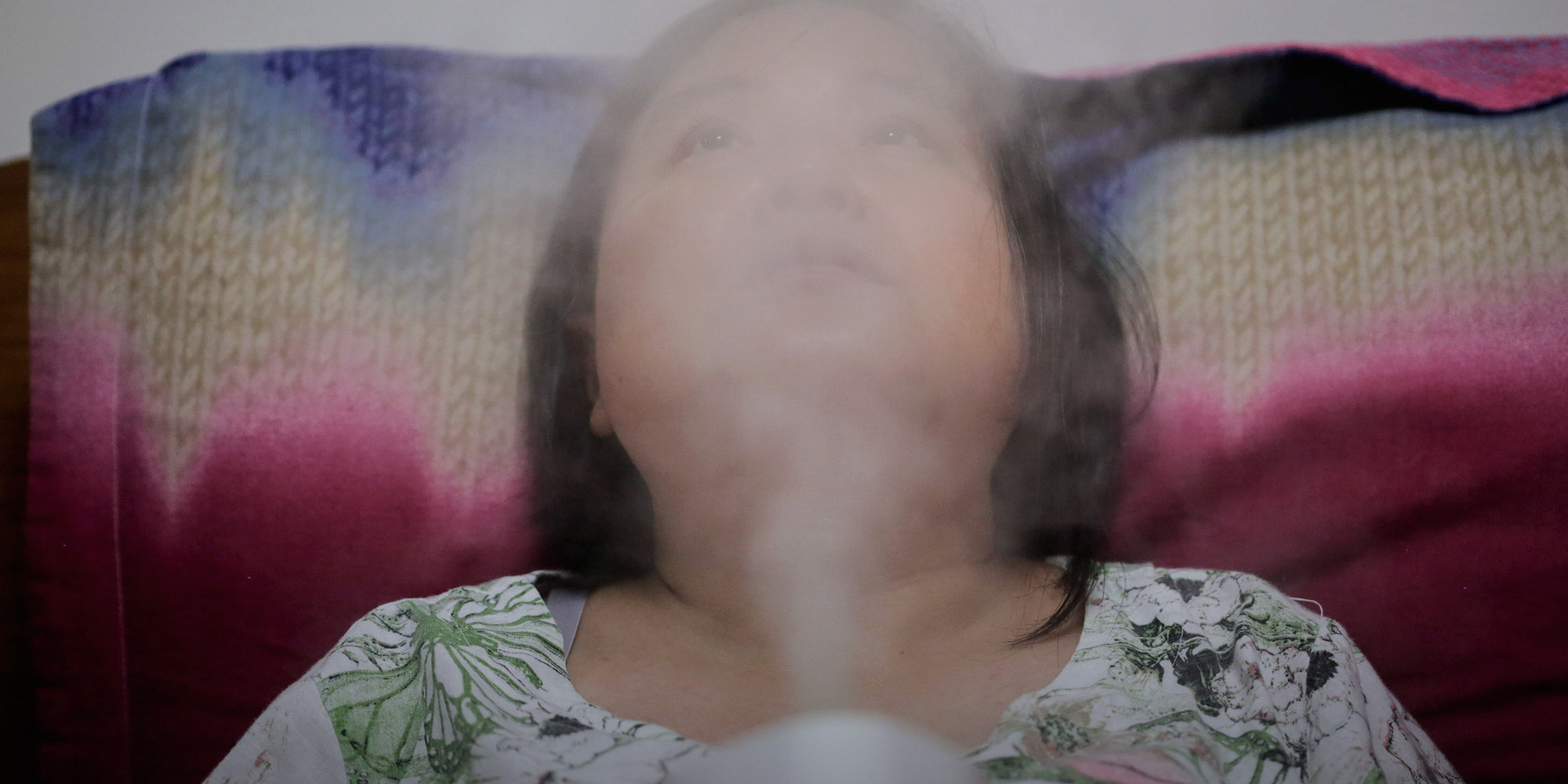 FEATURES
The Invisible Pain of Empty Nose Syndrome
People with the controversial condition in China seek relief from their suffocating symptoms and recognition in the medical community.
SHANGHAI — Three months after his wife, Sun Sulin, underwent a simple sinus surgery in 2013, Tao Jie received a call from her, saying that she was dying. He rushed home to find Sun lying in bed with her face swollen and red, crying and screaming that she couldn't breathe. Suddenly, she jumped out of bed and dashed toward the window.
Tao was quick enough to stop her that night, but since then, Sun's attempts at self-harm have become a daily occurrence. Sun's family has had to hide all the knives and scissors in the house. At night, family members sleep next to Sun to prevent her from trying to take her own life.
At first, Tao struggled to understand: How could a supposedly routine nasal procedure destroy his wife's will to live?
Desperate for answers, Sun turned to the internet and consulted doctors in both China and the U.S. Why did she feel like she was suffocating even though her nasal passages were wide open? An American doctor finally came back with a diagnosis: Sun had empty nose syndrome (ENS).
ENS is a rare condition that can occur following surgery on nasal turbinates, thin bony structures that run along the nasal passage to help warm and moisturize air as it flows through the nose. "Turbinates are critical for survival," Dr. Subinoy Das, medical director of the U.S. Institute for Advanced Sinus Care and Research, told Sixth Tone in an email.
Doctors may recommend turbinate surgery in patients who suffer from allergies and chronic sinus infections, which can lead to enlarged turbinates and symptoms of nasal obstruction. While most people who undergo turbinate surgery do not experience any complications, for a small group of patients, turbinate resection can lead to a paradoxical sensation of being suffocated even though their nasal cavities are clear. People with ENS also often complain of nasal dryness, fatigue, anxiety, and insomnia.
Han Demin, a leading ear, nose, and throat (ENT) doctor at Beijing Tongren Hospital, estimated that around 20 percent of patients who receive turbinate reduction surgery in China experience ENS after the procedure.
In 2013, Sun, a project manager at a chemical engineering institute, complained of an itchy, stuffy nose and itchy ear. She was diagnosed with allergic rhinitis and inflammation of the ear canal, and — after an online search for the best ENT hospital in Shanghai — she underwent a simple surgery at the 85th Hospital of the People's Liberation Army. She recalls lying in a hospital bed and feeling a long metal probe inside her nose during surgery, but she didn't suspect that anything was amiss at the time.
Shortly afterward, Sun started to feel pain when she breathed. The sensation of suffocation occupied her every waking moment. When her condition was at its worst, her husband had to press down on her chest to help her feel the airflow in her lungs. "Sometimes I just want to grab a knife and slash my throat to feel the air again," Sun told Sixth Tone.
When she reported her symptoms, her doctor denied that there was anything wrong with her. How could she feel suffocated if her nasal passage was clearly open? If anything, Sun felt pain because she had not followed the proper recovery procedures, the doctor said. Tormented by her condition, Sun sought help at another hospital. It was there that she learned a large portion of her inferior turbinate had been removed without her knowledge. Since then, several doctors have diagnosed her as having "suspected ENS."
With no established diagnostic criteria, ENS remains a controversial syndrome. While some physicians simply deny the existence of ENS, a handful of ENT specialists have devoted their lives to studying it. Dr. Jayakar Nayak, an assistant professor of otolaryngology at Stanford University School of Medicine, developed the first six-item questionnaire to help diagnose ENS, though it is not widely used in China. According to Nayak, when ENS sufferers experience psychological symptoms, they are typically a secondary result of the physical nasal issues.
Four years later, Sun now spends most of her days in bed, too exhausted to work. At night, she uses a combination of sleeping pills and cottons swabs in her nose to help her fall asleep. For many people with ENS, the hardest part is not the physical pain but the emotional despair, as doctors accuse them of fabricating their symptoms. Sun once kneeled in front of a doctor, crying hysterically and begging for relief from her pain. The doctor's only recommendation was that she see a psychiatrist.
Even family members can find it difficult to believe ENS sufferers, especially when their claims contradict a doctor's assessment. For a long time, Sun's parents and Tao believed that Sun's pain was all in her head. On the recommendation of a priest, Tao would kneel at a designated site in the countryside in the middle of the night, begging local deities to exorcise the "evil energy" from Sun. But after doing his own research on the syndrome, Tao began to stand by his wife. Had he not, "perhaps the grass in front of her grave would now be several meters tall," he said.
Sun eventually sued the hospital that performed her surgery, and the lawsuit is ongoing. However, because ENS is not recognized as a disability in China, it cannot be considered a consequence of medical malpractice. According to medical lawyer Li Qiang, the most that a plaintiff with ENS can get from suing a hospital is compensation for lost income and medical fees incurred.
There are currently no organizations in China that provide counseling or other support to people with ENS. Seeking solace, Sun joined several ENS chat groups online; she often reads angry and desperate posts calling on fellow ENS sufferers to kill doctors or take their own lives together. Sun remembers one woman with ENS whom she met online, a poet from Beijing, who killed herself last April. She left behind a letter: "My nose feels dead, but I'm still alive to suffer. I am scared of death, and I don't want to leave. But I can't go on any longer. I am only dragging my family down."
In a high-profile case in the winter of 2013, ENS sufferer Lian Enqing barged into a hospital in Wenling, eastern China's Zhejiang province, killing the head of the ENT department and injuring two others with a knife and hammer. Lian had been suffering from nasal obstruction, headaches, and insomnia following nasal surgery. Repeated examinations, however, showed that nothing was wrong.
Sun and Tao are working to raise awareness about ENS, regularly attending protests and advocacy events in hopes of preventing others from suffering a similar fate. "After going through these struggles, we don't want others to end up in the same miserable situation," Tao said.
A quick scan of the couple's 55-square-meter apartment in a Shanghai suburb reveals piles of books and articles about medical lawsuits. Boxes of medication are scattered around the house, along with suitcases from the pair's frequent travels for treatments and advocacy activities. The electric fan and humidifier are always switched on — even in the winter — to help Sun breathe.
The family's finances have also suffered, and they sold their house in 2015 to help pay for the many medical procedures they've tried. Sun rarely sees her 22-year-old daughter, as she does not want the young woman to be involved in her mother's "mess." Sun's social network has also shrunk. "There are only three types of people in my life now: other people with ENS, doctors, and scientists," Sun said.
As Sun and Tao continue to hope for increased recognition of ENS in the medical field, their greatest wish is to find an affordable way to alleviate Sun's pain and cope with the feelings of powerlessness, which can be overwhelming. On the wall facing the couple's bed, a painting of an open window and two green plants on the windowsill offer a modicum of cheer on dark days. "ENS has totally changed how I see the world," Sun said. "I was living an easy life. But now, I realize there are places that sunlight does not reach."
Editor: Meredith Yang.
(Header image: Sun Sulin breathes through the mist from a humidifier at home in Shanghai, July 6, 2017. Zhong Changqian/Sixth Tone)