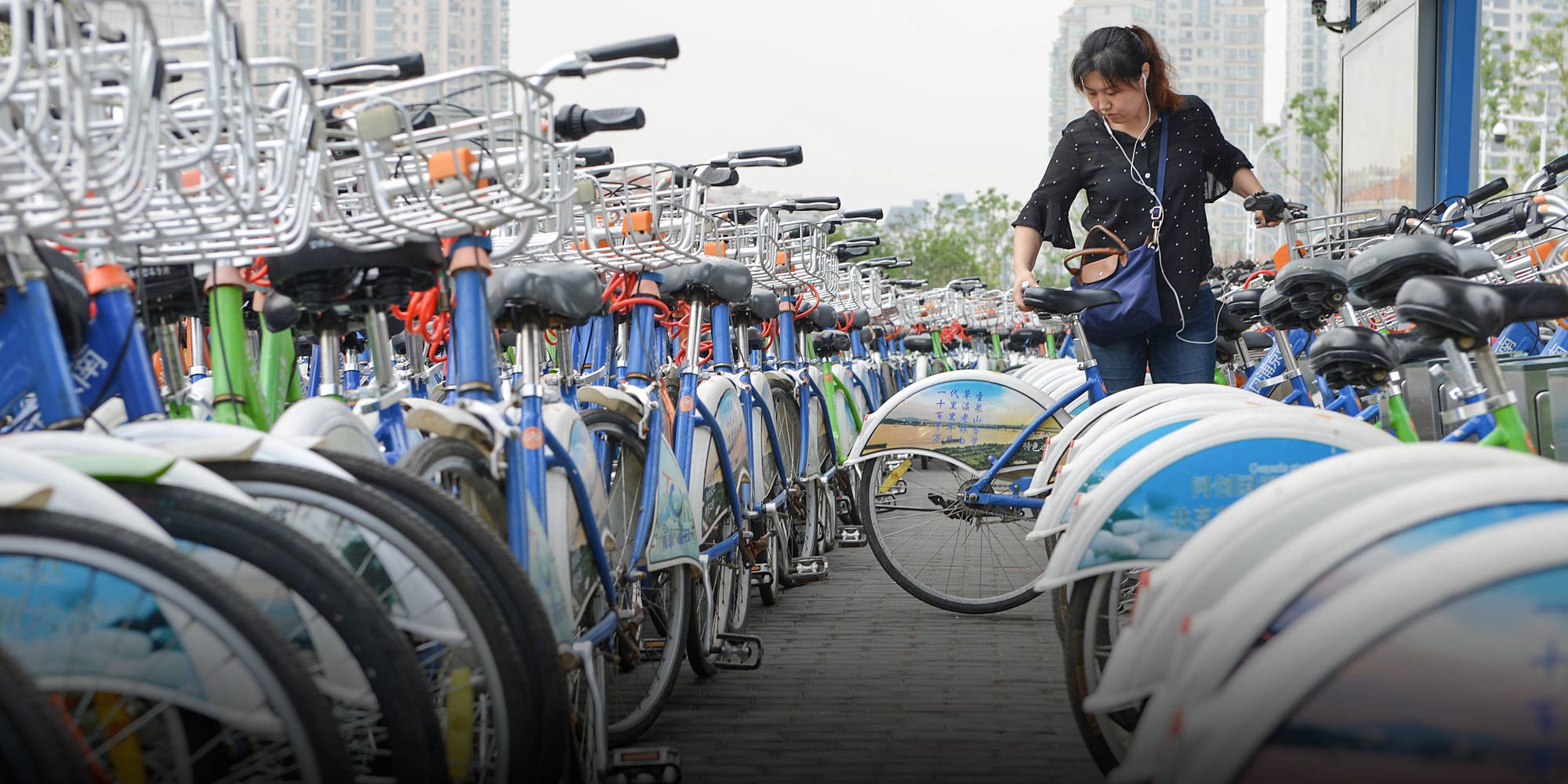 NEWS
Nanjing to Issue License Plates for Shared Bikes
The city has temporarily stopped companies from adding new two wheelers to better manage the industry.
A major city in eastern China has become the first to temporarily ban shared-bike companies from distributing new bicycles while a new license plate system comes into effect, local media reported Saturday.
In a joint conference held Thursday, the transportation, public security, and city management bureaus of Nanjing, capital of Jiangsu province, urged all shared-bike providers to refrain from launching any new two-wheelers by the year's end, as the city looks to apply individual license plates. Meanwhile, all unregistered electronic shared bikes have been ordered to withdraw from the market by Aug. 10.
Bike-sharing companies, which have revolutionized commuting for millions of people across Chinese cities, entered Nanjing in early January. Since then, the city has been plagued by shrinking parking spaces as the number of bikes have grown exponentially. Currently, there are an estimated 450,000 shared bikes in Nanjing's streets.
"In downtown Nanjing, it's not easy to find a parking spot," Huang Ming, a 33-year-old resident of the city, told Sixth Tone. "During the daytime, some places are really messy, and the sidewalks are sometimes occupied by those bikes."
Beginning Jan. 14, two days following Mobike's launch in Nanjing, the management committee of Xinjiekou — a central business district — cleared out more than 700 of them within 12 days, and announced a prohibition on placing more shared bikes in the area.
In late July, the city also issued a guideline on regulating the development of shared bikes stipulating the responsibilities of market operators, bike users, and relevant government departments in ensuring safety.
It's not immediately clear how the city government's licensing system will impact the bike-sharing companies. Mobike and Ofo, two market leaders, were not available for comment.
As bike-sharing becomes increasingly popular in China, the industry has faced a host of problems — from haphazard parking, to fatal accidents involving children, to blocking tactile pathways used by visually impaired people to navigate cities.
Earlier this month, the central government published a national guideline setting an age limit on shared-bike users and giving details about bike lanes and parking spaces in an effort to better regulate the market. As of June 2017, more than 100 million people had used mobile apps to rent shared bikes, according to a recent report from the China Internet Network Information Center, an administrative agency for internet affairs.
Contributions: Chen Na; editor: Bibek Bhandari.
(Header image: A woman handles a shared bicycle parked near a subway station in Nanjing, Jiangsu province, Sept. 27, 2016. Fang Dongxu/VCG)