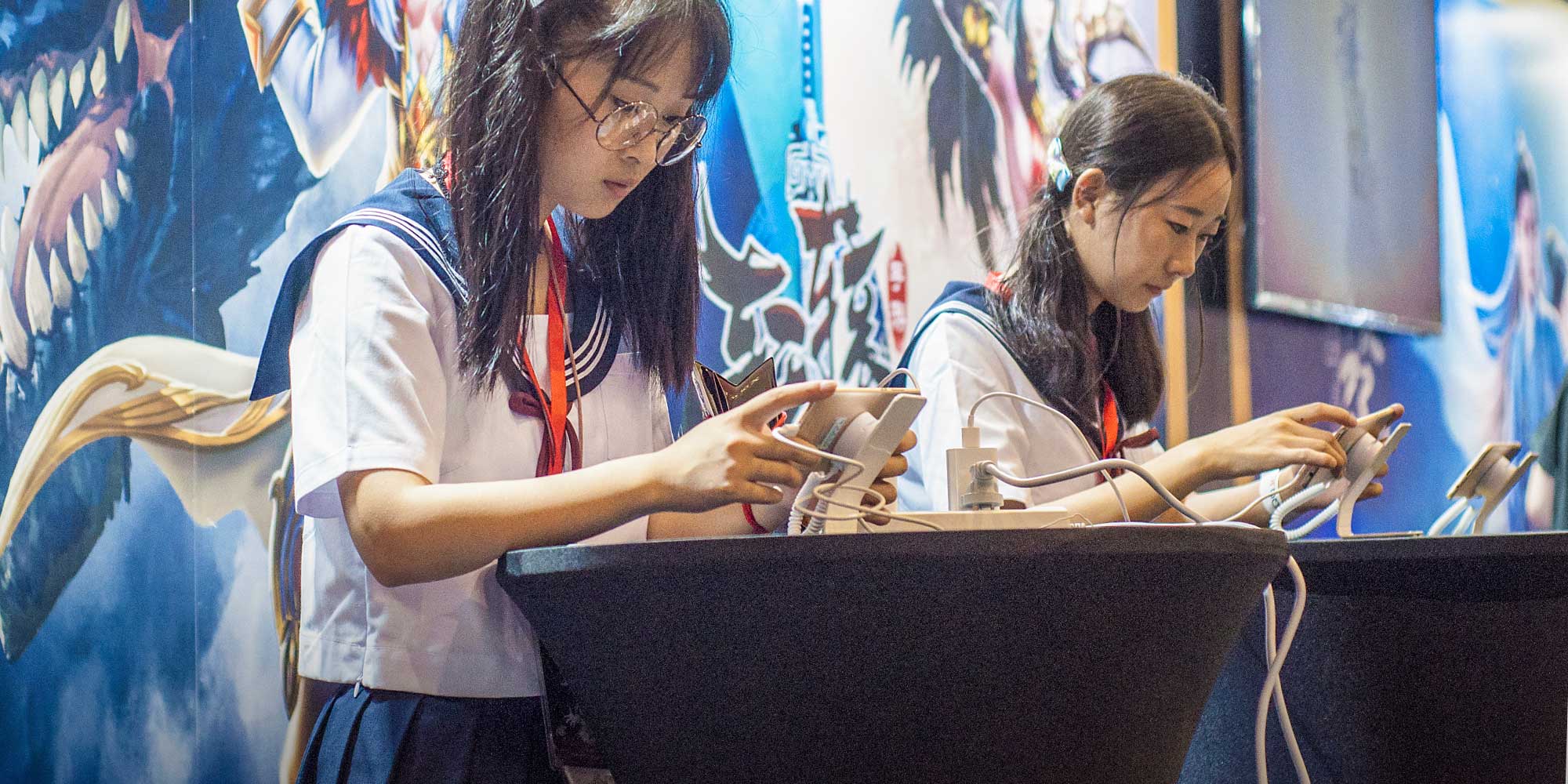 NEWS
Women Lead the Charge in 'Honour of Kings'
Though female gamers dominate in numbers, gender equality still isn't the norm in the gaming world.
One of China's most popular mobile games now has more women on its side than ever.
Fantasy role-playing game "Honour of Kings" has racked up 108 million female players — more than twice the population of South Korea — making women the game's largest demographic, according to a report by consulting firm Jiguang. May figures from the game's parent company, tech giant Tencent, showed that women constitute 54 percent of the 200 million players, putting it ahead of other popular offerings like "League of Legends" and "Vainglory," whose female players make up less than 35 percent of total gamers.
Peng Chujia, an 18-year-old female gamer who has been hooked on "Honour of Kings" since February, said she downloaded the game after seeing her friends — mostly men — play obsessively. Peng said she was unsurprised by the news that women now dominate "Honour of Kings." "A lot of girls are introduced to the game because of boys' influence," she told Sixth Tone.
Despite the increased female representation, Peng said sexism is prevalent among gamers. "A lot of boys think girls don't play well and don't have any natural talent. They think we're frauds, and that we'll negatively affect [the team's] success at the game."
In China, many female gamers have found it difficult to break into the male-dominated gaming world. When news of the female majority among "Honour of Kings" players reached microblogging platform Weibo, many netizens also reacted sarcastically. "The number of female players doesn't matter — they are actually just boys hiding behind the screen," one popular comment read.
Felania Liu, vice president of the Chinese chapter of game research network DiGRA and a game researcher at Tsinghua University in Beijing, sees the news as a "big advance" for women. Yet Liu worries that some women accept the discrimination in the gaming world, shying away from complex online games like "Honour of Kings."
"It is very important that game companies realize that female players are equal to male players," she told Sixth Tone. "They might need a little bit more introduction [to the games], due to their limited sources of game literacy."
The problem even extends to the representation of women in the virtual world. "When [a game] uses female characters, they should not be a simple sex symbol," Liu said. "A lot of [game] designers lack the social consciousness of gender equality."

With the acceleration of mobile phone use and internet speeds, China's gaming industry has boomed in recent years — surpassing the U.S. to become the most profitable gaming sector in the world. Its 600 million players generated almost a quarter of global gaming revenue in 2016, beating the U.S.'s total by half a billion dollars.
Though PC games still hold a significant market share, China's dominance is largely due to the increasing popularity of mobile games, according to consultancy company iResearch. Revenue from mobile games grew 103.7 percent in 2015 alone and is expected to exceed 150 billion yuan ($22.3 billion) in 2018.
Based on the game's popularity in China, Tencent is preparing to launch "Honour of Kings" in the U.S. in the fall. But as it looks to expand its reach, the game's parent company has encountered criticism at home: In response to negative press, Tencent recently introduced playtime limits for young players of "Honour of Kings," aiming to curb addiction and develop "healthy" gameplay.
Editor: Bibek Bhandari. 
(Header image: Two girls play Tencent's hit mobile game 'Honour of Kings' at an event in Chengdu, Sichuan province, July 17, 2017. Yuan Kejia/VCG)